Panasonic Develops High-Power Blue-Violet Laser
Panasonic has developed a blue-violet semiconductor laser operating at output power of 4.5 W, which is 1.5 times higher than that of the conventional one even at 60?C, the maximum operating temperature for lasers in general. The laser diode can also oscillate with the high energy conversion efficiency, which is 1.2 times higher than that of conventional lasers. This has been made possible by Panasonic's double heat flow packaging technology that improves the heat dissipation.
This newly-developed laser will help laser application systems, such as vehicle and industrial lighting as well as laser machining equipment, to be made smaller and consume less power.
In general, the output power of semiconductor lasers decreases as the laser chip temperature rises. In addition, because the temperature is the determining factor for the laser reliability (because the laser function reliability is dependent on the laser chip temperature), the actual light output that can be used in practical applications is limited by the laser chip temperature. Conventional blue-violet lasers dissipate heat from only one side of the laser chip, causing the laser chip temperature to increase and limiting the output to approximately 3 W. Laser systems requiring an output of tens of watts would require a large number of lasers, causing more heat to be generated and requiring larger heatsinks. To solve this challenge, individual lasers require higher efficiency and larger output.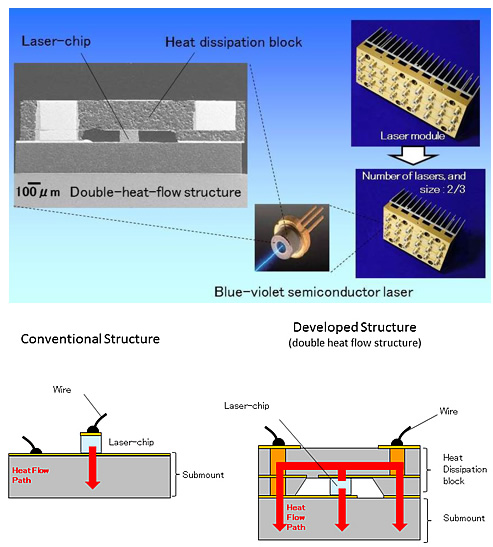 The newly-developed double heat flow packaging technology can suppress the temperature increase of laser chip that accompanies laser beam output. Consequently, the drop in laser light output caused by heat can also be prevented, enabling high-output and high-efficiency operation. As a result, in laser systems using multiple lasers, the number of lasers can be reduced to two-thirds of those using conventional lasers. Moreover, because the heatsinks can be smaller, the system itself can be made smaller and lighter.
This new development laser has the following features:
High output: Maximum light output of 4.5 W (1.5 times higher than existing product
High power conversion efficiency: 33% (1.2 times higher than existing product
High reliability: Reduced strain in blue-violet semiconductor laser chip, achieving stable output
Panasonic presented the research results at 2015 International Conference on Solid State Devices and Materials to be held in Sapporo, Japan on September 28.