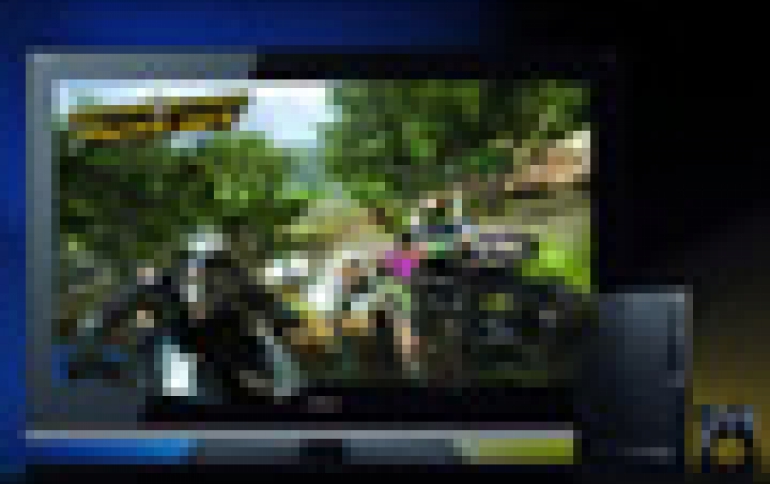 Sony Announces New 3D BRAVIA TVs, Stereoscopic 3D Gaming on PlayStation 3
Today Sony announced that its 3D capable BRAVIA HDTVs are now available on SonyStyle.com, allowing In adition, Sony's 3D update for its PlayStation 3 video game console is also available today. Sony says that PlayStation 3 systems are already equipped with everything they need to play stereoscopic 3D games. Thanks to a firmware update released this past April (ver.3.30), the PS3 system can support full stereoscopic 3D gaming.

The PS3 update concides with the release of new 3D capable BRAVIA HDTVs, which are now available for pre-sale and will ship to retailers later this month. There are a broad range of models available in different screen sizes, some packaged with active glasses and others without.

Sony's HX800 Series is also 3D ready (meaning glasses and sync transmitter are sold separately). Ranging in sizes from 40 inches to 55 inches (diagonal), this model starts at about $2,100. Features include: a Dynamic Edge LED backlight display, Motionflow PRO 240Hz Technology, USB Wireless-LAN adapter (adapter sold separately), BRAVIA Internet Video, BRAVIA Engine 3, along with USB and DLNA photo/music/video playback.

The first of the new 3D models are the LX900 series. Models come with a FULL HD (1920?1080p) LCD with Edge LED backlight display. The LX900 features the chic Monolithic Design, includes 2 pairs of active shutter glasses and has full integrated HD 3D technology. This series includes incorporated Motionflow PRO 240Hz technology, integrated Wi-Fi wireless network capabilities (802.11), BRAVIA Engine 3, and USB/DNLA photo/music/video playback. It also boasts an Intelligent Presence Sensor which detects motion in the room which helps the environment and our wallets. Screen sizes range from 40-60 inches (diagonal) and start at around $4,000.

Next up is the XBR- HX909. Featuring the new Monolithic design, the XBR-HX909 is capable of 3D viewing with the addition of Sony?s active shutter glasses and sync transmitter (sold separately); about a $200 investment (excl tax). The glasses are available on Sony Style for about $150 along with the emitter ($50). Newest among the XBR family, the HX909 incorporated Intelligent Dynamic (local dimming) full array LED backlighting which improves contrast and dynamic range by local dimming that controls LED backlight level by area. This way detail is maintained in the dark areas and other areas are driven to near peak brightness. Intelligent Dynamic LED backlighting also reduces unnecessary light emissions, creating deep blacks vs. conventional LED backlit displays. Other features include: Motionflow PRO 240Hz Technology, USB Wireless-LAN adapter ready for easy wireless network connection (adapter sold separately), OptiContrast panel, BRAVIA Internet Video, BRAVIA Engine 3 with Intelligent Image Enhancer, along with USB and DLNA photo/music/video playback. Offered in 52 and 46 inch (diagonal) screen sizes, the HX-909 starts at about $3,500.

In addition to playing back those new 3DHD Blu-ray Disc movies and video games, the new LX900 and HX909 and HX800 HDTVs can create a simulated 3D image from a standard 2D movie or TV show.

These TVs are also capable of playing back standard and HD content/programming.

If you own a PlayStation 3 and are planning on buying a 3DTV, then you will be able to watch 3D content on your TV capable of 3D playback through your PS3. Sony's current plan is to offer PlayStation 3 owners two separate firmware updates. The first firmware update is available now and enables 3D gaming, followed by another firmware update to enable 3D Blu-ray Disc playback which is expected this fall. For those who own our 3D ready Blu-ray Disc Player or Home Theater models, you can now access your firmware to enable 3D playback.

Consumers who purchase and register one of these new TVs, will receive the mother load of 3D freebies including a copy of Sony Picture Animation?s Blu-ray 3D title, "Cloudy with a Chance of Meatballs", the Blu-ray 3D title "Deep Sea" and online voucher codes for new Stereoscopic 3D games for PlayStation 3 from the PlayStation Network including full game downloads for WipeOut HD, SuperStardust, a partial game for PAIN and the demo for MotorStorm (Pacific Rift).