Sony Announces Two New Blu-Ray Players
Sony officially announced today the BDP-S300 and the high-end BDP-S500 high definition Blu-Ray players for the European market. Both players were showcased at IFA last September. They come with a complementatry copy of the Spider-Man High Definition Trilogy on Blu-ray Disc.
With an estimated price of €599 and packed with new AV technologies, the BDP-S300 is is set to attract new audience. The BDP-S500 is a high-end alternative aimed at customers demanding a definitive high-definition viewing experience. The estimated price for the BDP-S500 is €899. Both are available now.
"Blu-ray is taking off, and the BDP-S300 player is designed to give many more people a way of joining the party in style," says Hiro Shinohara, Director of Home Video Europe at Sony Europe. "Whether you opt for the BDP-S300 or the high-end BDP-S500, you will be able to appreciate the unique fidelity to the cinematic original offered by 24p True Cinema technology, something not currently available from all manufacturers. You will also get support for the new, wider x.v.Colour space used by the latest generation of HD camcorders, plus one-touch operation thanks to Sony BRAVIA Theatre Sync."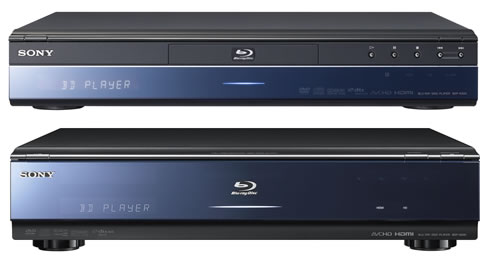 The players integrate Sony's 24p True Cinema technology and support one-touch operation with BRAVIA Theatre Sync.
Both models can output 1080p Full HD via a single-cable HDMI interface. The HD resolution is partnered with 7.1 channel Linear PCM and Dolby Digital Plus Surround Sound audio for home cinema of the highest standard. The BDP-S500 goes even further, with Dolby TrueHD decoding and Bit Stream Output for DTS-HD3, Dolby TrueHD audio signals via HDMI ver 1.3.
Either model is able to upscale DVD content to 1080p and stream video in HDMI-equipped 1080p-capable HDTVs.
The BDP-S500 also features a motorised sliding panel at the front, which opens automatically when you load or eject a disc.
Both models support the new x.v.Colour standard, an international standard defining a colour range for moving images approximately twice that of sRGB. This means the players can handle AVC-HD discs recorded by new-generation camcorders that use x.v.Colour.
The BDP-S300 and BDP-S500 can handle a wide variety of formats and media, including the still centrally important CD. In addition each supports BD-ROM, DVD, and DVD video playback from DVD/DVD±R/±RW encoded discs, as well as MP3 audio files and JPEG images stored on DVD±R/±RW discs. The BDP-S500 will also support BD-R/RE discs.
| | | |
| --- | --- | --- |
| Fearures | BDP-S300 | BDP-S500 |
| 1080p High Definition Picture | Yes | Yes |
| Bravia® Theatre Sync | Yes | Yes |
| x.v.Colour | Yes | Yes |
| 1080p DVD Upscale | Yes | Yes |
| AVCHD Disc Playback | Yes | Yes |
| CD playback | Yes | Yes |
| BD-R/RE Playback | No | Yes |
| 5.1 channel Dolby Digital/DTS | Yes | Yes |
| 7.1ch LPCM output via HDMI | Yes | Yes |
| Dolby True HD Decoding | Yes (5.1ch Dolby Digital Decoder) | Yes (7.1ch6) |
| DTS-HD HA / Dolby TrueHD HDMI Bit Stream output via HDMI ver1.3 | No | Yes |
| 5.1ch Gold Plated Analog Audio Out | Yes | Yes |
| Motorised Slide Door | No | Yes |
| Bitrate Display | Yes | Yes |