Sony at E3 2012
Sony's annual press conference at the E3 unveiled a line-up of PlayStation content for PlayStation Vita and PlayStation 3 systems, new products that leverage the motion control features of the PlayStation Move, an enhancement to the PlayStation Plus membership program, and a partnership with HTC to support PlayStation Mobile.
PlayStation Vita
Starting on October 30th, the Assassin's Creed III Liberation PS Vita Bundle will be available featuring a white PS Vita Wi-Fi system, 4GB Memory Card and Ubisoft's Assassin's Creed III Liberation game on a PS Vita game card.
SCEA showcased a collection of software titles developed exclusively for the PS Vita system. Featured titles including Sly Cooper: Thieves in Time, LittleBigPlanet, and PlayStation All-Stars Battle Royale.
For the first time in the franchise's 10 year history, fans can now take Sly Cooper with them outside of the home via Cross-Save functionality. With this interoperable compatibility between the PS3 and PS Vita systems, users can save their progress and take their Sly Cooper: Thieves in Time campaign on the road to continue.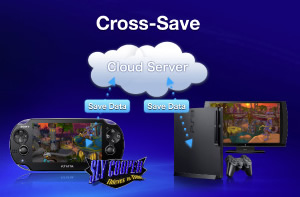 Also making use of PS Vita's feature set, LittleBigPlanet allows users to Play, Create and Share like never before with the system?s front touch screen and rear touch pad, tilt capabilities, microphone, and its front and rear cameras in this new mobile adventure for Sackboy.
Finally, PlayStation All-Stars Battle Royale brings together first and third party PlayStation characters for the first time in a classic brawler that allows players to take their PS Vita system and battle PS3 gamers in real time through the title's Cross-Play functionality.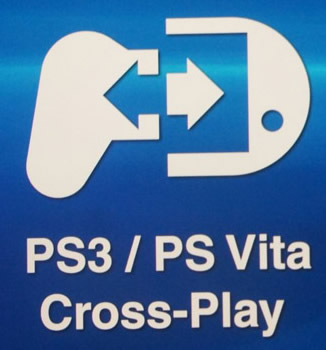 This is part of Sony's plans to bolster the Vita's use with PlayStation 3 consoles by making use of its front and back touch screens and giving different players different perspectives in the same game. The "PlayStation All-Stars: Battle Royale" allows PS Vita players to fight PlayStation 3 players over the Internet in real time. The use of a second screen with a controller mimics plans by Nintendo to sell a tablet-like touchscreen controller with its Wii U, which is expected to launch later this year. It also resembles Microsoft's SmartGlass feature, unveiled earlier Monday, which makes use of smartphones to control video content.
The Cross-Goods functionality allows users to enjoy various content such as purchased downloaded content and user generated content on both PS3 and PS Vita by transferring to other platform, by sharing between both platforms, or by other ways.
The Remote Play feature allows PS Vita users to remotely access their PS3 to enjoy content including games and videos.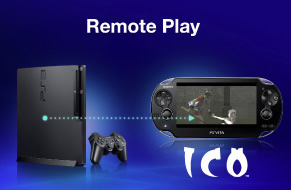 Adding to this selection of games, SCEA featured a collection of PS Vita titles that will be available including Sound Shapes, Smart As, Soul Sacrifice, PulzAR, and Table Top Tanks, and also announced that PlayStation one Classics will be supported on PS Vita following a system software update, scheduled for this summer.
PlayStation 3
Expanding the PS3 system's catalog of games, SCEA presented a selection of new entries from fan-favorite series featuring full stereoscopic 3D support including God of War: Ascension and Sly Cooper: Thieves in Time. PS3 owners can also look forward to exclusive AAA content in the form of BEYOND: Two Souls, The Last of Us, LittleBigPlanet Karting and PlayStation All-Stars Battle Royale, along with unique PlayStation Network and indie games, including Sound Shapes, When Vikings Attack, Journey Collection, and The Unfinished Swan. Additionally, LittleBigPlanet 2 will be debuting its cross-control functionality that will allow players to experience the game in a brand new way. LittleBigPlanet 2 owners can now use the PS Vita system as an enhanced controller for the PS3 system, enabling them to Play, Create and Share with their PS3 and PS Vita systems at home together.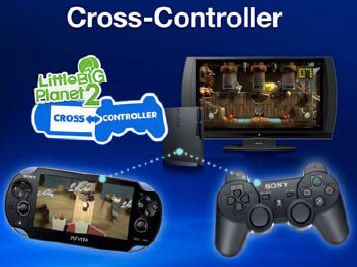 SCEA also announced the availability of the Assassin's Creed III PlayStation 3 bundle at major retailers across the U.S. this October, which brings together the PS3 system with Ubisoft's Assassin's Creed III game on Blu-ray disc.
Jack Tretton, the president and CEO of Sony Computer Entertainment America, suggested it may be a few more years before a new PlayStation console is due. He told a packed Los Angeles Memorial Sports Arena that Sony's 6-year-old machine "continues to shatter expectations" and called it "the industry's most powerful palate" for game-makers.
PlayStation Move
In addition to new software lineup, SCE today announced Wonderbook: Book of Spells, the first title that uses Wonderbook, the new PS3 peripheral to incorporate augmented reality as a unique way to tell and share stories for children and families.
The first product from Sony's partnership with Pottermore, Book of Spells brings wizardry to life, featuring exclusive content written by J.K. Rowling and introducing players to the Harry Potter universe using the PlayStation Move (PS Move) and the PlayStation Eye camera.
SCE also unveiled the upcoming availability of the PlayStation Move Racing Wheel, a new peripheral for PS3 that will work with the PS Move motion controller. The PlayStation Move Racing Wheel features folding motorcycle handlebars with twist grip throttle, fast access paddle shifters, and enhanced vibration feedback. Available this Fall for $39.99 (MSRP), the PlayStation Move Racing Wheel will support recently announced titles such as LittleBigPlanet Karting in addition to PS3 favorites like MotorStorm Apocalypse, Gran Turismo 5, Need for Speed: Hot Pursuit, Burnout Paradise and many more.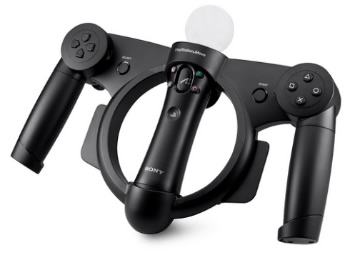 Moreover, SCEA featured Sports Champions 2, the sequel to the PS Move title Sports Champions, which features six pulse-pounding events, including five new games and an update to the fan-favorite Archery event from the first title.
PlayStation Plus
PlayStation Network announced an enhancement to its PlayStation Plus premium membership, providing consumers with an instant game collection for less than $5 a month. As of June 5th at 2:00pm PT, titles like Ratchet & Clank: All 4 One, inFAMOUS 2, LittleBigPlanet 2, and many more from first-and-third party partners, will be part of a library of games instantly available to PlayStation Plus members.
PlayStation Plus can be purchased through PlayStation Store on the PS3 system by clicking on the PlayStation Plus category. One-year memberships are available for $49.99 (MSRP) and three-month memberships cost just $17.99 (MSRP).
HTC Partnership for PlayStation Mobile
SCE also announced HTC will join the PlayStation Certified license program. By collaborating with HTC, a global designer of smartphones, SCE aims to deliver the PlayStation experience to even more users around the world.
In addition to third party developers and publishers as well as a wide range of content developers who have agreed to develop content for PlayStation Suite, SCE Worldwide Studios is developing attractive games.
SCE plans to grow the world of PlayStation across mobile devices with the progress of content development and the expansion of PlayStation Certified devices. In conjunction with this development, SCE will rename PlayStation Suite to PlayStation Mobile, and position it as a new platform.

AT E3, Sony also announced a milestone for the God of War franchise - the award-winning series has now surpassed 21 million units sold as of May 30, 2012.