Sony Ericsson Unveiled XPERIA X1
Sony Ericsson today announces 30 September 2008 as the official launch date for the highly anticipated XPERIA X1 - initially available to consumers in the UK, Germany and Sweden. The handset will be available in other markets across Europe, Asia and Latin America throughout Q4 2008. Asia Pacific : Indonesia, Singapore, Bangladesh, Cambodia, India, Malaysia, Philippines, Taiwan, Thailand and Vietnam
Western Europe : Spain, France, Italy, Switzerland, Netherlands, Austria, Norway, Denmark, Belgium, Portugal
Central Europe : Poland, Hungary, Czech Republic
Middle East : UAE, Saudi Arabia, Kuwait
Africa : South Africa
Latin America : Argentina, Chile, Uruguay, Paraguay and Bolivia
Availability dates for North America, China, Australia and Russia along with other countries not mentioned above will be announced by local markets in the coming months.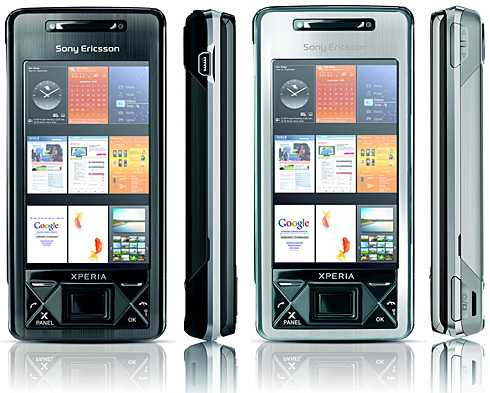 Webcast
To start the countdown to the launch of XPERIA X1, Sony Ericsson will host a live global webcast on September 15 at 13:00 GMT + 1, offering viewers the first in-depth demonstration of the handset. The web cast will also premiere the first episode of an alternative reality thriller Johnny X. To register to view the web cast and Q&A session with XPERIA X1 Senior Product Manager Magnus J Andersson, please visit: www.sonyericsson.com/premiere.
"We are extremely pleased with the innovation and new user experience we have created for consumers on the XPERIA X1," said Rikko Sakaguchi CVP and Head of Creation and Development at Sony Ericsson. "The in-depth demonstration on the web cast will showcase how this handset is truly unique. The nine panel eco system puts the user in total control of the primary experiences available on the phone and allows consumers to personalise the panel interface to suit their needs and lifestyle. The XPERIA X1 has the highest quality screen on the market, four-way navigation keys and optical joy stick to give a stressless browsing experience and, with its super fast processor and network speed the XPERIA X1 really bridges the gap between personal, entertainment and work mobile needs."
Sony Ericsson XperiaTM X1 - At A Glance
Camera
Auto focus - 3.2 megapixel camera - Photo light - Video recording
Music
Bluetooth stereo (A2DP) - Media player - Music tones - Windows Media Player Mobile - 3D games - FM radio - Java - Video streaming - Video viewing
Internet
Internet Explorer Mobile - Opera 9.5 browser - RSS feeds
Communication and Messaging
Polyphonic ringtones - Speakerphone - Vibrating alert - Video calling - Email - Picture messaging (MMS) - Predictive text input - Text messaging (SMS)
Design
Xperia panels - Optical Joystick navigation - Navigation key - Picture wallpaper - Touch navigation
Organiser
Alarm clock - Calculator - Calendar - Document editors - Document readers - Flight mode - Handwriting recognition - Notes - Phone book - Tasks - Touchscreen
Connectivity
aGPS - Bluetooth technology - Modem - Synchronisation - USB support - WLAN
Windows Mobile Operating System 6.1
Microsoft Outlook Mobile: email, contacts, calendar, tasks - Microsoft Office Mobile: Word, Excel, PowerPoint - Internet Explorer Mobile - Windows Media Player Mobile - Windows Live - Exchange ActiveSync - Utility Applications: file explorer, calculator, pictures & video, notes
Facts and Figures
Size: 110 x 53 x 16.7 mm - Weight: 158 grams - Available colours: Solid Black and Steel Silver - Main screen: 65,536 color TFT - Resolution: 800 X 480 pixels - Size: 3 inches - Memory - Phone memory: up to 400 MB - microSD memory card support
Availability and Versions
Networks
UMTS 900/1900/2100 - UMTS 850/1900/2100 - EDGE 850/900/1800/1900 - HSUPA/HSDPA
Global Launch
The official global launch of the XPERIA X1 will take place at Tent London as part of London Design Week between September 18 - 21st. Tent London is one of the most comprehensive and diverse design events of the year. It is a multi-disciplinary event in an exciting location that will appeal equally to designers, media and consumers - embracing art to architecture, vintage to contemporary and raw talent to established trend-setters.
XPERIA
The XPERIA X1 is the first product under Sony Ericsson's new premium sub-brand XPERIA. Designed to meet consumers' needs for a converged entertainment and mobile web communication experience, the XPERIA X1 is an extremely stylish handset encased in a real stainless steel body, with a striking arc-slider design, supported by a powerful multimedia ecosystem.
Consumers can access a world of experiences by tapping on one of the unique customisable panels on the three-inch high resolution touch-widescreen. Windows Mobile lets you choose from a dynamic range of activities anytime and anywhere; from enjoying your music, watching a video, checking email, shopping online or working with Windows Mobile Office on-the-move. The full QWERTY keyboard and quality metal casing completes this premium handset. For more information please visit: www.sonyericsson.com/x1