Sony Introduces The Xperia E1 And The Xperia T2 Ultra Smartphones
Sony Mobile expands its Xperia linuep with two new smartphones for the emerging markets, the Xperia E1 and the Xperia T2 Ultra, which also come in a dual SIM version. The Xperia E1 is mid-tier Android smartphone with a 4-inch (800 x 480) display, a 1.2 GHz dual core processor with 512 MB RAM and 4GB storage. The device supports Cat 14 HSPA+ data speeds and features Walkman key, shake to shuffle and hardware controls for easy music control. The ClearAudio+ and xLOUD technologies also optimise the balance of frequencies of sound.
In addition, the The latest generation of Sony's "WALKMAN" App makes short work of combining on and offline music, creating playlists, as well as playing and sharing tracks. To top it all off, Xperia E1 comes pre-loaded with a 30 day pass for Sony's Entertainment Network music streaming service.
Also available is a new dual SIM smartphone, you can set up both SIM cards independently with custom ring tones and instant switching between SIMs before making calls or sending texts.
Xperia E1 features (& Xperia E1 dual)
- 4" WVGA (800 x 480) display
- 1.2 GHz dual core processor with 512 MB RAM and 4GB storage
- Walkman key, shake to shuffle and hardware controls for easy music control
- Fast data speeds with Cat 14 HSPA+
- Available in white, black and purple
The Xperia T2 Ultra has been designed with users from emerging markets in China, the Middle East, Africa and the Asia Pacific rim in mind.
It comes with a 6-inch HD TRILUMINOS display, which extends to within 2.5 mm of the phone's edges. It is also both slim (7.6 mm) and light (weighing only 173 ± 1g depending on variant differences), fitting easily in a jacket pocket.
The Xperia T2 Ultra is powered by a Snapdragon Quad-core 1.4 GHz processor with 1GB of RAM and 8GB of on board storage.
The smartphone is incorporating a battery-efficient processor and a 3000 mAh battery, coupled with Sony's Battery STAMINA Mode that automatically turns off functions to save power when you don't need them and restarts them when you do.
Xperia T2 Ultra features a 13 megapixel camera. The smart social camera system allows developers to create camera add-ons that extend functionality. Apps available at launch will include:
- Portrait Retouch: Turn Xperia T2 Ultra into a virtual mirror and experiment with make-up effects before snapping the perfect self-portrait
- Collage: Allows you to drop images directly into photo collages by changing formats, layouts and backgrounds
- Background defocus: Create images full of depth by separating foreground elements and burring the background
- Timeshift burst: Ensures you get the perfect photo every time by taking 31 photos within two seconds, both before and after you press the shutter. You can then scroll through them afterwards to select the perfect shot.
- Sweep Panorama: Snap panoramas easily. Take a snap then sweep the phone in a direction you set to capture wide-angle panoramas.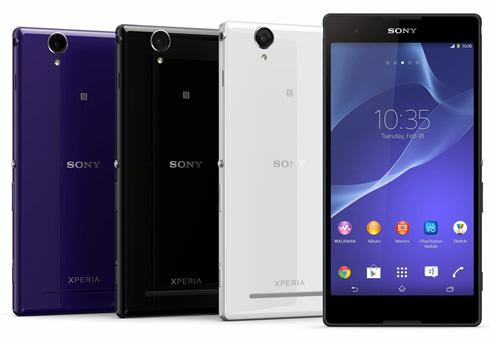 With one-touch functions users can easily share music, photos and videos and movies from Xperia T2 Ultra with a wide range of NFC-enabled Sony devices, including speakers, SmartWatch, wireless headsets and TVs.
Sony's latest Album, Walkman and Movies apps will integrate out-of-the-box with cloud services to provide access to entertainment. For users in most Asia Pacific markets this will mean out-of-the-box integration with the Sony Entertainment Network as well as Sony's PlayMemories Online storage service, whilst in China users will have access to an exclusive Sony movies channel via Sohu and the Sony Zone, a 320Kbps streaming MP3 service.
Xperia T2 Ultra dual variant incorporates Sony?s latest generation of dual SIM mobile technology.
Key specs for Xperia T2 Ultra and Xperia T2 Ultradual
- 6" HD display (720p) with TRILUMINOS and Mobile BRAVIA Engine 2 for mobile
- 13 MP camera with Exmor RS for mobile
- 1.1 Mp front facing camera with Exmor R
- Access to Sony's "one-touch" ecosystem of 132 NFC connected accessories
- Snapdragon Quad-core 1.4 GHz processor with 1GB of RAM and 8GB of on board storage (Micro SD slot expandable up to 32GB)
- 3000 mAh embedded battery with Battery STAMINA Mode
Sony likely won't release the T2 Ultra or the E1 in the US, but the company says they will be coming to China, the Middle East, Africa and Asia in the near future. Exact pricing information for the phones has not yet been released.