Sony PlayStation VR Launches In October For Just $399
Sony's PlayStation virtual reality headset will launch globally for $399 in October, and 50 games expected to be ready by the launch date. The PlayStation VR (PS VR) will launch from October 2016 in Japan, North America, Europe and Asia, at manufacturer's suggested retail price of 44,980 yen, $399 USD, €399 and £349.
Sony said that more than 230 developers and publishers are working on PS VR software titles, such as 2K Games and Ubisoft. Software titles in development for PS VR from these developers and publishers as well as from SCE Worldwide Studios are now totaling to more than 160 titles, and over 50 of those titles including Eagle Flight (Ubisoft), EVE: Valkyrie (CCP Games), Headmaster (Frame Interactive), Rez Infinite (Enhance Games), Wayward Sky (Uber Entertainment), RIGS: Mechanized Combat League, Tumble VR, Until Dawn: Rush of Blood and PlayStationVR WORLDS (SCE WWS) are expected to launch by the end of this year. Additionally, Electronic Arts, DICE and Lucasfilm are working on an all-new Star Wars Battlefront (Electronic Arts Inc.) gaming experience only for PS VR. Furthermore, THE PLAYROOM VR by SCE WWS will be available as a free download from PlayStation Store to all PS VR owners, simultaneously with the launch of the system.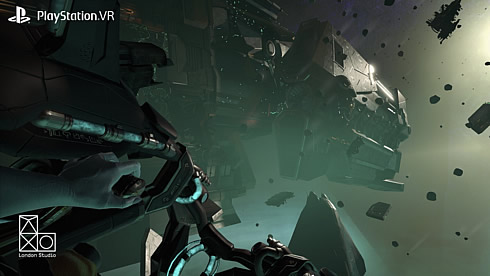 Additionally, The Playroom VR, from Sony's own Japan Studio, will be available as a free download from PlayStation Store for all PS VR owners at launch. The Playroom VR will include six games that can be enjoyed with friends.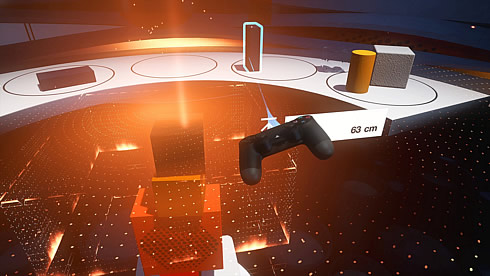 To further drive the expansion of the PS VR software line-up, SCE is partnering with Tools & Middleware companies to provide technology solutions and enhance the title development environment for PS VR.
Andrew House, head of Sony's gaming division, said on Tuesday during the Game Developers Conference that the company wanted the highly anticipated headset to come out at a price point that would encourage quick and widespread adoption. The price is lower than the $599 price announced by Facebook-owned virtual reality company Oculus Rift.
The head-mounted display works in tandem with the PlayStation 4 console. It surrounds a wearer's vision and immerses them in 360-degree virtual worlds.
The system also has a Cinematic mode, which lets users enjoy a variety of content in a virtual screen while wearing the headset. Supported content for the Cinematic mode includes standard PS4 games and videos as well as variety of PS4 features including Share Play and Live from PlayStation. Users will also be able to enjoy 360 degrees photos and videos that are captured by devices such as omnidirectional cameras on PS VR via PS4 Media Player.
The PS VR will be bundled with the following contents: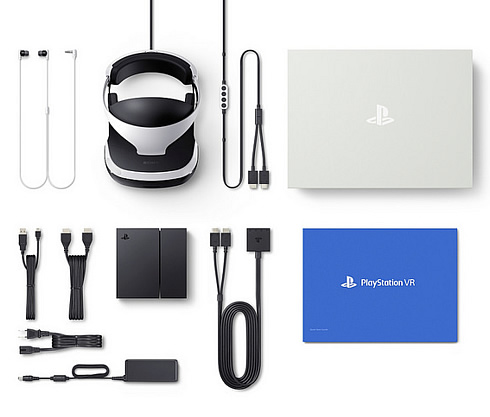 As you might have noticed, Sony's final PlayStation VR setup includes the PlayStation camera, which has been around since PS4's launch. That is indeed a required accessory, but unfortunately it will be sole separately.
Specifications of PlayStationVR
Product code
CUH-ZVR1series
Release month
October 2016
Recommended Retail Price
44,980 yen, $399 USD, €399 and £349
External dimensions

VR headset: Approx. 187x185x277 mm (width x height x length, excludes largest projection, headband at the shortest)
Processor unit: Approx. 143x36x143 mm (width x height x length, excludes largest projection)

Mass

VR headset: Approx. 610g (excluding cable)
Processor unit: Approx. 365g

Display Method
OLED
Panel Size
5.7 inches
Panel Resolution
1920xRGBx1080 (960xRGBx1080 per eye)
Refresh rate
120Hz, 90Hz
Field of View
Approximately 100 degrees
Sensors
Six-axis motion sensing system (three-axis gyroscope, three-axis accelerometer)
Connection interface

VR headset: HDMI, AUX, Stereo Headphone Jack
Processor unit: HDMI TV, HDMI PS4, USB, HDMI, AUX

Processor Unit Function
3D audio processing, Social Screen (mirroring mode, separate mode), Cinematic mode
Included

VR headset x 1
Processor unit x 1
VR headset connection cable x 1
HDMI cable x 1
USB cable x 1
Stereo headphones x 1 (with a complete set of earpiece)
AC power cord x 1
AC adaptor x 1