PlayStation VR Leads Virtual Reality Headset Market
Quarterly virtual reality headset shipments exceeded 1 million units for the first time in Q3 2017, with Sony's PlayStation VR (PS VR) device to enjoy the highest sales.
According to Canalys, Sony shiped more than 490,000 PlayStation VR sets in Q3. It was followed by Oculus, which shipped 210,000 of its Rift headsets. HTC took third place, shipping 160,000 Vive VR units. Collectively, Sony, Oculus and HTC made up 86% of the total market in Q3 2017.
Oculus increased shipments of its Rift headsets by cutting the price to US$399 for a limited time, matching that of the PS VR.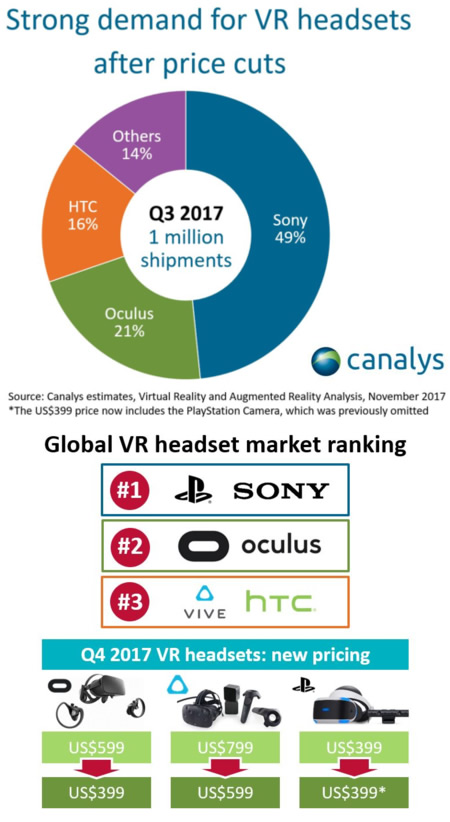 "Hugo Barra (Oculus) is betting on his next product, the US$199 Oculus Go standalone headset, to reach more users next year, said Canalys Research Analyst Vincent Thielke. "Incumbents and new players entering the market are targeting similar price points," he added.
In Asia, Japan's gaming and entertainment culture has helped VR adoption. VR in Japan has benefited immensely from the emergence of VR experience zones across the country, such as in Shinjuku, Tokyo. Japanese consumers enjoy living their fantasies in virtual reality, a trait that stems from their anime and gaming culture. "Sony is well placed to take advantage of this increasing interest in VR," said Canalys Analyst Jason Low. "Sony has dominated the Japanese VR headset market since the release of the PS VR, taking more than an 80% share, and will continue to lead as it increases supply of the PS VR headset with bundles featuring new titles from popular franchises, including Doom, Skyrim and Gran Turismo."
The global VR headset market is expected to gain a sizeable boost in 2018 from new entrants supporting Microsoft's Windows Mixed Reality platform.
Canalys defines a virtual reality headset as a device with a display designed to be worn on the face that immerses the viewer in a virtual world, and it excludes simple viewers, such as Samsung's Gear VR and Google's Daydream View.