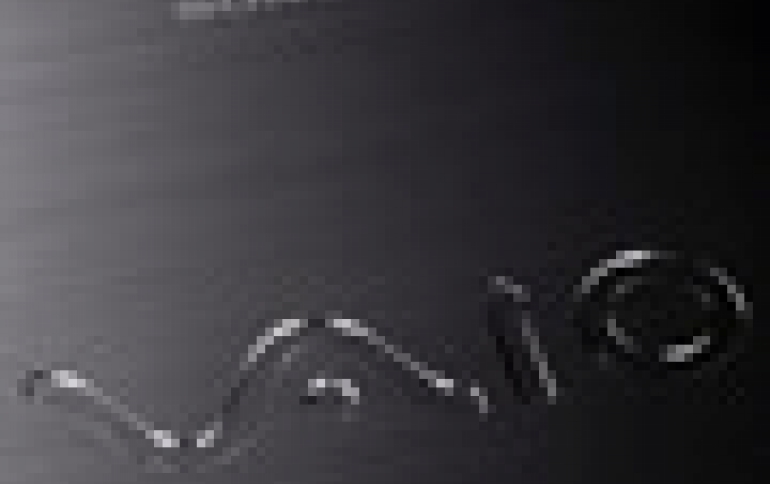 Sony Unveils Hybrid Ultrabook, Mobile Tabletop PC For The U.S. Market
Sony today officially introduced its first mobile Tabletop PC for the U.S. market, the VAIO Tap 20 PC, and its slider hybrid, the VAIO Duo 11 Ultrabook. Alongside the new PCs, there's a T Series Ultrabook and a portfolio of VAIO PCs.
The latest VAIO Touchworld collection features 10-point multi-touch screens with interactive applications.

VAIO Tap 20 is a family tabletop PC designed to take advantage of the ease of Windows 8. Featuring a 20-inch screen, this mobile desktop PC can lay flat on a coffee table for the whole family to play games on the large screen. With a removable battery, users can move it from room to room in the house. Powered by Mobile BRAVIA Engine 2 by Sony, VAIO Tap 20 promises to offer clear images while the built-in stand and wide angle panel enables viewing at many angles. Users can also stand VAIO Tap 20 upright and use it as a fully-functioning desktop PC with the supplied wireless keyboard and mouse.
VAIO Tap 20 comes with a choice of apps that are optimized for 10-point multi-touch operation, including Fingertapps Organizer, a calendar app for family members to communicate digitally via posted to-do lists and recorded messages and videos.
Sony partnered with ArtRage to offer the ArtRage Studio softwre on all five of the new touch VAIO models. ArtRage Studio offers natural painting tools such as oil paints and watercolors, along with utilities to make painting easier.
Sony also partnered with Sony Pictures Home Entertainment to develop My Daily Clip application, a movie trivia game that lets up to four players gather around the VAIO Tap 20 and watch a wide range of scenes from Sony Pictures movies and answer trivia questions.
The VAIO Duo 11 PC transforms almost instantly between an Ultrabook and a multi-media tablet with scratch-resistant glass. VAIO Duo 11 features a Surf Slider mechanism to switch between keyboard and tablet.
VAIO Duo 11 weighs approximately 2.84 lbs. and features an 11.6-inch screen. VAIO Duo 11 also offers a pressure-sensitive digitizer stylus allowing for handwriting directly on the touchscreen. A choice of swappable pen tips allows for a firmer or softer writing feel.
Featuring an LCD display and backlit keyboard, the VAIO Duo 11 is available on latest-generation Intel Core processors. In addition, VAIO Duo 11 includes full functional I/O port connectivity and Sony?s Sheet Battery technology (sold separately).
VAIO Duo 11 makes it easy to crop photos and graphics with Active Clip developed by Sony. Just draw roughly around the edge of the chosen picture with the digitizer stylus and Active Clip automatically detects edges and cuts out the background, allowing users to drop the cleanly-bordered image straight into documents or presentations. In addition, the Note Anytime application available for download on VAIO Duo 11 is for digitally jotting down handwritten notes on the touchscreen.
Through Sony's one-touch function, users of both the VAIO Tap 20 and Duo 11 PCs can enjoy media content across an array of NFC (Near Field Communication) enabled devices. Simply touch one device against another and instantly establish a wireless connection.
VAIO Tap 20 and VAIO Duo 11 also feature incorporated stereo speakers utilizing Sony's audio fidelity expertise, including Dolby Home Theatre v4 Audio Technology.
T Series
The stylish T Series Ultrabook made with an smooth brushed aluminum shell now comes with a touch display on the new T13 Ultrabook to allow users to experience Windows 8-based touch in a clamshell form factor.
Sony is also introducing the T14 Ultrabook incorporating the same port connectivity as the T13 model and includes an optical disc drive to support Blu-ray and DVD media.
E Series
The VAIO E Series family is featuring Sony's wrap around design and now includes a touchscreen enabled aluminum E Series 14P model with signature VAIO diamond cut logo as well as a new E17, 17-inch model with a Full HD Display (1920 x 1080) and a Quad Core processor.
Also available in 11-inch, 14-inch and 15-inch models, the PCs include backlit keyboards (14-inch and 15-inch), the latest Intel Core processors (14-inch and 15-inch), with high contrast displays and AMD Radeon graphics options.
S Series
The S Series continues to offer a combination of mobility and performance in a design crafted in magnesium, aluminum and carbon fiber materials. The 13-inch model is now available in a new Burgundy Red color. The S Series is also available in 13.3-inch Premium and 15.5-inch models.
All Sony VAIO's will feature either Windows 8 or Windows 8 Pro
Sony's media applications
Also Sony's VAIO line includes two new apps. The Album application makes viewing, sorting or sharing photos fun. The Music application lets listeners enjoy their music collection with high quality thanks to incorporated stereo speakers utilizing Sony's audio fidelity. Both applications let VAIO users throw or stream personal photos, video and music to DLNA compatible devices.
Many models also feature Sony Imagination Studio VAIO Edition, which includes four Sony applications: Movie Studio Platinum, ACID Music Studio, Sound Forge Audio Studio and DVD Architect Studio software.
Lastly, the Socialife application, available for download from the Windows Store, is a social feed aggregator that allows users to view, sort and manage SNS such as Facebook and Twitter, and news feeds through one user interface. Based on what your friends are reading, Socialife is able to point out other popular topics and even suggests content.
The new touch enabled VAIO line will be available at the end of October at Sony retail stores (www.store.sony.com) and other authorized dealers. Below are approximate suggested retail prices for each model.
VAIO Tap 20 $879.99 and up in Black; White.
VAIO Duo 11 $1099.99 and up in Black.
E Series 11 $449.99 and up in Black; White.
E Series 14 $449.99 and up in Black; White; Pink.
E Series 14P $689.99 and up in Gun Metallic and Gold; Silver and Blue, Pink and Pink; Black and Red; White and Blue.
E Series 15 $449.99 and up in Black; White; Aluminum Silver; Pink.
E Series 17 $729.99 and up in Black; White.
T Series 13 $669.99 and up in Aluminum Silver.
T Series 14 $669.99 and up in Aluminum Silver.
S Series 13 $799.99 and up in Black; Silver; White; Pink; Burgundy Red.
S Series 13 Premium $1199.99 and up in Black; Gold; Gun Metallic.
S Series 15 $849.99 and up in Black; White; Silver.
L Series $1199.99 and up in Black and White.