Sony Unveils New 2.74-inch TFT LCD Module for Mobiles
Sony and Sony Ericsson Mobile Communications have developed a liquid crystal panel module for use in mobile phones that supports a special processing technology to enhance image quality. The panel size and aspect ratio are 2.74 inches and 16:9, respectively. The module features the "RealityMAX" tachnology, which boosts brightness and contrast ratio by automatically analyzing the scene of input image, determining the number of dark portions. In addition, by performing edge enhancement to automatically correct image sharpness, the module enables images displayed on the liquid crystal panel to look clearer. Both techniques have been developed as image processing technologies for use in television. Sony will focus on commercialization of the liquid crystal panel module while SEMC will promote the product development of mobile phone with the module.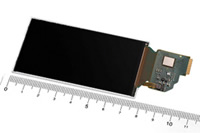 The latest liquid crystal panel module employs a 432 x 240 transmissive LCD panel with a contrast ratio of 350:1 and the viewing angle of more than 160 degrees. It boasts 262,144 reproducible colors. It is manufactured by using a low-temperature polysilicon TFT LCD panel technology. Thus, the peripheral circuits such as the liquid crystal driver and source circuits are mounted on the glass substrate. The high-definition engine RealityMAX is an external component that is mounted on the printed wiring board connected to the liquid crystal panel. The power consumption is 39.6 mW (excluding backlight). With the adoption of the proprietary thin light guide panel in the backlight, the module thickness is reduced to 1.75 mm.