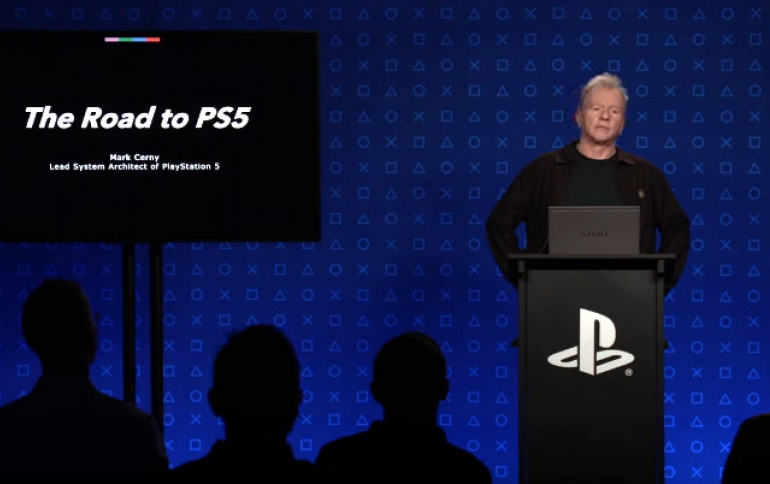 Sony Unveils Playstation 5 Hardware Details
Sony PS5 lead system architect Mark Cerny today provided a deep dive into PS5's system architecture and how it will shape the future of games.
Cerny unveiled more details behind the technical and hardware components of the PlayStation 5 – an ultra-high-speed SSD, integrated custom I/O system, custom AMD GPU with ray tracing, and 3D audio.
Specs
x86-64-AMD Ryzen "Zen 2"
8 Cores / 16 Threads
Variable frequency, up to 3.5 GHz
GPU
AMD Radeon RDNA 2-based graphics engine with 10.28 teraflops and 36 compute units clocked at 2.23GHz with variable frequency
Ray Tracing Acceleration
Variable frequency, up to 2.23 GHz (10.3 TFLOPS)
System Memory
GDDR6 16GB
448GB/s Bandwidth
Custom SSD
825GB
5.5GB/s Read Bandwidth (Raw)
Storage
Expandable storage with both USB and internal NVMe drives
PS5 Game Disc
Ultra HD Blu-ray, up to 100GB/disc
Video Out
Support of 4K 120Hz TVs, 8K TVs, VRR (specified by HDMI ver.2.1)
Audio
"Tempest" 3D AudioTech
The PS5 will also have a 4K Blu-Ray drive though games will still need to be installed to the SSD.
Starting with the console's SSD, Cerny said that for PS4, a hard drive could take up to 20 seconds to load 1GB of data. And 1GB is often on the low end of data to wait for. But on PS5, there will be more bandwidth and no seek time. He said for 2Gb, you can load in 0.27 seconds. This can also reduce the time for fast travel in adventure games. This is achieved through a custom SSD that is like nothing currently available on the market.
Using an SDD can also lead to faster streaming from storage. On HDDs, developers may have to duplicate the environment. Additionally, on an HDD, patch installs can take a long time because it needs to add a new file. But with PS5's SSD, this isn't necessary.
"No installs as you know them today," Cerny said.
The PS5 uses a custom flash controller for the SSD with a 12-channel interface with bandwidth of 5.5GBps. The "natural size," Cerny said, is 825 GB.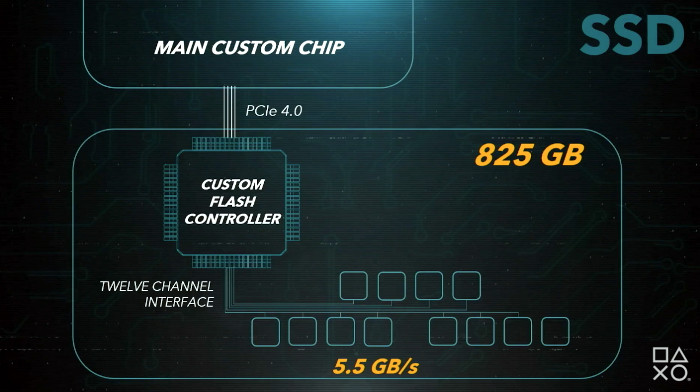 The flash controller will connect over PCIe 4.0 to the PS5's main custom AMD Zen 2 chip.
The PS5 will also support certain M.2 PCIe SSDs on the market. Those commercial drives need to reach the same 5.5GB/s that Sony is promising. M.2 drives with PCIe 4.0 should support that, but those will have their own flash controllers. Sony says its compatibility testing and benchmarking drives to come up with a list of which drives will fit in the PS5 and which have worked well in testing.
The PS5 won't just be limited to that SSD, though. It'll have support for USB hard drives, too, but those slower expandable storage options are designed mostly for backward-compatible PS4 games. You can install via an external HDD for older PS4 games.
It'll also feature a previously announced 4K Blu-ray drive and will still support discs, but those games will still require installation to the internal SSD.
The PS5 will also have 16GB of GDDR6 RAM. Games and loading should be 100x faster, Cerny said.
Regarding the GPU, Cerny said that the new AMD chip is efficient, and offers backwards compatibility. The GPU, an AMD custom chip based on RDNA 2 technologies, will also support new shaders and ray tracing.
A new feature called the Geometry Engine is a feature in the PS5. It allows for primitive shaders to "synthesize geometry on the side" while be rendered, as well as improvements to visual effects.
Ray tracing is also coming to PS5 through RDNA 2. Ray tracing won't be required, but developers can use it for audio, global illumination, shadows and reflections. Cerny said he's seen one game only seeing modest performance hits from illumination and shadows. Cerny also mentioned the BVH (Bounding Volume Hierarchy) for ray tracing, suggesting the core hardware functionality will be similar to what Nvidia is doing.
The PS5's GPU will use 36CUs clocked at 2.23GHz. And both the CPU and GPU will both be run in constant boost mode and normally be close to the maximum clock speed, but in some worst-case situations it may down-clock, "but not too far."
The PS5 will also take advantage of AMD's SmartShift technology to move power between the CPU and GPU. The GPU frequency is capped at 2.23 GHz, or 10.3 teraflops.
The PS5 will feature a custom eight-core AMD Zen 2 CPU capped at 3.5 GHz.
Cerny said sounds through any output should get 3D audio." He said that Sony built a proprietary algorithm and audio unit, called Tempest 3D AudioTech. The hardware, based on AMD's GPU design, is called the Tempest Engine.
"We wanted to deliver a compelling audio experience for all users, not just those who own high-end speaker systems. So we designed and built a custom engine for 3D audio that is equipped with the power and efficiency for ideal audio rendering. With 3D audio on PS5, the sounds you hear while playing will offer a greater sense of presence and locality. You'll be able to hear raindrops hitting different surfaces all around you, and you can hear and precisely locate where an enemy is lurking behind you," Sony says.
Players may use TV speakers, headphones or surround sound. But to get 3D audio out of that will be a multi-year process, Cerny said. But headphones are largely already done. For TV speakers and stereo speakers, Sony is still working on stereo surround spot based on sitting in a sweet spot on the TV. The PS5 would come with five audio profiles to pick from and suggested further tuning could come later.
Some games in development are already using this tech, though some will let you switch between PS4-style dual-channel audio and surround sound.
Sony is also promising that the new hardware will add support for both 8K gaming as well as 4K gaming at 120Hz. An optional low power consumption mode to save energy, and ofcourse backwards compatibility with PS4 titles are also supported.
The PlayStation 5 is planned for release this holiday season.
For a quick comparison, the recently revealed Xbox Series X appears to beat out Sony's efforts on raw numbers, despite the fact that both consoles are effectively based on the same AMD processor and graphics architectures. Microsoft's console, however, will offer an eight-core processor at 3.8GHz, a GPU with 12 teraflops and 52 compute units each clocked at 1.825GHz, 16GB of GDDR6 RAM, and a 1TB SSD.
In a major difference, though, Sony's CPU and GPU will be running at variable frequencies — where the frequency that the hardware runs at will vary based on CPU and GPU demand.
The Xbox Series X appears to have an edge when it comes to raw power and raw numbers, but the PS5's design approach means that a ton of customization is going on at every step of the system's design.