Sony's Network Media Player Powered by Google TV Arrives in July
Sony announced the availability and pricing of the NSZ-GS7 Internet Player with Google TV, originally introduced in January at CES. Powered by Google TV, the Internet Player will be available at U.S. retailers on July 22, priced at $199. Pre-orders begin on June 25, 2012 at www.sony.com/sonygoogletv.
In addition to the NSZ-GS7 Internet Player, Sony's newest Internet Blu-ray Disc player with Google TV, the NSZ-GP9, will be available at retailers in time for the holiday season, priced at $299. The NSZ-GP9 player features Sony's Blu-ray Disc technology coupled with the Google TV platform.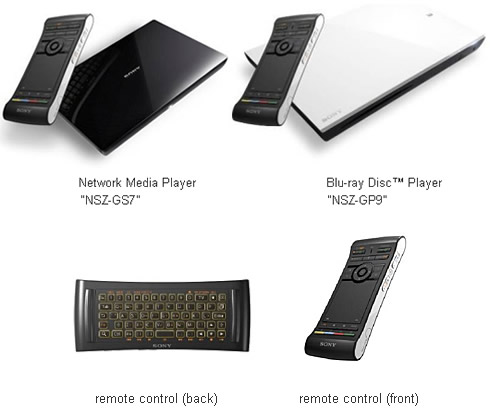 In 2010, Sony helped pioneer the Internet-TV convergence as one of the first manufacturers to launch products powered by Google TV. With the new NSZ-GS7 Internet Player with Google TV, Sony will also be the first manufacturer to launch Google TV products outside of the United States, initially starting with the United Kingdom in July, followed later by Canada, Australia, France, Germany, Netherlands, Brazil, and Mexico. The NSZ-GP9 Blu-ray Disc player with Google TV will be available this fall in the United States, followed later by Canada, Australia, the United Kingdom, France, Germany, and Netherlands.
Sony's NSZ-GS7 and NSZ-GP9 bring the best of Google to your TV, with new experiences arriving every day through the Google Chrome browser; supported mobile apps in the Google Play Store, including hundreds optimized for TV; YouTube with 72 hours of video being added every minute; and a global community of developers from around the world. Google TV's cross search functionality shows viewers all content sources available from broadcast providers and the Internet to deliver customized video results on demand.
Both new products come complete with a redesigned remote control equipped with a backlit QWERTY keyboard, a touch pad for easy operation and a three-axis motion sensor to enjoy games. Additionally, the Bluetooth remote control can also be utilized as a universal remote to control connected devices such as TV, set- top-box and A/V receivers - the NSZ-GP9 Blu-ray Disc player even incorporates voice search capabilities.
NSZ-GS7 Specifications
Audio Features
Coaxial, Optical
Dolby Digital bit-stream out : Yes
LPCM 2ch (~96kHz/~24bit) out : Yes (~48kHz/~24bit)
Decodability
Dolby(R) : Dolby Digital Plus
HDMI Audio Out
Dolby Digital Plus bit-stream : Yes
Dolby Digital bit-stream : Yes
Dolby digital to 5.1ch LPCM : Yes
Dolby downmix to 2ch LPCM : Yes
LPCM 2ch out : Yes (Up to 192kHz)
LPCM 6ch out : Yes (Up to 192kHz)
LPCM 8ch out : Yes (Up to 96kHz)
Network Features
Wi-fi
Wi-Fi Built in : Yes (2.4GHz)
Web Browser
Download : Yes
Flash : Yes
Java : Yes
Search : Yes
Streaming : Yes
Web Browser : Yes(Google Chrome)
Sony Entertainment Network
Video/Music services : Yes
Media Playback Features
Photo
Play/Stop/Pause : Yes
Rotation : Yes
Slide Show Playback : Yes
Video
Play/Stop/Pause : Yes
Prev/Next : Yes
REV/FWD : Yes
Repeat : Yes (All/1title)
Music
PREV/NEXT : Yes
Play/Stop/Pause : Yes
REV/FWD : Yes
Repeat : Yes (All/1title)
General
FW Update
Convenience Features
2nd Display (Media Remote)
Device : Yes (iPhone, Android)
Help : Yes
Media Remote : Yes (over ver2.3)
Remote Control : Yes
Video Features
Noise Reduction
General Features
Internal Local storage : 8GB
Startup Screen : Yes
Measurements (Approx.)
Dimension (W x H x D) : 8 x 1.3 x 5.1 in (204 x 35 x 130mm)
Package Carton (W x H x D) : 11.8 x 9.4 x 9 in (300 x 240 x 230mm)
Power Management
Energy Star Compliant : Yes
Quick Power On (Quick Start) : Yes
Supplied Accessories
Batteries : AA Batteries (2)
Handbook : Yes
Instruction Manual : Yes
Instruction Manual Language : English
Quick Setup Guide : Yes
Reference Guide : Yes
Remote Control : NSG-MR5U
Warranty Card : Yes
3D
Photo : Yes (firmware update)
Streaming : Yes
Video (from camcorder) : Yes (HDMI)
Inputs and Outputs
Ethernet Connection(s) : 100BASE-TX
HDMI Output(s) : 1 (Rear)
Optical Audio Output(s) : 1 (Rear)
USB Input(s) : 2 (Rear)
Optional Accessories
OnLive Gaming Controller/USB dongle : Yes
Speaker : Yes (Bluetooth)
Remote Control
Transmission method : Blutooth
Weights (Approx.)
Built-in Devices
Wireless LAN : 802.11/b/g/n (Single Band)
Language
Power
Power Code Type : US
Power Consumption (in Operation) : 21W
Power Consumption (in Standby) : Less than 0.5W
Power Frequency : 60Hz
Power Voltage : AC 120V
Settings
Initial Setup : Yes
Multiple Language Display : Yes
Wifi Settings (WPS) : Yes
Initial Setup : Yes
Input Device Setting : Yes
Multiple Language Display : Yes
Static IP Setting : Yes
WiFi Settings (WPS) : Yes
Supported Media
Photo
3D Sweep Panorama (by Sony) : Yes
Bitmap : Yes (*.bmp/*.dib)
GIF : Yes (*.gif)
JPEG : Yes (*.jpg/*.jpe/*.jpeg)
MPO : Yes
PNG : Yes (*.png)
Sweep Panorama (by Sony) : Yes
Video
3gpp/H264 : Yes (*.3gp, *.3g2)
3gpp/H264 -AVC : Yes (*.3gp, *.3g2)
3gpp/MPEG4-SP : Yes (*.3gp9
AVI/H.264 : Yes (*.avi)
AVI/MPEG4 SP : Yes (*.avi)
FLV : Yes (*.flv, *f4v)
MKV/H.264 : Yes (*.mkv)
MOV : Yes (*.mov)
MPEG1 Video/PS : Yes (*.mpg/*.mpe/* .mpeg)
MPEG2 Video/PS : Yes (*.mpg/*.mpe/* .mpeg)
MPEG2 Video/TS : Yes (*.m2t/*.mts/*.m2ts)
MPEG4- AAC-LC/LTP : Yes (*.mp4/*.m4a)
MPEG4-AAC : Yes (*.mp4/*.m4a9
MPEG4-HE-AACv1/v2 : Yes (*.mp4/*.m4a)
MPEG4/H.263 : Yes (*.mp4/*.m4v/*.mov/*.qt)
MPEG4/H.264 AVC : Yes (*.mp4/*.m4v/*.mov/*.qt)
MPEG4/MPEG4-SP : Yes (*.mp4/*.m4v/*.mov/*.qt)
MVC : Yes (*.mvc)
Ogg Vorbis : Yes (*.ogg)
WMV/WMV10 : Yes (*.wmv/*.asf)
Xvid : Yes (*.avi) firmware update
USB Storage
Digital Still/Video Camera : Yes
Flash Memory (FAT32) : Yes (Read/Write)
Flash Memory (NTFS) : Yes (Read)
HDD (FAT32) : Yes (Read/Write)
HDD (NTFS) : Yes (Read)
Others : PSP
Supported File System : FAT32/NTFS
Music
3gpp (AAC LC/LTP) : Yes (*.3gp/*.3gpp)
3gpp (HE-AACv1/v2) : Yes (*.3gp/*.3gpp)
AAC LC/LTP : Yes (*.3gp/*.m4a/*.mp4)
AAC-LC : Yes (*.3gp/*.m4a/*.mp4)
AC3/DD : Yes (*.divx/*.mp4/*.mts)
HE-AACv1/v2 : Yes (*.3gp/*.m4a/*.mp4)
LPCM/WAV : Yes (*.wav)
MDI : Yes (*.mid/*.xmf/*.mxmf/*.rttl/*.rtx/*.ota/*.imy)
MP3 : Yes (*.mp3)
WMA : Yes (*.asf/*.wma)