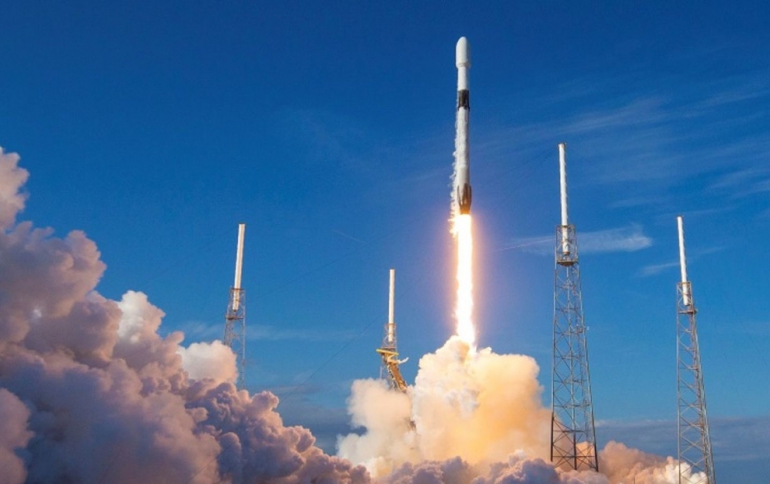 SpaceX Launches Fifth Batch of Starlink Satellites, Misses Booster Landing
Elon Musk's SpaceX launched its fifth batch of 60 Starlink satellites Monday morning, as it continues to expand its mega constellation to provide high-speed internet around the globe.
A SpaceX Falcon 9 rocket rumbled aloft from Cape Canaveral Air Station in Florida at roughly 10:05 a.m. local time and the satellites successfully deployed. About nine minutes after the launch, the first stage of the rocket was then supposed to return for a landing on the droneship Of Course I Still Love You. However, the booster didn't make it to the droneship for unknown reasons, instead making a "soft landing" in the ocean according to SpaceX.
The satellites were successfully deployed into an initial orbit with a maximum altitude of 386 kilometers about 15 minutes after the launch. The satellites will run through some tests, before their ion thrusters raise them to their operational orbit of 550 kilometers over the next few months.
SpaceX is one of a handful of players that wants to build out a space-based internet system that can serve people who struggle to access the web today. Starlink would beam down relatively high-speed data from its network of satellites orbiting the Earth. It's targeting service in the northern U.S. and Canada this year.
SpaceX has been launching roughly 60 satellites at a time into orbit, and with a few more should have global coverage. The service will be "less than what you are paying now for about five to 10 times the speed you are getting," according to Shotwell.
Concerns about mega constellations such as Starlink remain, including the risk of collisions from these large numbers of satellites, and the impact on astronomy the bright points of light will have.
SpaceX CEO Elon Musk tweeted on Saturday, February 15 that the "[satellite] albedo will drop significantly on almost every successive launch", where albedo refers to the brightness of the satellites. The third Starlink launch included a "darkened satellite", but it's unknown if any other satellites have been darkened in this way.
In 2020 alone SpaceX is planning to launch 1,500 satellites into its Starlink constellation, doubling the number of active satellites in orbit. Eventually the company plans to have 12,000 satellites in its constellation, with the potential to increase that to 42,000 satellites. Other companies including OneWeb and Amazon's Project Kuiper in the US plan to add a few thousand more satellites to orbit with their own constellations.