Sprint to get New BlackBerry
Last week, Verizon announced the addition of the RIM BlackBerry 8703e to its fall line. Following suit, Sprint and Research in Motion introduced their own version of the 8703e.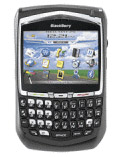 In addition to the blackberry standard push e-mail, Bluetooth, and DUN capability, the Sprint BlackBerry 8703e also includes EV-DO support and integrated GPS for location-based services, so you can get turn-by-turn driving directions right on your device. The 8703e will be available starting October 1 for $349.99 with a two-year agreement.