TCL and Shinco Ship First CBHD Players in China
TCL and Shinco have officially released their new players based on the China Blue High-Definition (CBHD) standard in the world's most populous country. TCL believes that the CBHD format is actually not competing with the Blu-ray format, since they are addressed to different market segments, mainly due to their different retail price.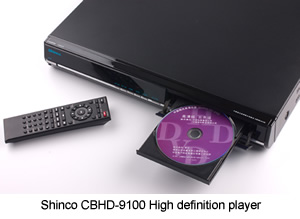 Partially based on Chinese-owned intellectual property, the price of the CBHD players is not aggravated by high patent royalties, as it happens with the corresponding Blu-ray devices. Both Shinco and TCL CBHD players cost up to 40% less than the BD players currently available in China. At price tag of less than 2,000 Yuan ($300), Shinco and TCL players target the price sensitive Chinese consumer.
Li Dongsheng, chairman and president of TCL Corp., believes that the company could sell 10 million CBHD players this year. Shi Wanwen, vice-president, TCL, said high-definition televisions have got a great boost in China in recent year and its accumulative shipment is expected to reach 70 million by 2011, creating a huge market for CBHD players.
The CBHD format is backed by China High-definition DVD industry Association (CHDA), the Optical Memory National Engineering Research Center (OMNERC) and the DVD Forum and it is based on Toshiba's HD DVD format. The blue laser format is protected against piracy using the AACS content protection schemes, also used by the Blu-ray format.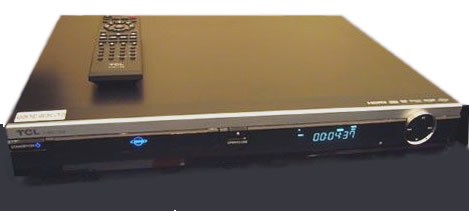 The Chinese Government is supporting CBHD format and has decided to fund many industries in China and has funded some manufacturers engaged in the CBHD format in order to accelerate the CBHD projects.
Warner Bros has also announced plans to release 100 CBHD-based titles in China this year, including the 'Harry Potter', 'Blood Diamond,' 'Golden Compass' and 'Speed Racer' titles. The CBHD movies will cost 50~70 Yuan (about $7.25 to $10.15).
China's Record Company Limited in Shanghai has also completed the first production line for 30GB CBHD discs (dual-layer).
Japanese Memory-Tech Corp. (MTC) and CRC (China Record Shanghai Corporation) have also established UOD (Shanghai United Optical Disc Co., Ltd.), a Music and Video Company directly controlled by the Chinese Government. UOD is a major replicator of CD and DVD discs with a top market share in China. MTC said that it was planning to invest in new production lines for the CBHD discs, run by UOD. In addition to UOD, MTC and CRC established together the CBC (CRC/BMB Audio Visual Co., Ltd.), a post-production company for compiling and authoring CBHD Discs in China. CBC has already completed 5 CBHD Chinese movie titles and more than 20 additional films are currently under production.
According to estimations, 27 million Chinese households will have high definition TV sets in 2009, growing rapidly to 47 million in 2010 and 72 million in 2011.