1. Introduction
TDK CyClone 12/10/32 IDE CDR-W - Page 1
Thanks Mathras for this help!
Introduction: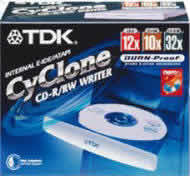 Earlier this year, TDK, introduced a range of CD Re Writers that had quite an impact on the market place. The VeloCDs were a big hit with users due to the impressive ripping speeds that they yielded (this was TDK's main advertising slogan).
The TDK CyClone follows that tradition and promises to give user's many improved features: 12x writing, 10x re-writing and 32x reading speeds. If that's not enough TDK added "BURN-Proof" technology, which eliminates coasters, and DAO-RAW! This model appears to be VERY similar to the Plextor PX-W1210A in terms of hardware specifications. We can confirm that the TDK uses the same mechanism that the Plextor uses. So the question that could confuse would be purchasers would be "Since both drives appear identical which one I should buy? ". In order to answer that question we benchmarked the TDK, Plextor and the Sanyo CRD-BP3 using the standard CDRINFO benchmark tests. Who will win? Don't rush to conclusions…
Supplied Package: The package supplied was the retail European version. This included: The drive itself, a detailed manual (covers 6 languages), a quick installation guide, two CD-R blanks, 1 High Speed RW Blank, Audio cables, mounting screws and a CD-R pen. The software supplied with the TDK CyClone was: Nero 5.0, Ahead InCD and TDK Digital Mix Master software. The drive also displays the High Speed Logo on the left hand side of the front tray, which has a blue colour adding a special paint in the drive. Using CDR Identifier we were able to determine the manufacturer for the CDR (TDK) and RW (Mitsubishi) included media).
Installation:We installed the TDK drive as a secondary master on the IDE controller of our motherboard and powered up the PC. After booting, the CDR-W identified itself as the TDK CDRW121032A. We unchecked the Auto Insert notification, checked DMA and rebooted. The drive was marked as being manufactured in July 2000 with firmware revision v1.02. We suspect that TDK soon will release new firmware update: v1.04 (since the drive is based on Plextor engine). Most of our tests were carried out using Nero v5.0.2.4. For the Packet Writing tests, we used Prassi abCD v1.5.169 and not the supplied Ahead InCD. InCD is based on Prassi abCD so results will very similar.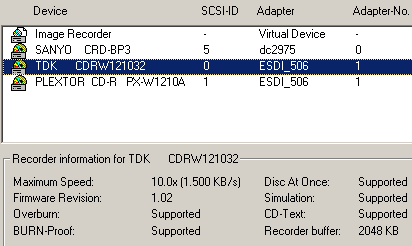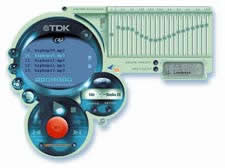 We didn't forget the TDK Digital Mixmaster v3.0 software and we also installed it. TDK Digital MixMaster is an all around solution for users. What you can do with it?
a) Play all your favourite audio music files (Wav, AudioCDs, MP3 and VQF files). The built-in equalizer will be useful for tweaking the sound, to your own personal preference. If that is not enough you can use WinAMP sound plug-ins and further tweak the output sound.
b) Rip your favourite AudioCDs in WAV and burn them directly to CD! MixMaster will rip your AudioCDs to WAV files and then burn them to either Data or Audio format.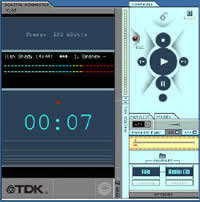 c) Convert your entire favourite Audio files (Mp3, VQF) either to WAV files or burn them directly to CD with the click of one button. Note that Mixmaster software supports all the recording modes and options, which Nero has (test, 1-12x writing, Burn-Proof, CD-Text etc.).
d) CD to CD copy for both data and Audio CDs.
e) Record from Analog sources (convert your LPs to either Mp3 or CD).
f) Make covers for your CDs with the built-in TDK Cover Editor
After playing around with the MixMaster, we must say that our first impression wasn't positive mostly due to the complicate interface (lot of buttons). However, after some time you will become familiar with the various built-in functions and the interface. Don't forget to read the pdf manual guide, which explains in depth all of the program's capabilities.

The player will remind you of WinAMP since it offers similar features such as play lists, skins, equalizer, connection to CDDB databases, plug-ins for both visual and audio. The TDK Digital Mixmaster is actually based on the forthcoming Nero Media Player. Be warned it does limits all recording to all but the TDK CyClone drive (hence the same TDK ;).
Test Machine
WinMe
ABIT BH6
Celeron 300A over clocked to 450 MHz
164 MB SDRAM PC 100
WD 18GB UDMA 66
Quantum Fireball EX 6.4 GB UDMA 33
DAWI 2975 - PCI (ULTRA) SCSI Host Adapter
ATI AIW 128
Plextor UltraPlex 40max firmware v1.04
PlexWriter PX-W1210A firmware v1.04
Sanyo CRD-BP3 firmware v1.03
TDK CyClone firmware v1.02