1. Introduction
This review is for those who want a PC case that looks like a modified PC cases. The following pages are going to take a closer look at Thermaltake's Soprano PC case. This PC case comes in two versions and colours: with or without the transparent X Side Panel Window, in black or silver. We had the opportunity to test the Black Soprano with the transparent panel.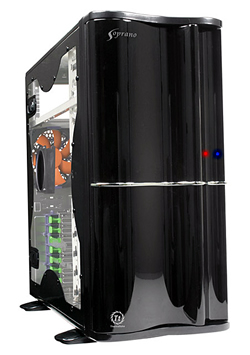 The Soprano VB1000BWS is very striking, mainly due to the wavy front door and the X type transparent panel. However, one thing that is annoying is how easily fingerprints show up on the case, although TT provides a lens cloth to clean them with.
Enclosed dust cloth....

- Specifications
P/N
VB1000BWS
Case Type
Middle Tower
Side Panel
Transparent X type side panel
Color

Black or Silver
Net Weight
9.4kg
Dimension (H*W*D)
495 x 210 x 7480 mm
Power Supply

N/A
Cooling System
Front (intake)
120x120x25 mm, 1400rpm, 21dBA
Rear
(exhaust)
120x120x25 mm, 1400rpm, 21dBA
Side (exhaust)
90x90x25 mm, 1800rpm, 21dBA
Material
Chassis
0.8 mm SECC
Front Door
Plastic
Drive Bays
11
External
4 x 5.25", 2 x 3.5"
Internal

5 x3.5"
Expansion Slots
7
Motherboards

Micro ATX , Standard ATX
Features
High efficiency ventilation: Dual 12cm silent fan in front & rear, 9cm fan on side panel
Transparent side panel
Tool - Free when installing 5.25" & 3.5" device
Dual USB 2.0, IEEE 1394 Firewire, Audio & Speaker ports
Highly flexible "Silent Purepower supply" unit supports PS/II for PC case (optional)
Now that we've covered the basics, let's move on to the detailed analysis of the features and case accessories.