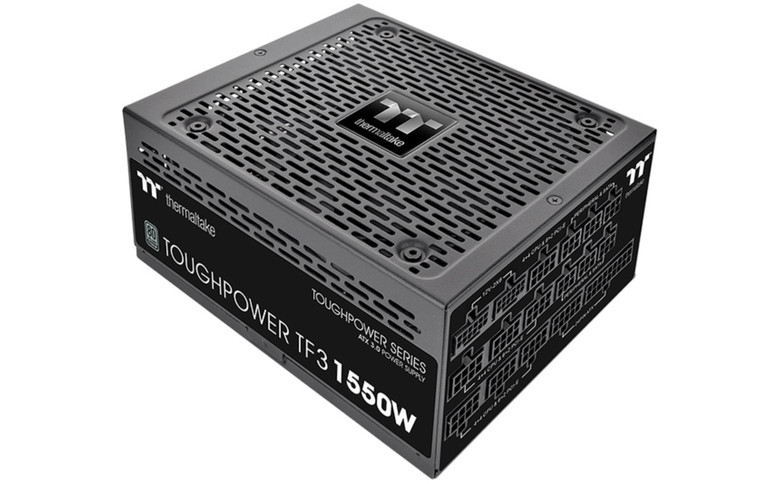 Thermaltake Unveils the Toughpower TF3 1550W Designed for Overclocking Enthusiasts
Thermaltake is proud to announce the launch of the Toughpower TF3 1550W, a high-end ATX 3.0 PSU designed to fully power up high-performance systems. The two advanced native PCIe 12V-2x6 modular interfaces compatible with 12+4pin cable enables more stable support for next-gen hardware with its new technology. With its superior 80 PLUS Titanium efficiency and specifications that are more strict than Intel's standards, the Toughpower TF3 1550W can provide overclockers high-quality and stable power for their PC builds.
The TF3 1550W meets Intel ATX 3.0 standards, supporting up to 200% total power excursion, 300% GPU power excursion, and 70% low load efficiency. Additionally, the TF3 1550W has great GPU compatibility, it includes two native PCIe 12V-2X6 connectors that can connect to the latest RTX 40 series, and also supports 8-pin PCIe cables for AMD GPUs & other RTX GPUs. There is an extra jumper accessory in the package that can deliver electricity to the system without connecting to the motherboard, and it can be very helpful if you install more than one power supply.
The TF3 1550W is made with 100% high quality Japanese 105°C/221°F electrolytic capacitors, providing advantageous durability and reliability. It is built with <30mV low ripple noise design, voltage regulation <±2%, and 17ms and up hold up time, which is more strict than Intel specifications and can ensure its stability. This power supply is compatible with 80 PLUS Titanium certification, allowing lower power loss through its high efficiency of up to 94%. Besides, after pressing the Turbo Mode button on the TF3 1550W's panel, the fan inside can generate around 2400±10% RPM to effectively cool down the PSU while it is at full load. As a fully modular PSU, the TF3 1550W enables users to freely select the cables they need, reaching better voltage management, decreasing cable clutter, and increasing airflow inside the case. What's more, the TF3 1550W possesses built-in industrial grade protections, including OCP, OVP, UVP, OPP, SCP, and OTP, which can prevent your hardware from common potential problems.
Want to power your high-specification system with a PSU that is reliable and of great quality? The TF3 1550W is designed for overclockers and is the perfect choice for you! It is compatible with ATX 3.0 standards, supports PCIe 12V-2x6, and has 80 PLUS Titanium efficiency, allowing it to unlock the full potential of your high-end components.
Features of the Toughpower TF3 1550W
Fully Compatible with Intel ATX 3.0 Standards
The Toughpower TF3 1550W is fully compatible with Intel ATX 3.0 specifications which supports up to 200% power excursion, reaches 70% low load efficiency and complies with required power supply timing standards.
PCIe Gen 5.0 Ready
Toughpower TF3 1550W comes with two native PCIe 12V-2x6 connectors to offer powerful and stable performance allowing the PSU to natively run next-generation GPUs. The wattage marked on the PCIe 12V-2X6's connector is the recommended wattage (Ref. Intel design guideline). The native PCIe 12V-2X6 connector of the TF3 1550W can deliver up to 600W for PCIe 5.0 graphics cards.
Made to Comply with the Latest Graphics Cards
As the power consumption of graphics cards increase, so has their demand for power. The TF3 1550W is designed to support NVIDIA and AMD graphics cards, it supports 8-pin PCIe cables for AMD graphics cards & RTX graphics cards, it also comes with 2 x PCIe 12V-2X6 connectors for RTX 40 series cards that need a PCIe Gen 5.0 connector, ready to supply the graphics cards according to their different ways of connections.
80 PLUS Titanium Certified
80 PLUS Titanium certification means the Toughpower TF3 converts power efficiently, saves energy through its high efficiency up to 94%, resulting in lower power loss and heat buildup inside the power supply.
Turbo Fan Button
The Turbo Mode button is designed to maximize airflow intake around 2400±10% RPM to cool down the power supply when its at full load. Users can easily push the button behind the PSU panel to use this function.
Extra Jumper Accessory
The Toughpower TF3 Titanium 1550W comes with an extra jumper to provide electricity to the system without connecting to the motherboard. If you need more than one power supply to power up your system, the extra jumper will help a lot.
<30mV Low Ripple Noise Design
Top-end build quality with low ripple noise. All ripples are lower than 30mV on +12V, +5V or +3.3V from 0% to 100% load to ensure a stable operation and keep your performance-critical components to function reliably for longer.
Extremely Strict Voltage Regulation <±2%
The voltage regulation is more strict than Intel's standard +5%,-7% for major rails and ±10% for -12V, is set to no more than ±2% for major rails, providing steady clean power through exceptional voltage stability.
17ms and up Hold Up Time
During a power interruption, your computer might shut down or reboot. We make sure that the TF3 1550W will deliver at least 17ms at 100% workload, without system reboot or resetting.
Low Transient Response
The transient response is a measure of how well the power source can hold its output constant in response to load changes. We make sure that we can keep the results comply with 12V < 1 %, 5V< 3%, and 3.3V < 5% to avoid PSU output voltage deviation causing subsequent equipment malfunction or even shut down.
Inrush current < 50 Ampere
Inrush current is the instantaneous high input current drawn by a power supply or electrical equipment when turned-on. This arises because of the high initial current required to charge the capacitors, inductors, or transformers. We make sure that the test results are under 50 ampere to avoid damage to the PSU components.
More Stable than Ever
100% high quality Japanese 105°C/221°F electrolytic capacitors provides great durability as well as offering the highest stability, while remaining reliable.
High Amperage Single +12V Rail & High-Class Technologies
Powerful single +12V rail can properly deliver the power you need for the best compatibility. The use of LLC and DC to DC circuit design provides very stable operation and enhanced voltage regulation.
Fully Modular Low-Profile Cables
Offers cable selection for users while powering the system at an advantageous voltage. Low-profile black cables make cable management easier, reduces clutter and increases airflow inside the chassis.
Built-in Industrial Grade Protection
To protect the hardware, Toughpower TF3 series is built with industry grade protections: OCP (Over Current Protection), OVP (Over Voltage Protection), UVP (Under Voltage Protection), OPP (Over Power Protection), SCP (Short Circuit Protection), OTP (Over Temperature Protection).
Intel C6/C7 States Ready
Toughpower TF3 1550W has been optimized to work with all generations of Intel's processors to achieve maximum energy savings.
Availability and Warranty
Toughpower TF3 1550W will be available for purchase in November 2023 via the Thermaltake worldwide network of authorized retailers and distributors. It is backed by a ten-year warranty and supported by the Thermaltake worldwide customer service and technical support network.
Toughpower TF3 1550W MSRP:
$ 369.99/ €399.90
(prices may vary per region)
For more information on Thermaltake Toughpower TF3 1550W, please visit:
https://www.thermaltake.com/toughpower-tf3-1550w-tt-premium-edition.html