VESA Defines DisplayHDR Standard for PCs, Laptops and Displays
The Video Electronics Standards Association (VESA) has defined the display a fully open standard specifying high dynamic range (HDR) quality, including luminance, color gamut, bit depth and rise time, through the release of a test specification.
The new VESA High-Performance Monitor and Display Compliance Test Specification (DisplayHDR) initially addresses the needs of laptop displays and PC desktop monitors that use liquid crystal display (LCD) panels. The first release of the specification, DisplayHDR version 1.0, establishes three distinct levels of HDR system performance to facilitate adoption of HDR throughout the PC market. HDR provides better contrast and color accuracy as well as more vibrant colors compared to Standard Dynamic Range (SDR) displays, and is gaining interest for a wide range of applications, including movie viewing, gaming, and creation of photo and video content.
VESA developed the DisplayHDR specification with the input of active member companies. These members include OEMs that make displays, graphic cards, CPUs, panels, display drivers and other components, as well as color calibration providers.
DisplayHDR v1.0 focuses on LCDs, which represent more than 99 percent of displays in the PC market. VESA anticipates future releases to address organic light emitting diode (OLED) and other display technologies as they become more common, as well as the addition of higher levels of HDR performance. While development of DisplayHDR was driven by the needs of the PC market, it can serve to drive new levels of HDR performance in other markets as well.
HDR logos and brands abound, but until now, there has been no open standard with a fully transparent testing methodology. Since HDR performance details are typically not provided, consumers are unable to obtain meaningful performance information. With DisplayHDR, VESA aims to alleviate this problem by:
Creating a specification, initially for the PC industry, that will be shared publicly and transparently;
Developing an automated testing tool that end users can download to perform their own testing if desired; and
Delivering a robust set of test metrics for HDR that clearly articulate the performance level of the device being purchased.
The specification establishes three HDR performance levels for PC displays: baseline (DisplayHDR 400), mid-range (DisplayHDR 600) and high-end (DisplayHDR 1000). These levels are established and certified using eight specific parameter requirements and associated tests, which include:
Three peak luminance tests involving different scenarios - small spot/high luminance, brief period full-screen flash luminance, and optimized use in bright environments (e.g., outside daylight or bright office lighting);
Two contrast measurement tests - one for native panel contrast and one for local dimming;
Color testing of both the BT.709 and DCI-P3 color gamuts;
Bit-depth requirement tests - these stipulate a minimum bit depth and include a simple visual test for end users to confirm results;
HDR response performance test - sets performance criteria for backlight responsiveness ideal for gaming and rapid action in movies by analyzing the speed at which the backlight can respond to changes in luminance levels.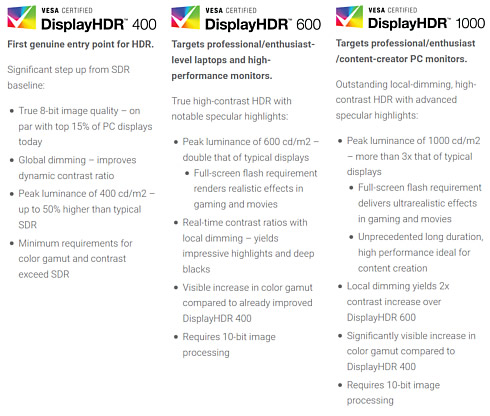 New products complying with the DisplayHDR specification will be demonstrated at the Consumer Electronics Show (CES), January 9-12, 2018 at the Las Vegas Convention Center.