The Voice Service Goes Mobile With the New moto x4
Time to say 'hello moto X' once again. The fourth generation moto X has a smarter camera that goes beyond capturing photos.
The Landmark Detection feature makes the moto X4 camera your eye to the world - just point the lens at an object, and it will ask if you want to learn about what you're seeing. Or, spice up your selfies with the Augmented Reality (AR) feature, which lets you add a layer of animations to your photos or videos. The newest moto X4 is also the first of Motorola's smartphones to feature Amazon Alexa, giving you more options when choosing a mobile digital assistant.
Now offering twice the camera, you can capture and do more with the combined capabilities of dual 12MP and 8MP rear cameras and camera software. Add a blurred background to take professional looking portraits and be among the first to experiment with new beta features that let you use selective black and white or color or even change the background. Dual Autofocus Pixel technology also means a faster focus in low light so you get professional quality pictures, and the wide angle lens lets you capture even more. Selfies take on new meaning with moto x4, which has a 16MP front camera with an adaptive low light mode for the selfie you meant to take, while the new Panoramic Selfie feature provides a broader background so no one is cut out of the photo from your next family outing.
moto x4 is armed with protection allowing you to tackle whatever your day may call for without worry. The IP68-rated water resistant design keeps moto x4 protected from accidental spills, splashes and even puddles. And when paired with the 3D rear contoured design, an anodized aluminum frame and Corning Gorilla Glass protecting the front and back of the device from scratches, moto x4 is as strong as it is beautiful.
The moto x4 is driven by a Qualcomm Snapdragon 630 2.2 GHz octa-core processor. Inside, a 3,000 mAh battery will power you through your day, and the TurboPower charger gives you six hours of power in just 15 minutes.
The new moto x will be available starting in September in various countries in Europe starting at €399. It will be available in other global markets, including the U.S., later this fall.
Transform Your Tablet - Lenovo Home Assistant Pack
Alexa makes other devices smarter too, and Lenovo is bringing it first to tablets. The family-focused Tab 4 Series just got better thanks to the Alexa-powered Home Assistant Pack. Use your voice to get news, the weather or your calendar, and see it all on the Tab 4's display. Do even more with just your voice, using it to shop online, listen to a song or control your smart home. You can find what you're searching for using the tablet's on-screen display cards on its 10-inch or 8-inch screen. All you need to do is ask. The Home Assistant Pack equips the Tab 4 with the "Home Assistant" app, a three-watt speaker and far-field voice detection with two mics so you can talk to search and hear your results from up to three meters from any direction.
To experience this level of personalization, insert your Tab 4 into the Home Assistant Pack, watch your screen switch to the Home Assistant Interface, and you're ready to go. And at 320 grams, this tablet goes anywhere you do.
Besides offering the option to transform into a smart assistant, the Tab 4 also offers a Kid's Pack for a 2-in-1 and a kid's tablet and Productivity Pack to do more.
Star Wars: Jedi Challenges, A New Smartphone-Powered Augmented Reality Experience Launching this Holiday
Lenovo and Disney also today unveiled Star Wars: Jedi Challenges, a new augmented reality Star Wars product that allows fans to experience Star Wars in ways never before possible.
Jedi Challenges features a smartphone-powered Lenovo Mirage AR headset, Tracking Beacon, Lightsaber controller, and hours of Star Wars gameplay. Jedi Challenges is being unveiled as part of Force Friday II, which celebrates the worldwide launch of new Star Wars products. The product is compatible with both Android phones and iPhones, will be available this holiday season and is available for pre-order now on Lenovo online and at local retailers.

Players will hone their Jedi talents across a variety of augmented reality-based experiences. To guide the player on this journey, Jedi Challenges will introduce a new Star Wars character, the Archivist. The Archivist instructs players in the ways of the Force and the knowledge of the Jedi. Throughout these challenges, users will train to perfect their lightsaber skills by taking on some of the most menacing villains the dark side has to offer, command armies in combat missions to defeat the Empire, and outwit their opponents in Holochess, all in augmented reality.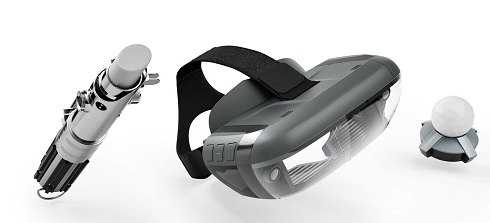 Game Features:
Lightsaber Battles. With their very own lightsaber, fans can train against dark side villains like Kylo Ren and Darth Vader.
Strategic Combat. Players marshal the forces of the Republic, Rebel Alliance, and Resistance against the might of the Separatists, Empire, and First Order in epic battles across their living room floors. Players can hone their skills in strategy and tactics as they engage in battles.
Holochess. Perhaps one of the most iconic board games brought to film, Holochess first leapt into moviegoer hearts when it was played on the Millennium Falcon in Star Wars: Episode IV - A New Hope. It has now been brought to life in Jedi Challenges. Fans can direct their holographic alien pieces across the board, wrestling for territory and control.
Users start by downloading the Star Wars: Jedi Challenges app onto their compatible phone and sliding the phone into the tray of the Lenovo Mirage AR headset. The Lenovo Mirage AR headset comes with a Tracking Beacon, which is placed on the floor and acts as a stable base for the headset's sensors to detect the user's movement during gameplay.

Equipped with two built-in fisheye sensors to provide inside-out positional tracking, the headset allows for free motion for the player to move around as they duel opponents or direct their forces and pieces across the battlefield.

The headset pairs with a Lightsaber controller, modeled after the one wielded by Anakin Skywalker, Luke Skywalker, and Rey. Designed to be a key part of the experience, the Lightsaber acts as a controller and pointer, allowing players to navigate the user interface, with all controls, actions and commands activated with a simple two-button configuration.

Through visible light-tracking technology, the headset's sensors work together to lock onto the position of the Lightsaber controller, allowing players to see a beam form above the "hilt", which they can use to block and interact with the universe in-game. Haptic feedback is activated as players strike or block their opponents, while an inertial measurement unit sends rotational information from the controller to the smartphone to assist the beam in remaining stable mid-swing.
Star Wars: Jedi Challenges will be available beginning in November in certain markets.