Western Digital Introduces Dual-Port Ultrastar DC SS530 SAS SSD For Servers And Storage Arrays
Western Digital today introduced the new Ultrastar DC SS530 SAS SSD, the company's highest-density drive and the fastest dual-port SAS SSD in the market.
By doubling maximum capacity of the previous generation to 15.36TB within the same 2.5-inch 15-mm form factor, drive storage density also doubles, giving IT managers the potential to reduce the number of drives deployed.
Developed in partnership with Intel, the Ultrastar DC SS530 is based on a third-generation platform that has been previously qualified at most major OEMs worldwide. Designed with a 12Gb/s SAS interface, and available in capacities from 400GB to 15.36TB, the Ultrastar DC SS530 delivers up to 440,000 random read and 320,000 random write IOPS.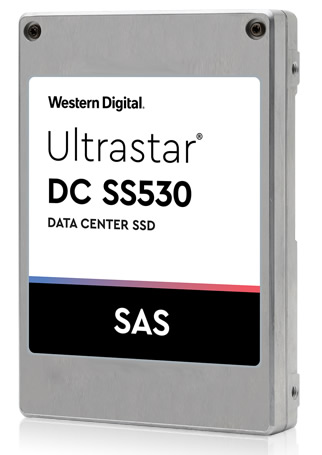 The Ultrastar DC SS530 is built on 64L 3D TLC NAND, and supports a wide range of workloads with three endurance options: 1, 3 and 10 DW/D
The drive also provides flexibility to tune performance and power efficiency with three power modes: 9, 11 and 14 Watts.
Repurpose or retirement of drives is enabled with security options, including Secure Erase (SE), Instant-Secure Erase (ISE) and Self-Encrypting Drive (TCG SED). Models with TCG SED plus FIPS 140-2 validation are expected to be available in Q4 2018.
Western Digital is currently shipping Ultrastar DC SS530 samples with broader availability later this quarter.
Specifications