Western Digital Releases New Ultrastar Storage Server Platforms, NVMe SSDs For Data Centers and NVMe-oF Open Composable Platform
Western Digital today announced two new additions to its data center systems portfolio – the Ultrastar Serv24-4N four-node NVMe all-flash, and the Ultrastar Serv24+6 hybrid storage server platforms. The company also announced the the Ultrastar DC SN640 and Ultrastar DC SN340 SSD families, and the OpenFlex F3100 NVMe-oF Open Composable Storage Platform.
Ultrastar Serv24-4N and the Ultrastar Serv24+6 storage server platforms
These flexible and scalable storage server building blocks are designed for IT architects, cloud providers and system integrators. They offer fast, dense and efficient shared storage with compute for SDS, HCI and edge environments.
Western Digital's Ultrastar Serv24-4N is designed for HCI deployments for data-intensive applications that depend on fast storage. It combines high compute density with an optimized design that maximizes the speed of NVMe SSDs. Highlights include:
Features four server nodes with each having dual CPUs with full, 24 PCIe lanes to six SSDs.
Includes Intel Xeon Scalable Processor CPUs and chipset. Core count and power can be selected to match data workloads and meet data center efficiency requirements.
Three x16 PCIe slots per node.
Delivers capacities up to 184TB raw.
The Ultrastar Serv24+6 is a high-density 2U hybrid storage server designed for data-intensive applications. Delivering a balance of capacity and compute performance, its SDS use cases include file services, media streaming, video surveillance, IoT data gathering, backup and archive, and big data analytics. Highlights include:
Provides 24 HDD bays in just 2U with the option of four additional HDD bays in the rear for a maximum capacity of up to 420TB raw.
Offers a choice of the latest Intel Xeon Scalable Processors.
Provides the flexibility to choose SAS or SATA HDDs to balance application performance and cost requirements.
Delivers hybrid support with up to six NVMe SSDs in the rear bays for a data-acceleration tier to improve application performance.
Both the Ultrastar Serv24-4N and Ultrastar Serv24+6 storage servers come with a five-year limited warranty. The Ultrastar Serv24-4N will be available this quarter in multiple configurations. The Ultrastar Serv24+6 is sampling now and will be available in volume by September.
New Families of NVMe SSDs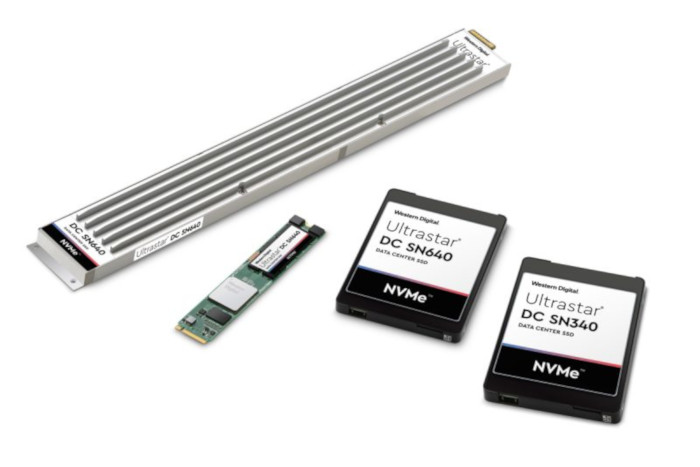 Western Digital also today announced two new 96-layer 3D flash NVMe SSD families, the Ultrastar DC SN640 and Ultrastar DC SN340. Both are purpose-built for either mixed-use-case workloads or very read-intensive applications, respectively. The solutions are leveraging Western Digital's in-house SSD controller designs, firmware development and vertical integration.
The Ultrastar DC SN640 family is optimized for extreme performance for mixed-workload applications such as SQL Server, MySQL, virtual desktops, and other business-critical workloads using hyperconverged infrastructures (HCI) such as VMware vSAN and Microsoft Azure Stack HCI solutions. It delivers 2x the performance in sequential writes compared to its predecessor. Supporting a variety of system designs, the new family comes in three form factors and offers a broad range of capacity points, including:
EDSFF E1.L with up to 30.72TB, designed to provide speeds of up to 720K random-read IOPS. This form factor is ideal for designing best petabyte/rack for new dense data-center designs.
U.2 7mm with up to 7.68TB, a popular form factor for storage servers, virtualized environments, and containerized applications using denser, power-efficient blade systems.
M.2 22x110 with up to 3.84TB for constrained spaces and OCP-compliant hardware.
The Ultrastar DC SN640 family also delivers flexibility with tunable endurance and multiple security options.
The Ultrastar DC SN340 Gen3 x4 PCIe SSD is optimized for power efficiency and low heat signature with less than 7W at full performance. It has been designed for very read-intensive workloads such as warm storage and other applications that write in large block sizes. These include content delivery networks (CDN) and video caching, where data is written in large sequential blocks and which benefit significantly from the high-bandwidth of Gen3 x4 and low read latency of NVMe. Distributed NoSQL databases like Apache Cassandra and MongoDB can also take advantage of the large-block write characteristics of the drive. The Ultrastar DC SN340 comes in capacities of up to 7.68TB. The drive will be sampling this quarter.
Fastest NVMe-oF Open Composable Platform for Shared Accelerated Storage
Also at the FLASH MEMORY SUMMIT 2019, Western Digital announced new NVMe-oF Open Composable Storage platforms, along with the Open Composable Compliance Lab, a multi-vendor ecosystem of compute, storage and networking to help test and validate end-to-end interoperability among solutions.
As a key NVMe-oF foundational building block of CDI, Western Digital's OpenFlex platform provides the storage tools and resources for organizations taking a disaggregated approach to their software-defined storage (SDS) infrastructure. By disaggregating compute, storage and network into virtual resource pools, IT managers can easily provision those resources on the fly. For example, when compared to hyperconverged infrastructure (HCI), the OpenFlex platform can eliminate underutilized resources and reduce TCO by up to 40 percent.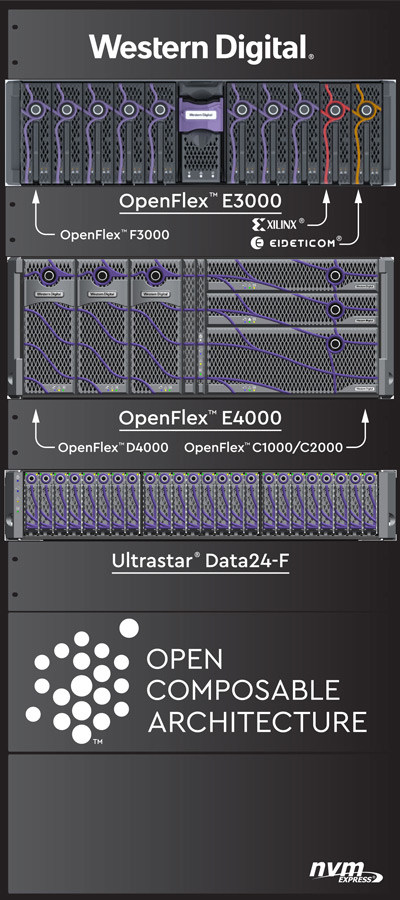 Western Digital's OpenFlex family includes:
OpenFlex F3100 Series Fabric Device: A shared storage device providing up to 2.1 million IOPS, 11.7 GBps throughput, and latencies less than 48 microseconds in a single NVMe-oF device. Each fabric device is available in capacities of up to 61TB, delivering extreme performance over two 50 gigabit Ethernet ports.
OpenFlex E3000 Series Fabric Enclosure: A 3U enclosure that houses up to 10 hot-swappable F3100 fabric devices. The combination of the OpenFlex E3000 fabric enclosure with up to 10 OpenFlex F3100 fabric devices leads the industry in performance density for open composable platforms projecting up to 7.2M IOPS per rack unit (RU) and 39 GBps/RU with a raw capacity density of 205 TB/RU.
OpenFlex Open Composability API: A RESTful API that builds upon industry standards such as the DMTF Common Information Model, JSON, and HTTP as well as best practices from other industry-captive management protocols. It provides a framework to help orchestrate fabric-attached devices, including compute, flash, disk, network, accelerators and disaggregated memory into composed systems.