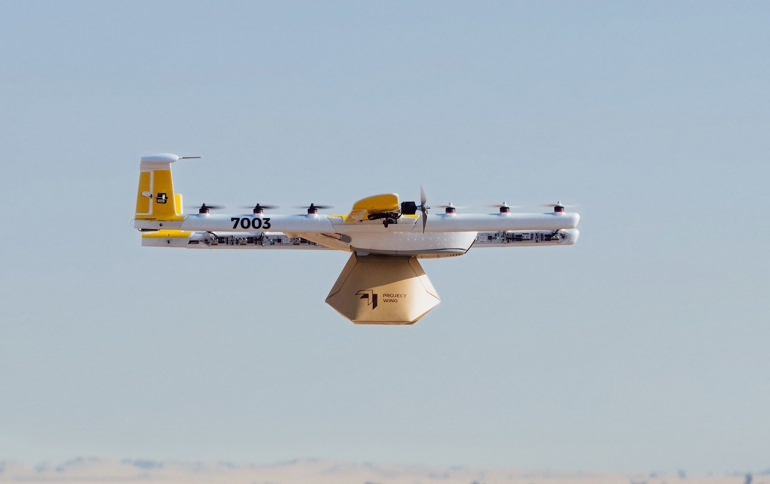 Wing's Commercial Package Delivery Certified by FAA
U.S. Department of Transportation Secretary Elaine L. Chao today announced the Federal Aviation Administration (FAA) awarded the first air carrier certification to a drone delivery company, Wing Aviation.
The certification paved the way for Alphabet's Wing Aviation to begin commercial package delivery in Blacksburg, VA. Wing partnered with the Mid-Atlantic Aviation Partnership and Virginia Tech, as one of the participants in the Transportation Department's Unmanned Aircraft Systems Integration Pilot Program.
"This is an important step forward for the safe testing and integration of drones into our economy. Safety continues to be our Number One priority as this technology continues to develop and realize its full potential," said U.S. Secretary of Transportation Elaine L. Chao.
Wing demonstrated that its operations met the FAA's safety requirements to qualify for an air carrier certificate. This is based on extensive data and documentation, as well as thousands of safe flights conducted in Australia over the past several years.
Wing plans to reach out to the local community before it begins food delivery, to gather feedback to inform its future operations.
One pilot can operate up to five drones at once and only during the day. Drones cannot carry hazardous materials or hover over people, the FAA said.
Wing has recently begun commercial air delivery service in the north of Canberra, Australia, and is also about to begin its first trial in Europe, delivering to homes in Helsinki, Finland.
Unlike Amazon.com Inc.'s Prime Air, another would-be drone delivery company, Wing will sell items from local merchants.
Wing's drone, a hybrid between a helicopter and plane, is able to lift off vertically and fly horizontally at high speeds. It carries packages in its belly, lowering them to people's yards with a tether while it hovers a safe distance overhead.