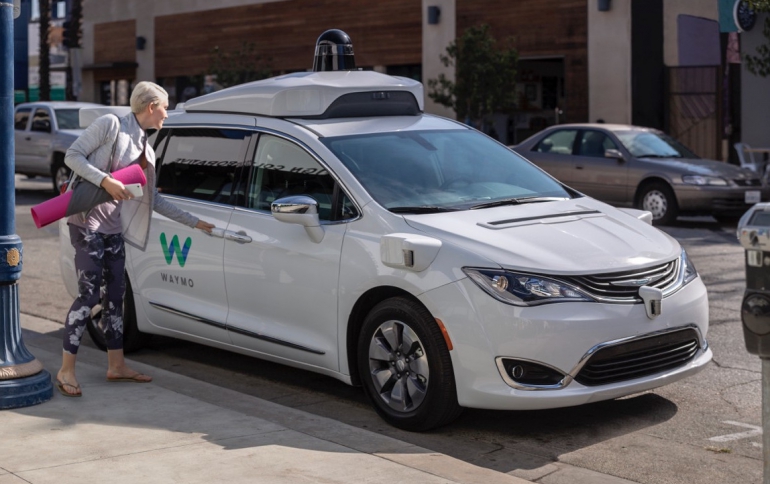 Waymo Is Rolling Out A New Lidar Unit
Waymo has begun testing a new laser lidar unit as the company shifts to an entirely new sensor set, including modified cameras and radar, all designed in-house.
The Alphabet unit is rolling out a next-generation version of the sensor that uses lasers to create 3D, 360-degree views of the world.
The company began testing the new device in the San Francisco Bay Area in recent weeks. Human-driven Chrysler Pacifica minivans outfitted with the device and modified cameras and radar–also created in-house–are readying the upgraded vision system for use on electric Jaguar i-Pace SUVs that begin entering Waymo's fleet later this year in metro Phoenix.
Tesla's CEO elon Musk has disparaged lidar in the past. His comments this week, however, were a remarkable line in the sand as his belief that cameras, radar and ultrasonic sensors are sufficient for self-driving car visions systems isn't just at odds with Waymo's but with the approach of every major autonomous vehicle program.
Wayo also announced that it found a facility in Detroit and will partner with American Axle & Manufacturing to repurpose an existing facility, bringing a workforce back to the area.
"By choosing to establish its new facility in Detroit, Waymo is continuing the city's momentum and further cementing Michigan as a leader in mobility and the epicenter of advanced automotive manufacturing," said Governor Gretchen Whitmer.
Waymo is competing with rivals General Motors and Uber Technologies to deploy self-driving vehicles for the masses. Tesla CEO Elon Musk has also announced the company plans to launch a robotaxi service in 2020.
Both GM and Ford Motor Co have said they will build autonomous vehicles at Michigan factories.