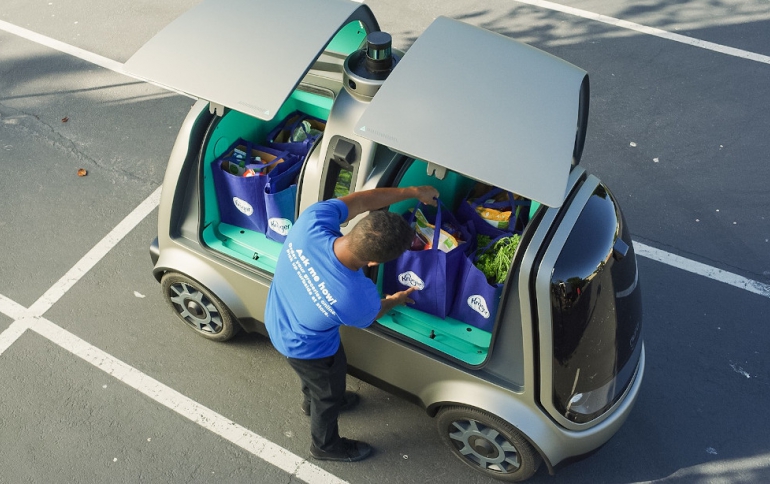 California Approves Nuro's Self-Driving Delivery Vehicles for Public Road Operations
Nuro has received the first permit ever granted by the State of California to test a self-driving vehicle on public roads that is not only driverless, but also passengerless.
It is only the second driverless testing permit California has granted to any company. This permit now allows Nuro to begin testing its recently unveiled R2 vehicle, in service with the company's partners, starting in the Silicon Valley region.
Community education and engagement is a critical part of the DMV's permitting process, and over the next few weeks and months, Nuro is planning various remote community engagement activities with Mountain View law enforcement and first responders, to ensure that the community leaders are trained on how to interact with Nuro's vehicles on public roads, particularly in cases of emergency.
Residents of Mountain View and the surrounding areas may already have seen Nuro's Prius vehicles on roads. Those vehicles have human operators monitoring their autonomous systems in order to adhere to state guidelines. Now, Nuro's driverless R2 vehicles can begin testing in the counties that make up Silicon Valley, namely Santa Clara and San Mateo, and Nuro will continue to expand testing in other parts of the Bay Area soon. The permit granted today means that Nuro can even begin conducting deliveries with our local retail partners.
Nuro's plan is to begin service by making free deliveries to select customers in Mountain View and the surrounding area. This will allow Nuro to launch a formal delivery service in partnership with local brands and retailers. The next step in the California regulatory process will be to apply for a full statewide commercial deployment permit to bring Nuro's services to California residents throughout the state.