28-core Intel Xeon W-3175X Processor Now Available for $3000
Intel has released the Intel Xeon W-3175X processor, a 28-core workstation powerhouse built for highly-threaded and computing-intensive applications.
This unlocked 28-core workstation powerhouse features the most cores and threads, CPU PCIe lanes, and memory capacity of any Intel desktop processor. It takes advantage of the Intel Mesh Architecture, which delivers low latency and high data bandwidth between CPU cores, cache, memory and I/O while increasing the number of cores per processor.
The Xeon W-3175X is using Intel's biggest x86 Skylake silicon design, it has a full 28 cores and 56 threads. These cores are rated at a 3.1 GHz base frequency, with the chip having a peak turbo frequency of 4.5 GHz. These cores are fed with six channels of DDR4-2666 memory, and are supported by 44 PCIe 3.0 lanes for add-in cards. All of this is rated at a 255W thermal design power.
The chip comes with the Intel Extreme Tuning Utility, a toolset that helps overclockers optimize their experience with unlocked processors.
In addition, the Intel Extreme Memory Profile simplifies the overclocking experience by removing the guesswork of memory overclocking. The processor also features the Intel Advanced Vector Extensions 512 (Intel AVX-512) ratio offset and memory controller trim voltage control that allow for optimization of overclocking frequencies regardless of SSE or AVX workloads, and allow maximization of memory overclocking.
The Intel C621 chipset based systems are designed to support the Intel Xeon W-3175X processor.
The new CPU will require an LGA3647 motherboard, either the validated ASUS Dominus Extreme, or an as-yet-unnamed GIGABYTE product.
Normally a Xeon processor is a locked processor, however for this model Intel has unlocked the multiplier. This allows users to adjust the frequencies of the cores for normal code, for AVX2 code, and for AVX512 code. It is worth noting that this processor is rated at 3.1 GHz for 255W TDP, so trying to push 4.5 GHz across all cores will start to draw some serious power. This is why the ASUS motherboard has 32 phases, and we were provided with a 1600W power supply with our review sample. More on that in the following pages.
For demanding applications, the Asetek 690LX-PN all-in-one liquid cooler, a custom created solution is sold separately by Asetek, to ensure the processor runs smoothly at both stock settings and while overclocking.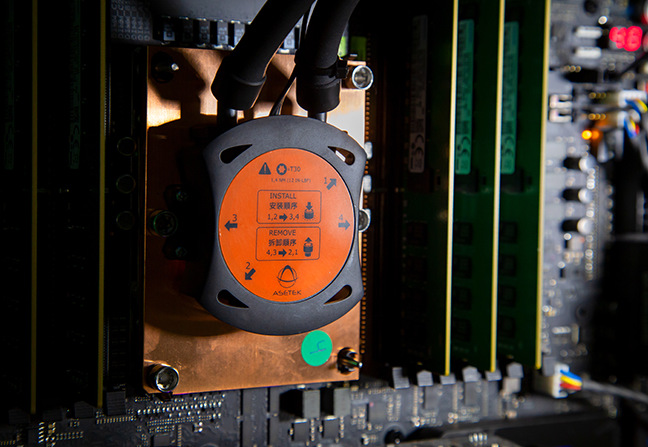 According to Intel, the Xeon W-3175 processor built the "Infiltrator Demo" in Unreal Engine up to 1.52x faster compared with an Intel Core i9-9980XE processor.
The Intel Xeon W-3175X processor is available from system integrators that develop purpose-built desktop workstations. At $2999, the Intel Xeon W-3175X will find its way to OEM systems that will hit the $10k shelf price.
Intel Xeon W-3175X:
Base Clock Speed (GHz): 3.1
Intel Turbo Boost Technology 2.0 Maximum Single Core Turbo Frequency (GHz): 4.3
Cores/Threads: 28/56
TDP: 255W
Intel Smart Cache: 38.5 MB
Unlocked: Yes
Platform PCIE Lanes: Up to 68
Memory Support: Six Channels, DDR4-2666
Standard RAS Support: Yes
ECC Support: Yes
RCP Pricing (USD 1K): $2,999

While Intel moved from 18-core to 28-core on its consumer line, AMD released its 32-core processor for the high-end desktop market back in August 2018. The $1799 Threadripper 2990WX uses AMD's multi-die strategy to pair together four Zeppelin silicon dies, each with eight cores, to offer a total of 32 cores, 64 threads, and four memory channels. This processor has a similar 250W TDP to the 255W TDP of the W-3175X, but with slightly lower set of frequencies, at 3.0-4.2 GHz and using AMD's Zen core which has a previous generation level of clock-for-clock performance. This processor also has 64 PCIe lanes, compared to 44. The Threadripper is some $1200 cheaper and has over a dozen motherboards to choose from.
On AMD's server side, the nearest comparison point is AMD's EPYC 7601. The design of this processor is similar to the Threadripper comparison point, but it offers 128 PCIe 3.0 lanes, eight memory channels, and supports 2TB of DDR4 per processor. The rated power is lower (180W) and so the frequencies are lower (2.2-3.2 GHz), but supports dual socket configurations. As a result the price of the EPYC 7601 is listed as $4200.