Acer Debuts Liquid E3, Z4 Smartphones
Acer has chosen to announce its new entry-level Z4 and mid-range E3 smartphones ahead of next week's Mobile Word Congress (MWC) in Barcelona. The Liquid Z4 is a 4-inch smartphone that packs the basics in order to allow you to take photos, browse the internet and use social media.
The Liquid Z4 features smooth edges and a compact design and at 9.7mm thick.
The smartphone comes with a front speaker boosted by DTS Sound technology, the AcerRAPID design for "one-hand" control of the basic features of the device, Android 4.2.2, a dual-core 1.3 GHz processor, 4 GB of internal user storage, Wi-Fi, integrated GPS, and a 5-megapixel auto-focus camera with a f2.4 lens and LED flash.
The Liquid Z4 features four different Quick Mode profiles. The 'Basic Mode' offers fixed call and text functions; the 'Easy Mode' brings messages, radio, weather, magnify, clock and quick call contacts to the front; the 'Classic mode' features all the main functions in a simple layout and; the 'Keypad mode' is aimed at users who primarily use voice and need their keypad right away.
The Liquid Z4 also features Acer's new AcerFLOAT User Interface, which allows app windows to stay open for easy multitasking. The press of a key brings up the Float Apps shortcut where apps on a translucent screen float over the function being used. It is easy to access or toggle between four apps like the camera, text, calculator and stopwatch. A Float Caller notification ensures that users will not be interrupted by incoming calls that take over the full screen. When a call comes in, the Float Caller mini-window pops up and the user can choose to take the call or reply with a message.
Acer smartphones also support AcerCloud, a file sharing and media management solution that lets users retrieve and share their multimedia and data files using a variety of computing devices, including the backup of their photos on their connected devices.
The Acer Liquid Z4 will be available in Europe starting from April at a suggested price of €99. It will be available in White and Black colors.
The mid-tier Liquid E3 is a compact smartphone designed for photo enthusiasts.
It features a 4.7 inch high-definition screen with IPS technology, a curved design and lighweight design (135 grams), Android 4.2.2 (Android KitKat 4.4 coming later this year), a Quad Core 1.2 GHz processor, 4 GB of internal user storage, 1 GB of memory, Wi-Fi, and integrated GPS. T
he Liquid E3 comes with both a 2MP front camera and 13MP rear camera with fast focus. It also comes with a front flash plus the AcerRAPID key on the back. Audio coming out from its front speaker is enhanced with DTS Studio Sound technology.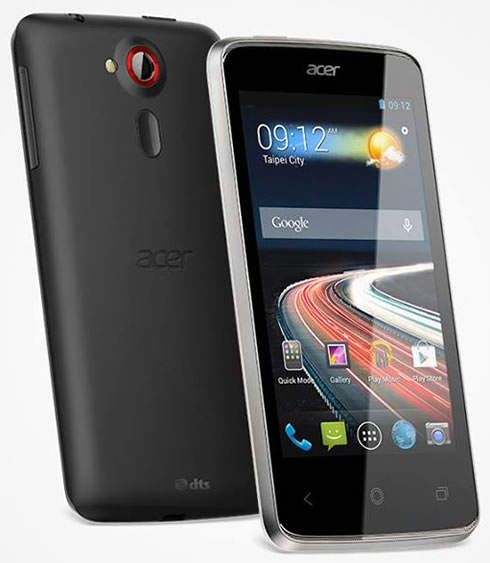 With Acer SnapNote, users can capture presentations with automatic angle correction and PDF/PPT conversion making it easier to take notes during a business meeting. Other features include the AcerFLOAT User Interface and the Float Caller notification, also available at the Liquid Z4 model.
The Acer Liquid E3 will be available in Europe starting from April at a suggested price of €199.
Acer CEO Jason Chen said in late January that his company is maintaining a smartphone shipment target of 5 million units for this year.