Amazon to Bring Packages Inside Your Locked Car
Amazon.com will deliver Amazon packages right into your vehicle parked at home, at work or near other locations in your address book, as long as you are a Prime member.
The new service, Amazon Key In-Car Delivery, is exclusively for Prime members in San Francisco, Seattle, Atlanta, Nashville, Milwaukee, Salt Lake City, Washington, D.C. and other areas (37 U.S. cities) and surrounding areas. It supports most 2015 model year or newer Chevrolet, Buick, GMC, Cadillac, and Volvo vehicles with an active connected car service plan (cloud-connected)such as OnStar or Volvo On Call.
With Amazon Key In-Car Delivery, packages can be delivered to a vehicle when it's parked in a publicly accessible area, such as on the street in front of an apartment building, at a workplace surface parking lot or in a home driveway. Delivery is available on millions of items sold on Amazon.com and works with Same Day, Two-Day and Standard Shipping.
First you should check your eligibility and download the Amazon Key App. Complete the setup within the Amazon Key App, and you are ready to Shop on Amazon.com or the Amazon mobile shopping app. Select any of your eligible addresses and the in-car delivery option at checkout. Amazon.com will tell you when to expect your delivery-typically a 4-hour time window. Just park within two blocks of your selected delivery address. Amazon will authorize the delivery driver before your vehicle is unlocked. No special access or keys are given to the driver. Amazon will let you know you when your package is delivered and vehicle is relocked.
Amazon says it cannot see or track the customer's car; instead, the customer gives Amazon an address where the car will be parked and publicly accessible, along with the make, model, color and license plate number to help the delivery person find the right car. Customers also get several reminders on their phones before, during and after the packages are delivered.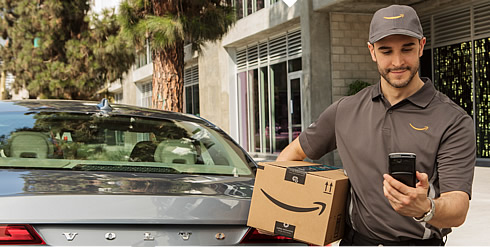 The service leverages the existing embedded 4G LTE connectivity in compatuble vehicles and does not require an additional data plan or hardware installation.
Packages that weigh over 50 pounds, are larger than 26 x 21 x 16 inches in size, require a signature, are valued over $1,300, or come from a third-party seller also are not eligible for in-car delivery.
The in-car service builds on an effort Amazon launched last fall called Amazon Key. That system uses a $220 combination of an internet-connected door lock and camera to allow Amazon delivery drivers to place packages inside the homes of members of Amazon Prime.