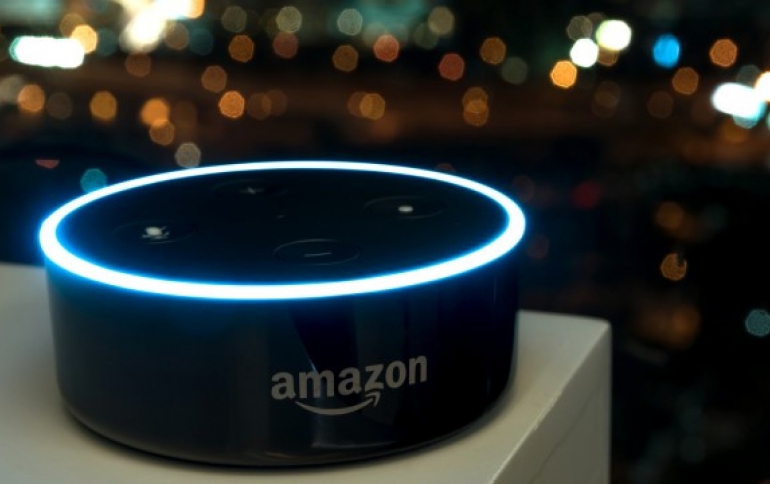 Amazon Listens to What You Tell Alexa in Order to Improve it
Amazon.com's employees are listening to voice recordings captured in Echo owners' homes in order to improve the Alexa digital assistant.
The recordings are transcribed, annotated and then fed back into the software as part of an effort to make Alexa's understanding of human speech better. Amazon employees are also able to listen to accidental recordings from customers around the world, made when the devices think that they hear the word "Alexa." Reviewers listen to as many as 1,000 recordings per day.
The Alexa voice review process was described by seven people who have worked on the program, according to Bloomberg.
"We take the security and privacy of our customers' personal information seriously," an Amazon said in astatement. "We only annotate an extremely small sample of Alexa voice recordings in order [to] improve the customer experience. For example, this information helps us train our speech recognition and natural language understanding systems, so Alexa can better understand your requests, and ensure the service works well for everyone.
"We have strict technical and operational safeguards, and have a zero tolerance policy for the abuse of our system. Employees do not have direct access to information that can identify the person or account as part of this workflow. All information is treated with high confidentiality and we use multi-factor authentication to restrict access, service encryption and audits of our control environment to protect it."
In Alexa's privacy settings, the company gives users the option of disabling the use of their voice recordings for the development of new features.
Besides the obvious privacy concerns, Amazon's actions highlight the human role in training software algorithms. Although Amazon says Alexa "lives in the cloud and is always getting smarter," humans are doing some of the teaching. But consumers are not aware that another human may be listening to what they're telling their smart speaker in the intimacy of their homes.
Ashkan Soltani, the former chief technologist of the US Federal Trade Commission, wrote: "Most people consider a person listening significantly more privacy invasive than a machine."
Twitter users have also complained that Amazon has given employees access to their Alexa recordings. "They chose to covertly invade people's privacy," wrote one Twitter user. Customers have also pledged to avoid using Echo devices after the report.
Apple's Siri digital assistant also has human helpers, who work to gauge whether the digital assistant's interpretation of requests lines up with what the person said. The recordings they review lack personally identifiable information and are stored for six months tied to a random identifier, according Apple.
At Google, some reviewers can access some audio snippets from its Assistant to help train and improve the product, but it's not associated with any personally identifiable information and the audio is distorted, the company says.