Amazon Releases The Fire Phone
After months of leaks and speculation, Amazon showed its first smatrtphone, the Fire Phone, which that comes with a 'motion parallax' effect on its lock screen along with the 'Firefly' feature that automatically recognizes products with the phone's camera. Dynamic Perspective uses a new sensor system to respond to the way you hold, view, and move Fire. It makes the lock screen move around when you turn your head. It uses the phone's four front cameras to track the user's face and its distance from the device even when the phone is moving. The cameras also have infra-red sensors so they can work when you're looking at your phone in the dark. Amazon said the advanced face tracking capabilities was an extremely difficult machine learning problem.
The resulting effect is like a hologram, and images appear to float in front of, and behind other images on the screen.
The idea, says Amazon.com's Jeff Bezos, is that nothing that's important gets obscured.He showed tilting the phone allows some features to appear, like pop-up Yelp reviews over locations. Amazon also built these capabilities into its store, letting you browse through a selection of dresses, for example, by tilting the phone. The dynamic perspective could also help you navigate around a game.
Dynamic Perspective allows you to auto-scroll, tilt, swivel and peek for easier navigation. For example, with auto-scroll you can read a long web page or a book without ever having to touch the screen; tilt in Amazon Music shows song lyrics; swivel reveals quick actions; peek in Maps shows layered information like Yelp ratings and reviews.
In addition, Dynamic Perspective offers real-time updates and allow you to take action right from the home screen - triage email, find recent photos, access most visited websites, return missed calls, view appointments, and more.
Amazon's dynamic perspective feature comes with a kit so developers can use it it in their own Android apps.
We are not sure whether this one is what you expected. Definitely it's not 3D and if you remember, there were enough people who didn't like parallax on the iPhone some years ago that Apple had to end up letting people disable it.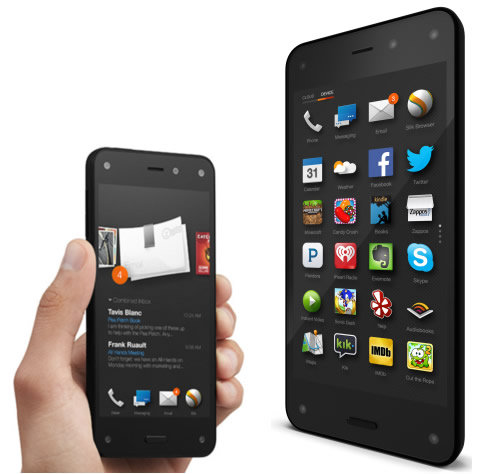 The phone itself has a 4.7-inch display with an ambient light sensor and Dynamic Image Contrast for better outdoor viewing, a Quad-core Qualcomm Snapdragon 2.2 GHz processor and 2 GB of RAM.
A custom-tuned 13MP rear-facing camera with backside illumination, LED flash, 5-element f/2.0 lens, Optical Image Stabilization (OIS), and high dynamic range (HDR) capabilities is available at the rear side of the phone. Fire also includes a 2.1MP front-facing camera. Both front and rear-facing cameras record smooth 1080p HD videos.
The phone runs on the latest version of Fire OS, which starts with Android and adds cloud services, a content-forward user interface, built-in media libraries, apps, and platform enhancements to integrate Amazon's digital content .
Bezos says the Fire Phone comes with apps for video and music, both the native Amazon ones and others like Pandora. It will also offer its owners free unlimited storage for photos on Amazon's cloud service.
A new service called "Firefly" recognizes things in the real world—web and email addresses, phone numbers, QR and bar codes, movies, music, and millions of products, and lets you take action with the simple press of the Firefly button. For instance, Firefly can recognize products just with the phone's camera, and then add them to your shopping cart. It can also listen to songs and add them to your shopping cart, or start a playlist on a music app.
In addition, it recognizes TV shows, and Jeff Bezos demoed on stage how it identified a scene in "Game of Thrones." Firefly and uses IMDb for X-Ray to show actors, plot synopses, and related content—add titles to Watch List or download and start watching immediately.
Firefly also works for art, identifying pieces and then pulling up Wikipedia info.
Bezos explained how technically hard it is to make Firefly work in the real world, adding that much of that work happens in Amazon's growing cloud service.
Firefly is open to third-party apps, Bezos says, which allow others to automatically recognize bottles of wine, and more.
In short, the idea of "showrooming" - when you go to a brick-and-mortar store to check out a product, and then go home to buy it online - really gets amped up with Firefly.
Fire also integrates Amazon's digital ecosystem for instant access to over 33 million songs, apps, games, movies, TV shows, books, audiobooks, and magazines, including thousands of exclusives. Plus, Prime members get unlimited streaming of thousands of movies and TV episodes at no additional cost with Prime Instant Video, over 500,000 books to borrow with the Kindle Owners' Lending Library, and the all-new Prime Music—unlimited streaming and download of more than a million songs and hundreds of playlists - all at no additional cost.
The phone also integrates Amazon services, such as Mayday customer service and ASAP (Advanced Streaming and Prediction), which predicts which movies and TV episodes you'll want to watch and prepares them for instant playback before you even hit play.
X-Ray helps you get more from books, music, movies, and TV shows plus, with X-Ray for Music, you see synchronized lyrics display while you listen to your favorite song.
A Second Screen lets you fling TV shows and movies from Fire phone to your Fire TV, PlayStation or any other Miracast-enabled device. Second Screen turns your TV into the primary screen and frees up Fire phone to provide playback controls and a customized display for X-Ray, all without leaving the TV show or movie you're watching.
In addition, Amazon is offering free unlimited cloud storage of photos taken with Fire, automatically backed-up wirelessly and available across Amazon devices and Cloud Drive apps.
On to the user experience of the phone are the "active widgets," which put key apps in a carousel at the top, and also give you important updates from it down below.
In messaging, you can turn the photo to the right and a view of recent photos comes up. Tap one, press send and it is off.
In the calendar app, you can just tilt the phone to pull up automatic messages to let other attendees know you're going to be late.
The Fire Phone will cost $199.99 for a 32 GB model, and $299.99 for a 64 GB model — and that's based on a two-year contract exclusively with AT&T. WIthout a contract, you'll have to spend $649 or $749 for the 64GB version. It will be available July 25.
Size
5.5" x 2.6" x 0.35" (139.2mm x 66.5mm x 8.9mm)
Weight
5.64 ounces (160 grams)
Processor
2.2GHz Quad-core Snapdragon 800 CPU, with Adreno 330 GPU and 2GB of RAM
Display
4.7" HD LCD display, with 1280 x 720 resolution at 315 ppi, 590 cd/m2 brightness (typical), 1000:1 contrast ratio (typical)
Cameras

13 MP rear-facing camera, multi-frame HDR, auto focus, optical image stabilization, f/2.0 5-element wide aperture lens, LED flash
2.1 MP front-facing camera

OS
Fire OS 3.5.0
Storage
32 GB or 64 GB
Cloud Storage
Free cloud storage for all Amazon content, and photos taken with Fire phone
Battery
Battery size: 2400mAh. Talk time: up to 22 hours; standby time: up to 285 hours. Video playback: up to 11 hours; audio playback: up to 65 hours.
Video recording
1080p HD video recording at 30 fps (front- and rear-facing cameras)
Audio playback
Dual stereo speakers with Dolby Digital Plus audio processing
TV and Video
Supports screen mirroring and Second Screen
Content formats supported

Audio: Dolby Digital (AC-3), Dolby Digital Plus (E-AC-3), non-DRM AAC, MP3, MIDI, OGG, PCM/WAVE, AAC LC/ELD, HE-AAC (v1 & v2), AMR-NB, AMR-WB, AMR-WB+, Audible Enhanced format (AAX);
Video: MPEG4, VP8, H.264/MPEG4/AVC,MPEG4 SP, H.263,AVI,HDCP2.x, PlayReady DRM; Images: JPG, GIF, PNG, BMP, GIF87a,GIF89a; Viewable docs: PDF, unprotected MOBI, PRC natively, DOC, DOCX, Kindle (AZW), KF8, TXT

Sensors
Dynamic Perspective sensor system with invisible infrared illumination, gyroscope, accelerometer, magnetometer, barometer, proximity sensor, ambient light sensor
Location
GPS, Assisted GPS, GLONASS, Wi-Fi/Cellular location, and Digital compass
Cellular
UMTS/HSPA+/DC-HSDPA (850, 900, 1700/2100, 1900, 2100 MHz), Quad-band GSM/EDGE (850, 900, 1800, 1900 MHz), 9 bands of LTE (Bands 1, 2, 3, 4, 5, 7, 8, 17, 20), supports carrier aggregation
Connectivity
802.11a/b/g/n/ac Wi-Fi, up to 300 Mbps with channel bonding; Bluetooth 3.0 wireless technology; NFC enabled
Headphones
Premium, tangle-free headphones with remote and mic
Rating for hearing aids
M4, T4
SIM Card
Pre-installed Nano SIM card
Ports
Micro USB 2.0
3.5mm headphone
Warranty and Service
1-year Limited Warranty included.
Included in the Box

Amazon Fire Phone with Fire OS 3.5.0
Premium headphones with remote and mic
Micro USB to USB charging cable
USB power adapter (5W)
Quick Start Guide