Amazon Unveils new Drone For Deliveries, StyleSnap Feature
Today at Amazon's re:MARS Conference (Machine Learning, Automation, Robotics and Space) in Las Vegas, Amazon unveiled its latest Prime Air drone design.
The company has been trying to build fully electric drones that can fly up to 15 miles and deliver packages under five pounds to its customers in less than 30 minutes. And, with the help of its fulfillment and delivery network, Amazon expects to scale Prime Air both quickly and efficiently, delivering packages via drone to customers within months.
Amazon says its newest drone design includes advances in efficiency, stability and safety. It is a hybrid design: it can do vertical takeoffs and landings – like a helicopter. And it's efficient and aerodynamic – like an airplane. It also easily transitions between these two modes – from vertical-mode to airplane mode, and back to vertical mode.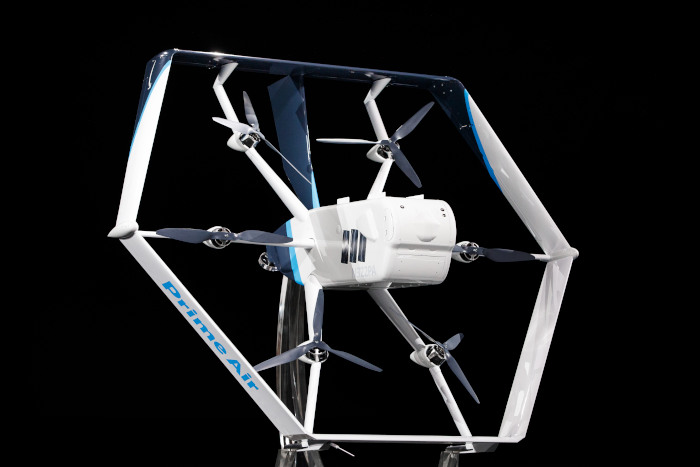 It's fully shrouded for safety. The shrouds are also the wings, which makes it efficient in flight.
The aircraft is controlled with six degrees of freedom, as opposed to the standard four. This makes it more stable, and capable of operating safely in more gusty wind conditions. If Amazon's drone's flight environment changes, or the drone's mission commands it to come into contact with an object that wasn't there previously—it will refuse to do so, using Artificial Intelligence.
The new drone employs diverse sensors and advanced algorithms, such as multi-view stereo vision, to detect static objects like a chimney. To detect moving objects, like a paraglider or helicopter, the drones uses proprietary computer-vision and machine learning algorithms.
For the drone to descend for delivery, a small area around the delivery location is needed to be clear of people, animals, or obstacles. The drone determines that using explainable stereo vision in parallel with AI algorithms trained to detect people and animals from above.
The drome also uses computer-vision techniques to recognize and avoid wires as they descend into, and ascend out of, a customer's yard.
Packages are carried in a square-shaped pod or fuselage in the middle of the drone. It's designed to come within a foot or two of the ground and drop the package in a marked spot.
Amazon's business model for the device is to make deliveries within 7.5 miles (12 kilometers) from a company warehouse and to reach customers within 30 minutes. It can carry packages weighing as much as five pounds.
Amazon said the new delivery drones will be shipping packages to customers in months, though he offered few details. The company is already piloting delivery drones in the UK, where these drones may be heading.
However. it can take years for traditional aircraft manufacturers to get U.S. Federal Aviation Administration approval for new designs and the agency is still developing regulations to allow drone flights over populated areas and to address national security concerns.
Shortly after Amazon's announcement, the FAA issued a statement saying it was granting a one-year approval to test the devices in limited ways that still won't allow deliveries. The so-called special airworthiness certificate allows Amazon to continue its developmental program.
One of Amazon's competitors, Alphabet Inc.'s Wing, in April became the first drone company to win FAA approval to operate as a small airline and is planning its own delivery tests. United Parcel Service Inc. and drone startup Matternet Inc. began using drones to move medical samples between hospitals in Raleigh, North Carolina, in March.
'StyleSnap' shopping recommendation feature
Amazon also on Wednesday introduced "StyleSnap", a feature on its app that allows users to upload a picture of a look or style they like and get recommendations for similar items on the platform.
When providing recommendations, StyleSnap considers a variety of factors such as brand, price range, and customer reviews, the company said.
Shoppers "struggle to find styles they can't describe in words," Jeff Wilke, Amazon's CEO of consumer business, said while introducing the service at the company's "re:MARS" conference on artificial intelligence in Las Vegas.
StyleSnap, an AI-powered feature, helps you shop – all you need to do is take a photograph or screenshot of a look that you like. To get started, all you have to do is click the camera icon in the upper right hand corner of the Amazon App, and select the "StyleSnap" option; then upload a photograph or screenshot of a fashion look that you like. StyleSnap will present you with recommendations for similar items on Amazon that match the look in the photo. When providing recommendations, StyleSnap considers a variety of factors such as brand, price range, and customer reviews.
StyleSnap uses computer vision and deep learning to identify apparel items in a photo, regardless of setting. Deep learning technology also helps classify the apparel items in the image into categories like "fit-and-flair dresses" or "flannel shirts."
Deep learning refers to a class of machine learning techniques based on artificial neural networks, which are inspired by the working of the human brain. Neural networks are made up of millions of artificial neurons connected to each other, and can be "trained" to detect images of outfits by feeding it a series of images.
To have neural networks identify a greater number of classes, we can stack a greater number of layers on top of each other. The first few layers typically learn concepts such as edges and colors, while the middle layers identify patterns such as "floral" or "denim". After having passed through all of the layers, the algorithm can accurately identify concepts like fit and outfit style in an image.
However neural networks will stall and eventually degrade after a certain number of layers have been added. This is known as the vanishing gradient problem, where the signal from the training data is so spread out between layers that it is lost entirely.
Amazon uses residual networks to overcome this problem, as they use shortcuts to allow the training signal to skip over some of the layers in the network. This helps the network learn basic features like "edges" and "patterns" first, and then focus on complex concepts. A method developed by Amazon researchers allows the network to learn new concepts while also remembering things it has learned in the past.