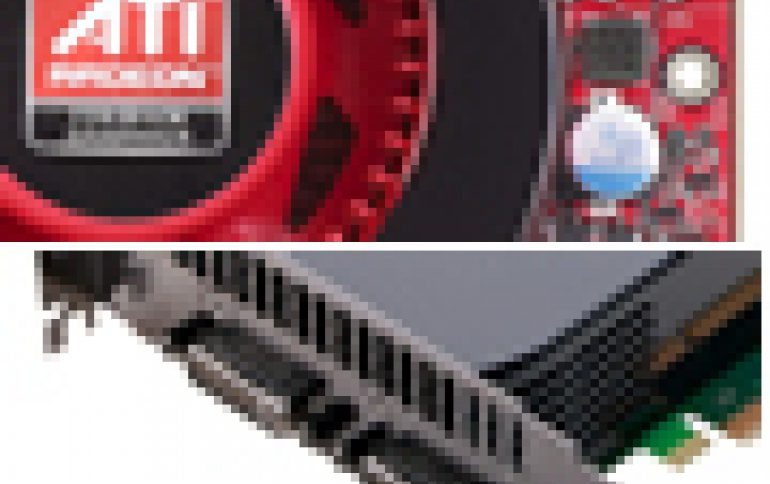 AMD and Nvidia Applaud GPU Performance Under Windows 7
Following the official release of Microsoft's Windows 7 operating system, both AMD and Nvidia promise to offer consumers an exceptionally rich, intuitive and stable computing experience through their products. AMD talked about its VISION Technology that "helps speed and simplify next-generation computing with Windows 7". The company's innovations span from high-end graphics and video processing to multi-core CPUs in designing balanced PC platforms. This capability, combined with the collaborative relationship with Microsoft during the development of the Windows 7 operating system enables the speeding of processor-intensive tasks like transcoding or video gaming, AMD said.

With VISION Technology from AMD, PC buyers can take advantage of the enhancements in Windows 7 for their PC, including features such as Windows 7 drag-and-drop, upscaling DVD videos to near-HD quality on HD-capable monitors, and touch-screen operation.

Second-generation AMD Ultrathin and 2009 AMD Mainstream Notebook platforms, available today pre-loaded with Windows 7, also leverage VISION Technology from AMD. Entertainment features include rich HD video, music and photos, Blu-ray playback, 7.1 surround audio and HDMI output with multi-tasking performance.

AMD also talked about the ATI Radeon HD 5800 series of processors that support for ATI Eyefinity Technology and DirectX 11.

ATI Stream technology takes advantage of AMD?s balanced platform approach using the combined power of CPU and graphics to accelerate computing performance with enabled applications, such as converting video to portable media players with Windows 7 drag-and-drop.

For enterprise businesses , AMD Business Class Technology helps make small and enterprise businesses more efficient with desktop PCs supporting Windows 7 and AMD Virtualization (AMD-V) technology. With features like Windows XP Mode, businesses can leverage their investment in Windows XP applications, as well as industry standards like Desktop and Mobile Architecture for System Hardware (DASH) 1.1 for out-of-band manageability and TPM 1.2 for security.

On the other hand, AMD's "rival" Nvidia talked about "a major inflection point for PC gaming" with the release of Windows 7 operating system combined with NVIDIA GeForce graphics processing units (GPUs).

"New advances in parallel computing, physics, and, stereoscopic 3D have amplified the importance of the GPU," said Mike Ybarra, general manager of Windows Product Management at Microsoft. "These advances, combined with Windows 7, DirectX 11, and DirectCompute will transform PC gaming for years to come."

A Windows 7 PC powered by NVIDIA GeForce GPUs will feature NVIDIA 3D Vision technology that turns a 2D world into a fully immersive stereoscopic 3D experience. NVIDIA PhysX engine turns a static world into a dynamic world that comes to life. NVIDIA SLI technology allows the highest quality and fastest frame rates by combining multiple GeForce GPUs in a PC. On average, SLI technology is up to 15% faster on Windows 7 than on previous Windows operating systems, according to Nvidia.

In addition, Microsoft DirectCompute, a new application program interface (API) for GPU computing, will allow game developers to introduce new visual effects with fewer compromises to performance. Applications include image post-processing, shading & lighting effects, and artificial intelligence.

Microsoft DirectX 11, the next-generation Direct3D API, will enable game developers to take advantage of NVIDIA?s next generation GPU architecture, codenamed "Fermi", and create advanced visual effects for upcoming 2010 gaming titles.

"Despite rumors to the contrary, research shows that PC gaming is growing at a rapid pace and NVIDIA is the torchbearer for PC gaming," said Jon Peddie, principal analyst for Jon Peddie Research. "Superior graphics, stereoscopic 3D, and advanced physics are features that differentiate the NVIDIA GeForce gaming experience from gaming consoles and other PC components."