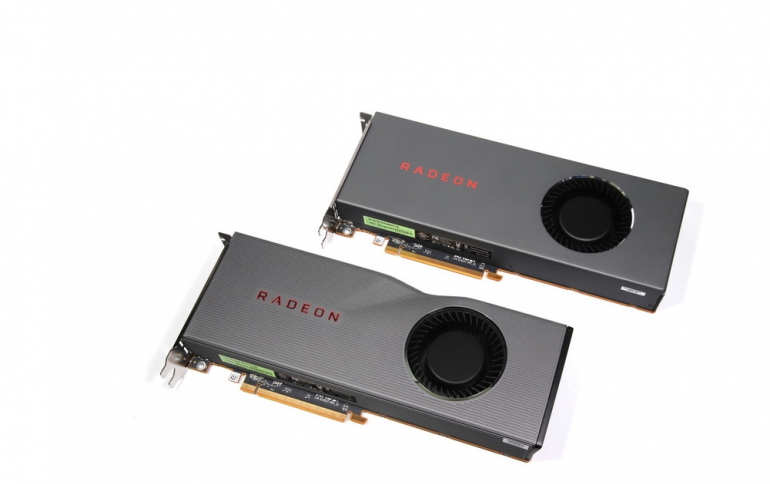 AMD Releases the Radeon RX 5700 Series Graphics Cards and AMD Ryzen 3000 Series Desktop Processors
AMD has made available its new PC gaming platform based on AMD Radeon RX 5700 series graphics cards and 3rd Gen AMD Ryzen Desktop Processors, as well as AMD Ryzen 3000 Series Processors with Radeon Graphics (APUs).
Built on the new AMD RDNA gaming architecture and 7nm process technology, the new AMD Radeon RX 5700 XT and RX 5700 graphics cards are available on AMD.com and from etailers and retailers for $399 and $349 USD SEP, respectively, and the 50th Anniversary Edition Radeon RX 5700 XT graphics card is available while supplies last for $449 USD SEP from AMD.com and JD.com.
Aimed at what these days is the midrange segment of the video card market, AMD is looking to carve out a new place for the company in the hearts of gamers who are looking for high performance video cards that won't break the bank. These parts are, in turn, based on AMD's Navi 10 GPU, which is the first GPU using the company's new RDNA architecture.
According to AMD, the RDNA gaming architecture was built from the ground up for" superior performance, scalability and power efficiency," and designed to power the future of PC, console, mobile and cloud-based gaming. The new RDNA architecture supports high-speed GDDR6 memory, provides PCIe 4.0 support, and provides up to 1.25X higher performance-per-clock and up to 1.5X higher performance-per-watt over AMD's previous Graphic Core Next (GCN) architecture.
The newest Radeon graphics cards offer new features to elevate 1440p gaming, including:
Radeon Image Sharpening (RIS) – Brings crispness and clarity to in-game visuals that have been softened by other post-process effects in DirectX 9, 12, and Vulkan titles. When paired with Radeon GPU upscaling, RIS enables sharp visuals and fluid frame rates on very high-resolution displays.
FidelityFX – Offers an open-source toolkit for game developers with high-quality post-process effects to help make games look beautiful while offering an optimal balance of visual fidelity and performance. Available on GPUOpen, FidelityFX features Contrast-Adaptive Sharpening (CAS), which draws out detail in low-contrast areas while minimizing artifacts caused by typical image sharpening routines.
Radeon Anti-Lag – Optimized for eSports, improves competitiveness by decreasing input-to-display response times by up to 31 percent.
Model

Compute Units

Stream Processors

TFLOPS

GDDR6 (GB)

Base Clock (MHz)

Game Clock (MHz)

Boost Clock (MHz)

SEP1

(USD)

50th Anniversary Edition RadeonRX 5700 XT

40

2,560

Up to 10.14

8

1,680

1,830

Up to 1,980

$449

RadeonRX 5700 XT

40

2,560

Up to 9.75

8

1,605

1,755

Up to 1,905

$399

RadeonRX 5700

36

2,304

Up to 7.95

8

1,465

1,625

Up to 1,725

$349

The Radeon RX 5700 series cards are not going to be Turing killers. But they are competitive in price, performance, and power consumption – the all-important trifecta that AMD has trailed NVIDIA at for too many years now.
By the numbers then, the Radeon RX 5700 XT holds an 11% performance advantage over its nearest competition, NVIDIA's new GeForce RTX 2060 Super. Similarly, the RX 5700 (vanilla) takes a 12% advantage over the RTX 2060 (vanilla). So NVIDIA was right to shift their product stack last week in preparation for today's AMD launch, as AMD is now delivering the performance of what was last week a $500 video card for as little as $350. That's a major improvement in performance-per-dollar, to say the least.
The RX 5700 fares slightly better than its opponent, while the highly-clocked RX 5700 XT is more power-hungry in securing its performance advantage over the RTX 2060 Super. Which, with the RX 5700 within spitting distance of the RTX 2070 Super in terms of gaming performance, it gives you a good idea of what the power cost was for that last 11%. For the moment then, while AMD hasn't significantly shifted the power/performance curve versus Turing, they also have avoided the same kind of painful performance chase that delivered toasty cards like the RX Vega 64 and RX 590.
If there is a real downside here, it's that AMD's blower-based coolers aren't going to impress anyone with their performance, even by blower standards. The RX 5700 XT is a bit louder than even NVIDIA's GTX 1080 Ti, which is a flat-out higher TDP card. To be sure, it's well ahead of the RX Vega series here (or even the reference 390X I dug out), but AMD has yet to completely master the dark art of quiet blowers.
The end result is that the Radeon cards are faster for the price, but NVIDIA brings things like ray tracing and variable rate shading that AMD cannot.
According to online benchmarks, the Radeon RX 5700 and 5700 XT are delivering better performance than the GeForce RTX 2060 and RTX 2060 Super they're price-matched with. The Radeon RX 5700 XT even manages to trade blows with the GeForce RTX 2070 Super in some games despite costing $100 less. The Radeon RX 5700 XT holds an 10% performance advantage over NVIDIA's new GeForce RTX 2060 Super. Similarly, the RX 5700 takes a 12% advantage over the RTX 2060.
The RX 5700 fares slightly better than its opponent, while the highly-clocked RX 5700 XT is more power-hungry in securing its performance advantage over the RTX 2060 Super.
Of course, these Navi GPUs are also great at high refresh rate 1080p gaming, and with the Radeon RX 5700 XT you can dabble with 4K gaming in some games if you don't mind dialing some visual settings back from Ultra.
On the other hand, the new Radeon GPUs don't support Real-time ray tracing, which currently requires dedicated hardware to achieve acceptable gaming frame rates. Only Nvidia's RTX GPUs offer that.
3rd Gen AMD Ryzen Desktop Processors
This year's Ryzen 3000 is a major upgrade for both CPU architecture as well as on the manufacturing node. It marks AMD's switch from GlobalFoundries' 12nm process to TSMC's newest 7nm node. But what's more interesting is the fact that the Ryzen 3000 isn't a single chip, but a collection of non-uniform chiplets.
With up to 12 cores and 24 threads now available, 3rd Gen AMD Ryzen Desktop Processors are high-performance 7nm processors for consumer desktop PCs. Building on the legacy of "Zen" architectures, the "Zen 2" microarchitecture incorporates enhancements that deliver a IPC uplift of an estimated 15 percent generationally for faster gaming and content creation. Beginning today, 3rd Gen Ryzen Desktop Processors, including the new Ryzen 3000 Series Processors with Radeon Graphics, are available globally starting at $99 USD SEP.
The 3rd Gen Ryzen Desktop Processors are offering, according to AMD:
Higher clock speeds, more performance per clock, and larger L3 cache than the previous generation, plus new synergies with the Windows 10 May 2019 Update, to enable more powerful gaming experiences across 1080p and 1440p resolutions.
For content creators, 3rd Gen Ryzen Desktop Processors enable a commanding performance advantage over the competition in rendering, encoding, color grading, and more.
3rd Gen Ryzen Desktop Processors offer supreme performance with highly energy efficient operation, enabling up to 58% better performance-per-watt on Ryzen 9 Processors and up to 30% better performance-per-watt on Ryzen 7 Processors -- all while running in a highly efficient, low-power envelope -- than the competition.
Like all AMD Ryzen Processors, 3rd Gen Ryzen Desktop Processors are fully multiplier and voltage unlocked. New Precision Boost Overdrive with Automatic Overclocking can deliver even higher performance on 3000 Series Ryzen 5, 7, and 9 processors by communicating with the user's motherboard and increasing the maximum clock frequency by up to 200MHz at the touch of a button. A new and improved AMD Ryzen Master Software utility is also available, including a redesigned user interface and many new features, offering users an easy way to squeeze every drop of performance from their AMD Ryzen Desktop Processor.
Additionally, with the release of the 3rd Gen Ryzen Desktop Processors, AMD designed and unveiled the new X570 chipset for AMD Socket AM4, enabling the first platform with PCIe 4.0 support for consumers. Unique support for PCIe 4.0 paves the way for new classes of high-performance graphics cards, networking devices, NVMe drives, and more. The X570 chipset adds PCIe 4.0 lanes over the previous X470 and X370's reliance on PCIe 3.0. The new X570 chipset also offers more support for USB 3.1 Gen2 with AMD allowing motherboard manufacturers to play with 12 flexible PCIe 4.0 lanes and implement features how they wish. This includes 8 x PCIe 4.0 lanes, with two blocks of PCIe 4.0 x4 to play with which vendors can add SATA, PCIe 4.0 x1 slots, and even support for 3 x PCIe 4.0 NVMe M.2 slots.
AMD is launching 5 different SKUs today, with the 16-core Ryzen 9 3950X set to follow sometime in September. At the top we have the Ryzen 3900X, which is a 12-core design. In fact it's the first 12-core processor in a standard desktop socket that takes advantage of AMD's newest chiplet architecture. Whereas all the other Ryzen parts are comprised of two chiplets – the base I/O die and a single CPU chiplet – 3900X comes with two such CPU chiplets.
3rd Gen Ryzen Desktop Processors

Cores/
Threads

TDP14 (Watts)

Boost/Base Freq. (GHz)

L2 + L3 Cache (MB)

PCIe® 4.0 Lanes (processor + AMD X570)

SEP1 (USD)

Ryzen9 3950X

16/32

105

4.7/3.5

72

44 (36 useable)

Available September 2019

Ryzen9 3900X

12/24

105

4.6/3.8

70

44 (36 useable)

$499

Ryzen7 3800X

8/16

105

4.5/3.9

36

44 (36 useable)

$399

Ryzen7 3700X

8/16

65

4.4/3.6

36

44 (36 useable)

$329

Ryzen5 3600X

6/12

95

4.4/3.8

35

44 (36 useable)

$249

Ryzen5 3600

6/12

65

4.2/3.6

35

44 (36 useable)

$199
Both the 3700X and the 3900X deliver in terms of offering outstanding alternatives to the competition.
While AMD has increased the core-count by 50% over its previous flagship processor, it has managed to keep the TDP to the same 105W as on the Ryzen 2700X. On top of this, the chip clocks in 300MHz faster than the predecessor in terms of boost clock, now reaching 4.6GHz; even the base clock has been increased by 100MHz, coming in at 3.8GHz.
The new Ryzen 3700X is configured and positioned as an efficient model. With a boost clock of 4.4GHz and a base clock of 3.6GHz, the part should still be notably faster than the Ryzen 2700X, yet AMD has managed to make this a 65W TDP part.
The 3rd gen Ryzen processors promise to bring some large performance improvements. The Zen 2 core microarchitecture is said to bring over 10% IPC improvements; this together with the higher clockspeeds should make for some solid generational improvements in a lot of workloads. AMD claims that we should be seeing some large improvements in gaming as a result of the doubled size of the L3 cache. AMD is claiming ~20% to even ~30% improvements in some titles when compared to the last generation Ryzen 2700X.
Moving from a single monolithic die to a chiplet-based MCM (Multi-chip module) design allowed AMD to maximise the performance characteristics of their 7nm design for the new Ryzen 3000 chipsets. Meanwhile, having the I/O components and the memory controllers on a 12nm process node not only allows AMD to minimise the cost of the platform, but also allows them to optimise the silicon for their specific use-cases.
The new chiplet houses CCXes with double the amount of L3, now 16MB instead of 8MB.
AMD promises a wholly new memory controller design that brings new support for faster DDR4 modules, with the chip coming by default categorized as supporting DDR4-3200, which is a bump over the DDR-2933 support of the Ryzen 2000 series. AMD is claiming that the new controllers are able to support up to DDR4-4200 with ease and overclocking being possible to achieve ever higher speeds.
In addition, AMD's new microarchitecture has also doubled the bus width of the Infinity Fabric to 512 bits.
According to online reviews, AMD's new CPUs with higher performance per clock than Intel's leading architecture. Zen 2 finally achieves this symbolic mark, with the new core improving IPC by 10-13% when compared to Zen+.
Intel could still marginally holds the single-threaded performance, but AMD's chips are consuming significantly less power than Intel's best desktop chip, all thanks to the new process node.
In anything that is more than lightly multi-threaded, AMD is also able to take the performance crown among mainstream desktop processors, thanks to their inclusion of 12 cores in their top SKU Ryzen 3900X.
When it comes to gaming performance, the seems to 9700K and 9900K remain the best performing CPUs on the market, but the gap with AMD's chips has narrowed.
At $329 the 3700X particularly sounds exciting, and gamers will want to take note that it posts the same gaming performance as the $499 3900X. Considering that AMD is also shipping the CPU with the Wrath Spire cooler, this also adds on to the value that you get.
The 3900X essentially has no real competition when it comes to the multi-threaded performance that it's able to deliver. The chip not only bests Intel's mainstream desktop designs, but it's able to almost match the performance of the lowest rung of Intel's more specialized HEDT platforms.
AMD also announced availability of the Ryzen 3000 Series Desktop Processors with Radeon Graphics, armed with higher CPU and graphics clock speeds than its prior generation of processors, plus new driver features like Radeon Anti-Lag. they are offering smooth framerates for 1080p gamers; 4K HDR streaming capabilities; and Radeon FreeSync support.
AMD is also offering the Xbox Game Pass for PC, providing complimentary, three-month access to Xbox Game Pass for PC with the purchase of AMD Radeon RX 5700 Series graphics cards, AMD Ryzen 3000 Series processors, and other select AMD products from participating retailers.