AMD's Radeon RX Vega 64 will cost $499, Radeon RX Vega 56 is $100 Cheaper
AMD on Sunday unveiled its Vega gaming GPU lineup that it expects will put the company back into the high-end graphics card game.
Let's start with the details on Radeon RX Vega 64 and Radeon RX Vega 56.
The $499 Radeon RX Vega 64 will feature 64 compute units, 4,096 stream processors, and 8GB of advanced HBM2 memory with 484GBps of bandwidth. It will run at 1,247MHz base clock with a boost clock of 1,546MHz. The card is rated at 12.66 TFLOPS of performance.
The Radeon RX Vega 64 Liquid Cooled Edition will feature 64 compute units, 4,096 stream processors, and 8GB of HBM2 with 484GBps of bandwidth. However, thanks to its liquid cooling, AMD will increase the base clock to 1,406MHz and its boost clock to 1,677MHz. The higher clock speed also ups its floating point performance to 13.7 TFLOPS. Although only included as part of a "pack", the card essentially costs $699.
The $399 Radeon RX Vega 56 will feature 56 compute units, 3,584 stream processors, 8GB of HBM2 RAM with 410GBps of bandwidth, and will run at a 1,156MHz base clock and 1,471 boost clock. It's rated at 10.5 TFLOPS.
All 3 cards are based on the same GPU, Vega 10, which powers the already released Radeon Vega Frontier Edition.
The Vega 64 will come in two shroud design options. AMD's reference shroud is a plastic/rubber design. AMD will also have a "limited edition" version of the card with the same hardware specifications, but replacing the rubber shroud with a brushed aluminum shroud.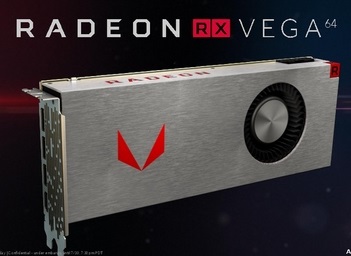 The cooler design of the Vega 64 has a radial fan measuring 30mm in radius (60mm in diameter). The fan in turn is responsible for cooling a heatsink that's attached to the Vega 10 GPU + memory package via a vapor chamber.
AMD has published some performance slides for the Vega 64, claiming that it will trade blow" with NVIDIA's GeForce GTX 1080.
First off, AMD will be offering RX Vega cards both with and without bundles. The stand-alone. These cards will go for $399 and $499 respectively. These prices are close to the prices of the GeForce GTX 1070 and GTX 1080.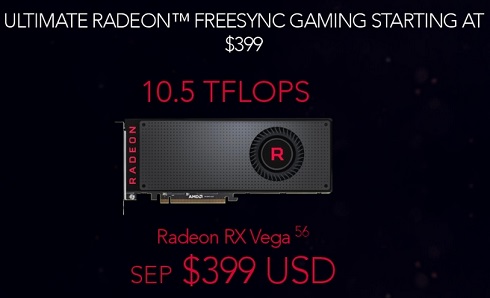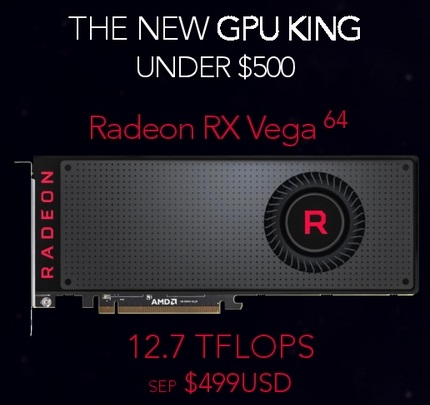 As for AMD's Vega 64 Limited Edition and Vega 64 Liquid Cooled Edition card, these will not be available on a stand-alone basis. If you want these cards, they will only be available as part of a bundle.
For what amounts to a $100 premium, AMD is doing a combined software and hardware bundle. These "Radeon Packs" include bundled games and hardware discounts. In short, if you commit to buying an RX Vega card for $100 more, you get access to AMD's best cards with additional games and some sizable hardware discounts.
Overall the bundle contains the following items: an RX Vega video card, a $200 discount on Samsung's CF791 34-inch WQHD Curved Freesync monitor, a $100 discount on a Ryzen 7 + motherboard bundle, and 2 AAA games (for North America this is Wolfenstein II and Prey, coming from AMD's partner Bethesda).
Bundle Contents
AMD Radeon RX Vega Card
2 Bundled Games (For US: Wolfenstein II and Prey)
$200 Discount: Samsung CF71 34-inch Widescreen Freesync Monitor
100 Discount: Ryzen 7 + Motherboard Combo
Unlike traditional retailer bundles, these AMD bundles require purchasing the Radeon Pack version of the card. If you buy the stand-alone RX Vega cards, then you won't get the games or qualify for the hardware discounts. And these Radeon Pack SKUs are, in turn, priced $100 over the stand-alone cards.
The packs themselves are priced at $499 for the Vega 56 pack (Red Pack), $599 for a Vega 64 pack (Black Pack), or $699 for a Vega 64 Liquid Cooled Edition pack (Aqua Pack)
Features
AMD has today disclosed the architectural elements of the Vega 10 GPU.
The company has has clarified that they do not consider Vega 10 to be a high performance computing (HPC) chip. Vega 10's native FP64 rate is just 1/16, like AMD's other consumer chips. And the chip, while supporting HBM2's native ECC mode, doesn't have ECC on its internal pathways. This doesn't mean that the chip can't be placed in a server - its FP16 and INT16/INT8 performance is the cornerstone of its existence as part of the Radeon Instinct family. But that's still a different market than traditional HPC.
The GPU is officially 486mm2, containing 12.5B transistors therein. That amounts to 3.9B more transistors than Fiji while being 112mm2 smaller, thanks to the higher density of GloFo's 14nm LPP process.

AMD is also tweaking their boost clock mechanism. Up until now, the boost clock was the maximum clock a Radeon card would hit. Starting with Vega RX, however, the company's definition of the boost clock is changing to the highest clockspeed a card is guaranteed to hit, but not the absolute highest clockspeed it can hit under load.
Finally, AMD tweaked their Freesync Low Framerate Compensation technology to work with monitors that have a 2x range between min and max refresh rates, as opposed to 2.5x at launch.
Radeon Pro WX 9100 and Radeon Pro SSG
At the second annual Capsaicin SIGGRAPH event, AMD also unveiled new professional graphics cards designed to accelerate the pace of professional content creation. Based on AMD's "Vega" GPU architecture, the Radeon Pro WX 9100 and Radeon Pro SSG professional graphics cards will launch in September 13. The expected MSRP of the Radeon Pro WX 9100 is $2,199 and the expected MSRP of the Radeon Pro SSG is $6,999.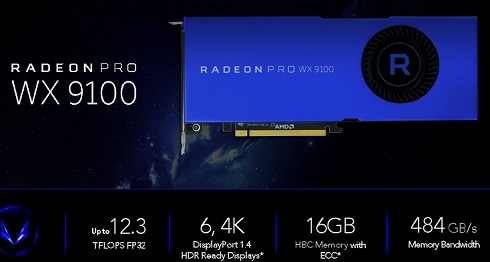 The Radeon Pro WX 9100 workstation graphics card delivers up to 12.3 TFLOPS of peak single precision compute performance and capabilities fueled by Next-Gen Compute Units with Rapid Packed Math and an Enhanced Geometry Pipeline which improves processing efficiencies. Compared to the AMD FirePro W9100 the Radeon Pro WX 9100 runs models more than twice as fast, delivering over 2.6X the peak throughput-per-clock.
The Radeon Pro WX 9100 uses 16GB of High-Bandwidth Cache based on the HBM2 Error Correcting Code (ECC) Memory, and harnesses the High Bandwidth Cache Controller (HBCC). At Capsaicin SIGGRAPH, AMD showcased a complex scene in Radeon ProRender that easily exceeded on-card memory capacity but ran smoothly as the HBCC automatically extended local memory. The same scene would not load on competing offerings because of an out-of-memory error.
The Radeon Pro WX 9100 is an improvement over AMD's previous generation graphics card, boasting 51% more memory bandwidth, 2.6X performance/Watt, 2.3X the compute performance, and a wide range of API support including Vulkan 1.0, OpenGL 4.5, OpenCL 2.0, and DirectX 12.1, and the latest display technologies including support for 8K at 60Hz, 4K at 120Hz, and DisplayPort 1.4 HDR-ready with support for up to six displays using AMD Eyefinity Technology. To demonstrate the computational superiority of the Radeon Pro WX 9100, AMD demonstrated real-time raytracing using Radeon ProRender paired with Unreal Engine 4. As the scene was loaded in Unreal, the Radeon Pro WX 9100 computed the raytraced scene in parallel.
The Radeon Pro SSG is featuring the same performance and features of the Radeon Pro WX 9100. It is the first graphics card to offer 2TB of graphics memory, enabling native 8K video editing in real-time. At Capsaicin SIGGRAPH, AMD demonstrated how the Radeon Pro SSG scrubbed through raw 8K content in Adobe Premiere Pro providing near instantaneous access to any position in the video.
A three-year limited warranty and optional seven-year limited warranty is offered on the retail version of the Radeon Pro WX 9100, and a two-year limited warranty is offered on the Radeon Pro SSG.