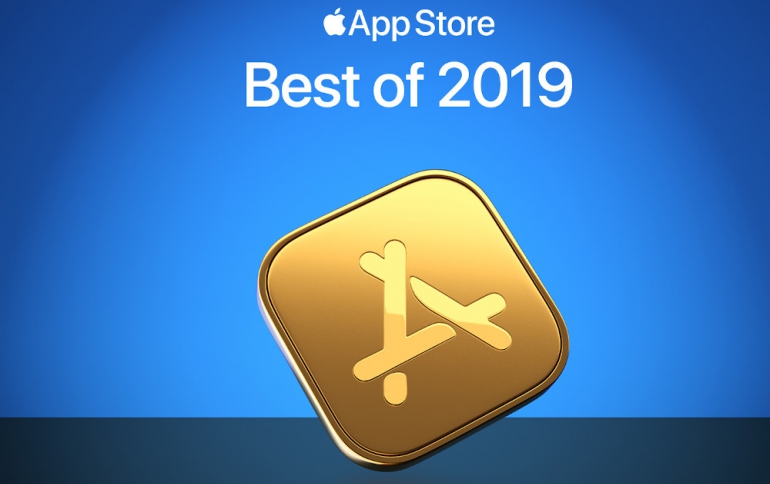 Apple Lists The Best Apps and Games of 2019, Announces Apple Music Awards
Today Apple revealed the best apps and games and the most powerful trends that drove app culture in 2019.
"We are excited to announce such a diverse group of 2019 App Store winners, showing that great design and creativity comes from developers large and small, and from every corner of the world. We congratulate all the winners and thank them for making 2019 the best year yet for the App Store," said Phil Schiller, Apple's senior vice president of Worldwide Marketing.
iPhone App of the Year: Spectre Camera (Lux Optics)
This AI-powered app leverages a dizzying amount of tech to let anyone take stunning long-exposure photos.
iPad App of the Year: Flow by Moleskine (Moleskine)
Draw and sketch in this digital notebook app, whose graphite pencils, chisel-tipped markers and more have been meticulously tuned to mimic the real thing.
Mac App of the Year: Affinity Publisher (Serif Labs)
With its reasonable price point, Affinity Publisher makes pro-level design accessible to everyone, whether you're creating a photo-rich coffee table book or a flyer for your second grader's play.
Apple TV App of the Year: The Explorers (The Explorers Network)
This app was designed to support the community of explorers, scientists and artists working toward a common goal: To create a comprehensive "visual inventory" of the natural world through photo and video.
App Trend of 2019: Storytelling Simplified
With apps like Anchor (Anchor FM), Canva: Stories & Video Maker (Canva), Unfold (Unfold Creative), Steller (Expedition Travel Advisor), Spark Camera (Dayworks), Over (Over, Inc) and Wattpad (Wattpad Corp), anyone can express themselves through moving podcasts, novels, and photo collages in an easier way than ever before.
Best Games of 2019
iPhone Game of the Year: "Sky: Children of the Light" (thatgamecompany)
iPad Game of the Year: "Hyper Light Drifter" (Abylight S.L.)
Mac Game of the Year: "GRIS" (Devolver / Nomada Studio)

Apple TV Game of the Year: "Wonder Boy: The Dragon's Trap" (DotEmu)
Game Trend of 2019: Blockbusters Reimagined
This year, game developers worldwide burst onto iOS with a wave of brands, all featuring bold design and features that delivered a level of depth and quality never thought possible on mobile. Hits like "Mario Kart Tour" and "Dr. Mario World" (Nintendo), "Minecraft Earth" (Mojang), "Pokémon Masters" (DeNA Co), "Assassin's Creed Rebellion" (Ubisoft), "Gears POP!" (Microsoft Corporation), "The Elder Scrolls: Blades" (Bethesda), Alien: Blackout (D3PA) and "Call of Duty: Mobile" (Activision Publishing) aren't mere remakes or tributes — they are original releases.
Apple Arcade Game of the Year: "Sayonara Wild Hearts" (Simogo)
In 2019, Apple expanded the App Store with the introduction of a tab for Apple Arcade, a game subscription service without ads or in-app purchases. There is one game that stands out even within this collection of titles, making it the Apple Arcade Game of the Year. "Sayonara Wild Hearts," developed by Simogo and published by Annapurna Interactive, is a unique game. Prepare to race motorcycles, wield swords and break hearts at 200 mph.
Beyond the App Store editorial picks, charts for the most downloaded apps and most downloaded games of the year are now available.
First ever Apple Music Awards
Apple has also introduced the Apple Music Awards, a celebration of the best musicians of 2019 and the impact they have had on global culture this year.
The Apple Music Awards honor achievements in music across five categories and winners are chosen through a process that reflects the service's editorial perspective, combined with what Apple's customers around the world are loving most.
The winners for Global Artist of the Year, Songwriter of the Year and Breakthrough Artist of the Year were hand-selected by Apple Music's global editorial team of experts and tastemakers. The awards for Album of the Year and Song of the Year are based on streaming data and reflective of what Apple Music customers have been listening to (on repeat) this year.
And the winners are...
Artist of the Year: Billie Eilish
Billie Eilish's full-length debut album "WHEN WE FALL ASLEEP, WHERE DO WE GO?" is the Apple Music Awards' Album of the Year.
Breakthrough Artist of the Year: Lizzo
Lizzo received a year's-best eight Grammy nominations, including Album of the Year for "Cuz I Love You."
Song of the Year: "Old Town Road" by Lil Nas X
Apple Music will celebrate the inaugural Apple Music Awards with a performance from Billie Eilish at the Steve Jobs Theater at Apple Park. The exclusive event will be streamed live around the world on December 4 at 6:30 p.m. PST.
Apple has designed a series of awards. Each award features Apple's custom silicon wafer suspended between a polished sheet of glass and a machined and anodized aluminum body. The wafers start as a perfect 12-inch disc of silicon with nanometer level flatness. Copper layers are deposited and patterned by ultraviolet lithography to create connections between billions of transistors. The result of this multi-month process, before it is sliced into hundreds of individual chips, is distinctive.