Imagination Technologies Introduces the new A-Series of GPUs
Imagination Technologies announced the IMG A-Series of GPUs, featuring a range of new cores along with a new GPU architecture.
The company says that the A-Series is 2.5x faster for the same area and same power compared to its currently shipping PowerVR GPUs. Normally, a 20-25% uplift in performance on an annual basis would be welcomed making this a leap over to current shipping hardware, such as the PowerVR Series9XM in the Oppo Reno Z. The GPUs are also power efficient too, and for the same performance, Imagination says that we have ti do with a 60% lower power.
This gives A-Series one of its most appealing characteristics – sustained operation without clock throttling – which is going to please gamers. Even with the continued popularity of consoles, for many the smartphone is the most frequently used gaming platform. With an A-Series GPU, Imagination promises that you'll able to enjoy outstanding gaming performance that won't slow down from overheating.
While A-Series is great for gaming, Imagination says the GPUs also bring enhancements for many markets, including automotive, set-top box and DTV and server.
The enhanced AI abilities of A-Series are key to that. The devices are now becoming ever more "intelligent" with uses ranging from face recognition for logging in, automatic image classification of our photos, or enhancing photography – and this requires SoC to offer more performance for machine learning, typically through neural networks. The A-Series caters for this with 8x the TOPS (tera operations per second) performance of the Series9XM.
Imagination announced seven cores across three product categories: A-Series AXT, AXM and AXE.
IMG AXT-64-2048 for flagship performance; 2.0 TFLOPS, 64 Gpixels and 8 TOPS of AI performance
IMG AXT-48-1536 for premium mobile; 1.5 TFLOPS, 48 Gpixels and 6 TOPS
IMG AXT- 32-1024 for high-performance mobile and automotive; 1 TFLOPs, 32 Gpixels and 4 TOPS
IMG AXT-16-512 for high-mid-performance mobile and automotive; 0.5 TFLOPS, 16 Gpixels and 2 TOPS
IMG AXM-8-256 for mid-range mobile; 0.25 TFLOPS, 8 Gpixels and 1 TOPS
For lower-cost segments IMG A-Series still delivers the best in area, cost and efficiency:
IMG AXE-2-16 for premium IoT, entry DTV/STB, display and other fillrate driven applications; 2 PPC, 16 GFLOPS and 2 Gpixels
IMG AXE-1-16 for entry-level mobile and IoT and the fastest Vulkan-capable GPU in its class; 1 PPC, 16 GFLOPS and 1 Gpixels
 
IMG AXE-1-16
IMG AXM-8-256
IMG AXT-16-512
IMG AXT-32-1024
IMG AXT-48-1536
IMG AXT-64-2048
API Support

Vulkan 1.1
OpenGL ES 3.x/2.0/1.1 + Extensions
OpenCL 1.2 Embedded Profile
Android Extension Pack

Vulkan 1.1
OpenGL ES 3.x/2.0/1.1 + Extensions
OpenCL 2.0 Embedded Profile
Android Extension Pack

OS Support

Linux Consumer
Linux X.org
Android

Bus Interface
Compression

Texture Compression
PVRIC4: Visually Lossless image compression - PowerVR's frame buffer compression and decompression (FBCDC) algorithm
PVRGC: Lossless data compression - PowerVR's geometry compression, which is performed in the Geometry Processing phase of the 3D graphics workload

 

Performance (Floating point operations per clock)

16 FP32 FLOPs/Clock
32 FP16 FLOPs/Clock

256 FP32 FLOPs/Clock
1024 AI INT8/Clock
512 FP32 FLOPs/Clock
2048 AI INT8/Clock
1024 FP32 FLOPs/Clock
4096 AI INT8/Clock
1536 FP32 FLOPs/Clock
6144 AI INT8/Clock
2048 FP32 FLOPs/Clock
8192 AI INT8/Clock
Pixels per Clock
1ppc
8ppc
16ppc
32ppc
48ppc
64p
You might have noticed the absence of PowerVR in the name – but that's not to say A-Series isn't a PowerVR product – it is. However, rather than being part of the name, PowerVR now refers to Imagnation's underlying rendering method that remains at the heart of the A-Series.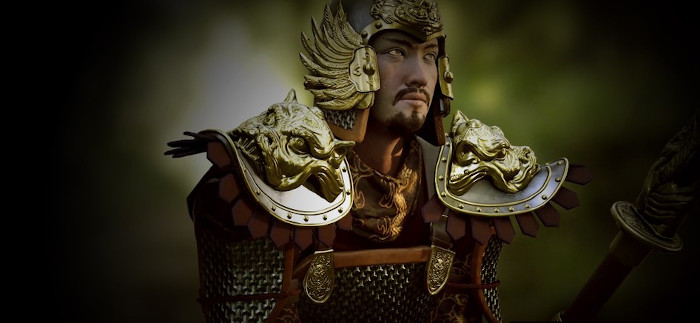 The numbers in the core names aren't arbitrary but are a guide to determine performance. The first figure refers to pixels per clock for fill rate focused high-resolution gaming and the second represents FP32 operations of performance – representing compute capabilities. At the same time, the range can also offer up to eight tera operations per second (TOPS) for integer calculations used by quantized neural network calculations – or in other words – AI.
The improvements brough by the new GPUs stem from a large number of enhancements from across the board. However, the single most significant source of speed-up would have to be the changes to the ALU. The ALU, or arithmetic logic unit, is a fundamental part of the graphics processing unit where calculations are performed for both graphics and compute tasks. For A-Series Imagination has moved from a dual MAD x32-wide ALU to a single MAD 128-thread wide ALU. By moving to a 128-thread wide unit many more instructions per clock can be performed, which is fundamental to improving power efficiency. Of course, keeping that ALU fed with data is critical and Imagination has implemented several mechanisms to ensure that. The design of A-Series is also highly scalable, so Imagination could go from one to four scalable processing units (SPUs) to create cores that match the market requirements, while still keeping area size to a minimum.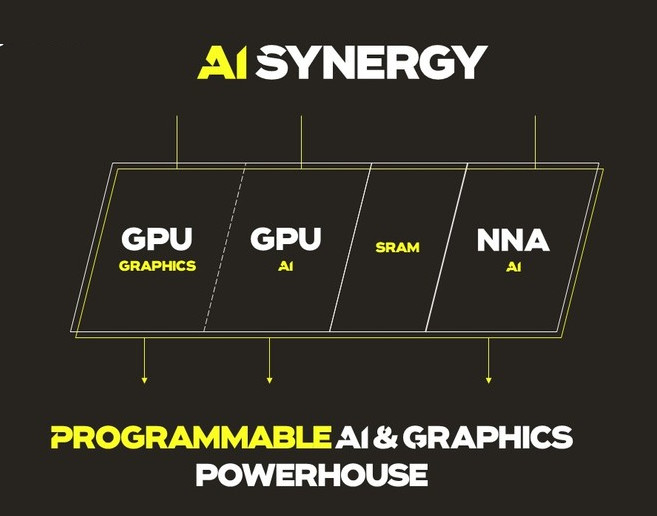 A new feature of A-Series is that cache sizes can now be configured to their preference, allowing implementers to reduce GPU bandwidth requirements. More system-level cache can now be put down to reduce the need to go to system memory or to allow the use of less expensive external RAM to reduce power, thermals and system cost.
A-Series also delivers what Imagination refers to as "impeccable pixels". What this boils down to is a series of techniques for offering great performance without sacrificing image quality. To do this Imagination uses many techniques new and old. Imagination's PVRIC4 image compression technology uses either lossless or highly optimised lossy compression to guarantee bandwidth reduction of at least 50% as well as a memory footprint saving of 50%. Imagination also has new algorithms for level of detail and anisotropic filtering, both of which can make a tangible improvement to image quality.
A-Series also introduces HyperLane Technology. These HyperLanes are eight individual hardware control lanes, each isolated in memory, that enable secure, efficient multitasking. It means you could run an AI task on the GPU at the same time as complex 3D graphics without slowdown. It's made possible by what Imagination is calling HyperLane Dynamic Performance Control which ensures that the hardware is fully utilised. Any spare capacity is used to ensure maximum performance, and tasks can be prioritised to protect them from ever falling behind a certain threshold. You could, for example, run a dashboard cluster on the GPU at the same time as powering an infotainment system, and never have to worry that the performance of the vitally important dashboard cluster will suffer. HyperLanes can also be used to secure content. A video stream could be passed through the GPU, without fear of it being accessed by hackers – which is important in a set-top box or DTV.
While AI can be run on the GPU when network models are suitably optimised you can run them on dedicated hardware, such as a PowerVR NNA (neural network accelerator) to get performance that is of an order of magnitude greater and at lower power. With A-Series AI Synergy you can now get an added benefit when you use our GPU and NNA together. Full programmability AI workloads can now run, with layers split across either the CPU, GPU or an NNA using the Imagination DNN API to ensure that workloads are run in the most appropriate place depending on the needs of the application.
Imagination is confident that A-Series meets the needs of a wide range of markets, from mobile to DTV and automotive – it's why the company is calling it "the GPU of everything, " and with its ability to offer sustained performance without throttling it will, in particular, meet the needs of gamers. Naturally, it supports the latest standards, including Vulkan 1.1.
Imagination says that the A-Series is just the beginning and we have a roadmap of products based on this that will bring even more to the table in the coming months and years.