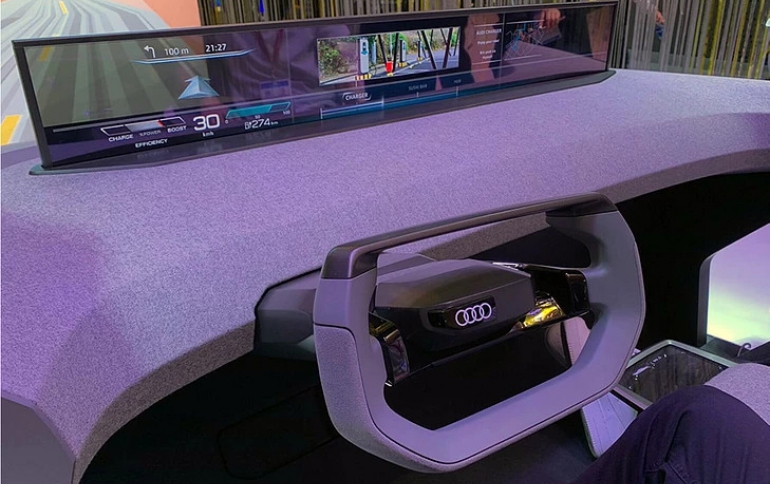 Imagination Showcases New Safety-critical Driver For 3D Graphics in the Car
Imagination Technologies has developed a new OpenGL SC (Safety-Critical) 2.0 driver for its automotive graphics processing units (GPUs), enables automotive OEMs and Tier 1s to benefit from GPU acceleration in safety-critical applications.
Automotive applications such as digital dashboards, dials, clusters, cockpit domain controllers, surround-view displays, and advanced driver-assistance systems (ADAS) can now function with an added layer of protection.
When building a modern vehicle, all parts of the system need to be considered and designed against the applicable regulatory, safety and quality standards, which in the automotive space is ISO 26262. As well as the hardware itself, this includes software.
To meet this standard, all electronics must be "functionally safe", as in absent of anything in their design and construction which could potentially cause a hazard through malfunction. In automotive terms, this means that if an electronic system fails, the vehicle can either be immediately stopped in a safe manner or operate in a failsafe mode so that it can safely reach somewhere it can be repaired.
In today's cars, 3D pixels are widely used in dials, clusters and cameras. For example, 3D will play a key role in surround view, a feature that will be increasingly relied upon by a human to park safely. Therefore, it cannot fail, as that could pose a safety risk. While GPUs have been part of functionally safe domain controllers, no GPU has yet been designed to be functionally safe itself. Therefore, the parts of the displays that are safety-critical, e.g. speedometer dials, fuel-level indicator, and warning lights for advanced driver assistance systems (ADAS), have been handed over to a functionally safe CPU. However, when it comes to 3D graphics, CPUs are an order of magnitude less capable than GPUs, limiting what dashboard designers can achieve.
To this end, Imagination has been working to solve these problems by creating the building blocks required to create functionally safe graphics systems. Later this year the company will announce fully functionally safe ASIL B compliant GPUs, designed to protect against permanent and transient fault. These will be accompanied by the safety cases that have been put together through consultation with the wider automotive industry.
In preparation for this Imagination announced the release of a safety-critical GPU software driver – and below you can see a demo application built using it.
In the video the company is demonstrating Imagination's OpenGL SC 2.0 API software driver development, running on an automotive-grade silicon platform featuring the company's GPU, as found in millions of production vehicles on the market today. The driver is a clean development, aligned to ISO26262:2018 process requirements.
OpenGL SC is a safety-critical subset of OpenGL ES 2.0 that's streamlined to remove API calls that might otherwise compromise its ability to achieve ISO 26262 certification. The Safety-Critical Profile for OpenGL ES 2.0 is designed to be deterministic and testable, or in layman's terms, omit calls that could potentially return ambiguous, and therefore, unsafe, results.
The next steps will be using Imagination's safety-critical GPUs to run compute applications for ADAS. The company is in the process of enabling more industry-standard automotive safety-critical compute APIs, by working with its partners and industry bodies, such as Khronos.