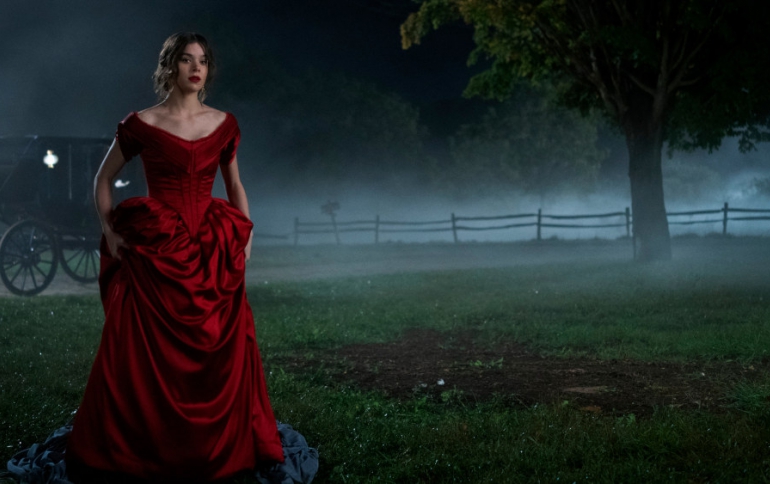 Apple TV+ Debuts at Festival With 'Dickinson' Drama
Apple TV+ premiered "Dickinson," its first show, at the Tribeca TV Festival on Saturday.
The "Dickinson" series that sheds a modern light on the life of an iconic American poet.
Starring Hailee Steinfeld, "Dickinson" explores the constraints of society, gender and family from the perspective of rebellious young poet, Emily Dickinson (Steinfeld). Set in the 19th century, Dickinson is a coming-of-age story that finds Emily Dickinson to be an unexpected hero for our millennial era. The series features a world-renowned ensemble cast, including Haliee Steinfeld, Jane Krakowski, Toby Huss, Anna Baryshnikov, Ella Hunt and Adrian Blake Enscoe.
In the first episode, Dickinson resists her mother's efforts to marry her off and is heartbroken when her father berates her for submitting a poem to be published in a literary magazine.
After the screening, the Tribeca audience had the chance to enjoy a conversaton among the creator Alena Smith, executive producer and star Hailee Steinfeld, and star Jane Krakowski.
"I do think that the pressure that Emily Dickinson is under to feel or act or do certain things, I think that women still feel that today," Steinfeld said.
Steinfeld also announced that she will release her new single "Afterlife" on Sept. 19 and the song will feature in the show.
"Dickinson" joins seven other original shows that Apple TV+ will feature when it launches on Nov. 1, including "The Morning Show" with Jennifer Aniston and Reese Witherspoon and "See," a sci-fi drama featuring Jason Momoa.
"Dickinson" cast members said they were grateful Apple seemed to spare no expense on period costumes and sets.
Apple plans to spend $2 billion on original programming for its new streaming service this year.
To compete with Walt Disney Co's Disney+ and Netflix in a battle for streaming TV customers, Apple is offering a year of free TV service for customers who purchase most Apple devices. Apple TV+ will be available in over 100 markets at launch.
Apple struck out at a Goldman Sachs Group Inc analyst on Friday in a relatively rare public dust-up between a blue chip Wall Street firm and its client.
The disagreement came after Goldman Sachs analyst Rod Hall criticized Apple's accounting methods for the tech giant's new TV+ product, saying in a research note that it may result in lower gross margins and profits.
In his note, Hall said Apple was likely to treat TV+ subscriptions in a similar way, by accounting for it as a discounted bundle of a free service paired with a hardware purchase. Hall said that would result in Apple investors seeing lower average selling prices for iPhones and other Apple devices but faster growth in the company's services segment.
In response, Apple said it does "not expect the introduction of Apple TV+, including the accounting treatment for the service, to have a material impact on our financial results."
Goldman Sachs has underwritten more bond issuances for Apple in the last decade than any other investment bank, worth some $44 billion, according to financial data provider Refinitiv.
Goldman Sachs also advised Apple on mergers and acquisitions as recently as two months ago, guiding it through its $1 billion deal to acquire the majority of Intel's smartphone modem business, according to Refinitiv.
Many Apple investors have come to focus on growth in the services segment as the global smart phone market has stagnated, with Apple shares rising this year despite year over year declines in iPhone sales for its most recent two quarters.