Arm's New Development Studio Suite Brings Together Arm and Keil Development Tools
Arm's latest toolchain, Arm Development Studio, has been released to the software development community.
Featuring both Arm and Keil tools, the new embedded development tool suite has been designed to increase product as well as engineering efficiency.
The new product builds on the DS-5, which has been used to develop billions of shipped products worldwide, and also brings the microcontroller capabilities of Arm's MCU toolchain Keil MDK. It offers the assurance of earliest and most comprehensive support for new Arm hardware IP.
Developers using Development Studio will see a new simplified user interface, a new target connection wizard and for the first time, a full set of software packs including CMSIS, middleware, and RTOS in the Development Studio IDE. Software packs enable engineers to shift their efforts from low-level software layers onto the value-add application code.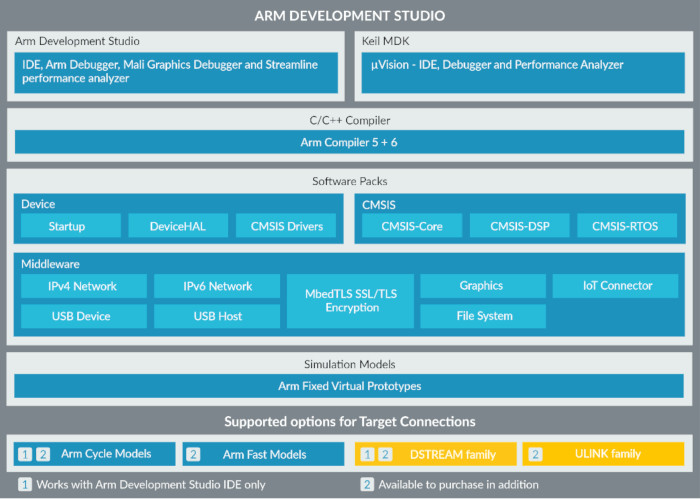 Development Studio highlights:
Complete suite of software development tools any Arm processor: Arm Cortex-A, Cortex-R, Cortex-M, Neoverse and previous architectures
Supports all SoC configurations: from single core to complex multi-cluster and multi-core processors
Supports full development workflow from emulators to production hardware
The fastest yet C/C++ bare-metal Arm Compiler, version 6.11, delivering up to 30% higher CoreMark score
System-wide performance analyzer, Streamline, including analysis of Arm NN-enabled Machine Learning applications across CPU and GPU
Complete Keil MDK tool suite for power optimized microcontroller software development
Wide library of instruction-accurate Fixed Virtual Platforms for hardware-free software development
CMSIS-compliant software building blocks for fast MCU application development including royalty-free middleware and RTOS
Arm is offering three editions for the package: Bronze, Silver and Gold: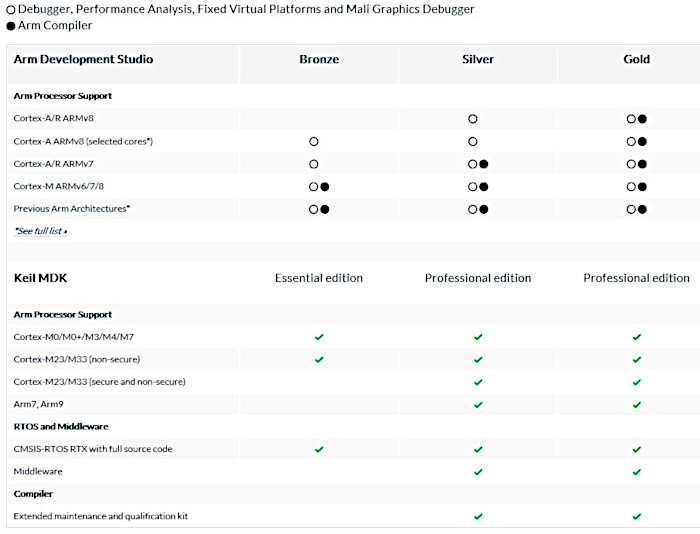 Arm is also offering a free 30-day trial of Development Studio.