Arm Introducing the Mali-D77 Display Processor for VR
Today at SID Display Week, Arm officially launched the Arm Mali -D77 DPU, a display processor that improves the VR user experience with dedicated hardware functions for VR HMDs, namely: Lens Distortion Correction (LDC), Chromatic Aberration Correction (CAC) and Asynchronous Timewarp (ATW).
Mali-D77 enables a significant step-up in the display resolutions and frame rates that can be achieved within the power constraints of mobile VR HMD devices. This paves the way towards lighter, smaller, more comfortable VR devices free from any cables, which, in turn, could drive the widespread adoption of consumer VR devices.
VR HMDs require displays that are close to the eyes, so in order to maintain the perceived quality of these images, we need more pixels in the same area. Compared to regular smartphone displays, VR HMDs require at least 6 times more pixels per unit area to maintain the same perceived quality. Today's state-of-the-art VR devices can display 2880x1440 pixels, but the trend is moving towards increased resolutions within ever shrinking power budgets on lighter, more comfortable headsets.
The bar is already high and expected to be raised even further, with VR HMDs capable of 2.5Kx2.5K – or even 3Kx3K per eye – likely to be in production by major panel vendors in 2021.
In addition to increased pixel resolution, higher frame rates of up to 120 frames per second (fps) are needed to reduce the overall latency to prevent motion sickness and achieve low persistence on LCD VR panels. Also, for a more immersive experience, there is a need for a higher the Field of View (FOV) >100° to achieve the feeling of presence in the scene. This is set to increase to around 140° by 2021.
A SoC that can drive this level of performance for wearable VR HMDs does not exist today. This presents a major challenge to SoC vendors who need achieve the above requirements – and more – in less than 3 watts. Arm says that Mali-D77 is a step to addressing these VR HMD design challenges.
New functions of Mali-D77 indlude: VR acceleration functions for achieving LDC, CAC and ATW. Offloading these operations from the GPU to Mali-D77 will allow the scene to be rendered at much higher resolutions and frame rates. As a result, users will experience a total sense of immersion. And all of this compute and performance happens within the thermal design power limitation of a mobile device.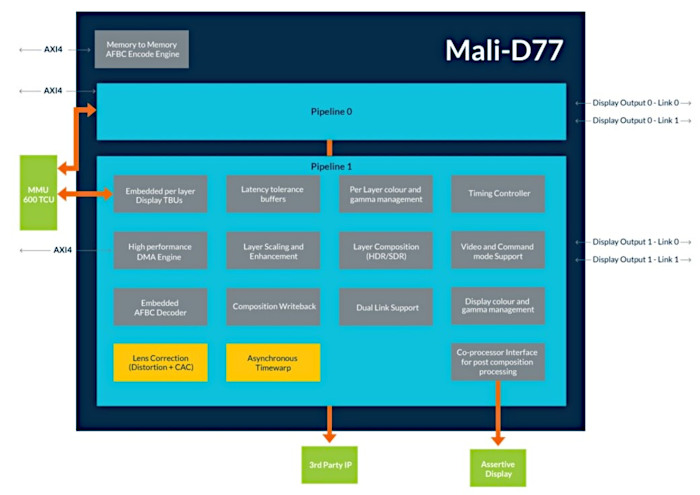 Crucially, Mali-D77 will also eliminate motion sickness through the higher frame rates and instantly responding to real world head movements by re-projecting the VR scene according to the latest pose due to its 'just-in-time' single pass composition process. Moreover, it will deliver crisper images free from any artefacts through the more advanced hardware-based filtering and image processing functions it possesses.
Equally important are the system bandwidth benefits and overall SoC power consumption savings that Mali-D77 enables. Arm claims a platform that uses the Mali-D77 for VR processing and composition requires less DRAM memory bandwidth, as well as lower GPU+DPU power:
Up to 40 percent reduction in bandwidth, in typical VR use cases when VR processing and composition happens on Mali-D77.
A no-compromise 12 percent power savings for VR workloads, enabling higher quality visuals while freeing up GPU cycles.
When a handset is plugged into a VR HMD like the Daydream headset or Samsung Gear VR the Mali-D77 will operate in smartphone mode – effectively becoming identical in operation to the Mali-D71 DPU. In smartphone mode Mali-D77 can drive up to 8 video/graphics composition layers at a performance of 4K60 or 4 video/ graphics composition layers at performance of 4K120fps (when driven side-by-side).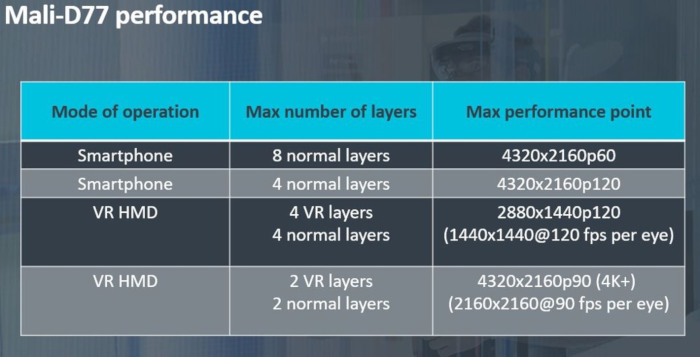 When you switch to the VR HMD, Mali-D77 can render a VR scene composed of up to 4 stereo VR layers (layers subject to ATW/LDC/CAC) and 4 normal video/graphics layers at 2880x1440p120. At 4K90fps, Mali-D77 can drive up to 2 stereo VR layers and 2 normal layers.
Beyond VR head-mounted displays (HMDs), the Mali-D77 can be integrated into a common SoC platform with existing developer ecosystems for switching across multiple devices such as a VR HMD to LCD/OLED large or small screens capable of displaying 4K HDR scenes.