ASUS Announces Digital Solutions for Content Creators, Professionals, Fitness Enthusiasts and Gamers at IFA 2019
ASUS Co-CEOs S.Y. Hsu and Samson Hu took the stage today at IFA 2019 for the Wiser Together press event, a celebration of the company's 30th anniversary, to unveil a lineup of digital solutions dedicated for content creators, business professionals, health and fitness enthusiasts, and gamers.
Featured at the event was an all-new lineup of ProArt content-creation products, including ProArt StudioBook One, ProArt StudioBook Pro X, ProArt Station D940MX and ProArt Display PA32UCG as well as the VivoWatch SP health and fitness wearable and ASUSPRO B9 business laptop. ASUS also announced the European debut of the ZenBook Pro Duo and ZenBook Duo notebooks, and the ROG Phone II gaming smartphone.
ASUS ProArt lineup for content creation
ASUS is introducing a new lineup of ProArt products. Designed as a complete digital solution for content creation, these new ProArt devices deliver precision, performance and connectivity.
The complete lineup of ProArt StudioBooks takes advantage of NVIDIA GeForce RTX GPU capabilities, including real‑time ray tracing and AI acceleration. RTX Studio laptops are precision crafted to deliver improvements in productivity and performance across everyday creative apps. In addition to the flagship ProArt StudioBook One and ProArt StudioBook Pro X, the series also includes ProArt StudioBook Pro 17/15 and ProArt StudioBook 17/15 with both Quadro and GeForce GPU options and all featuring Windows 10.
ProArt StudioBook One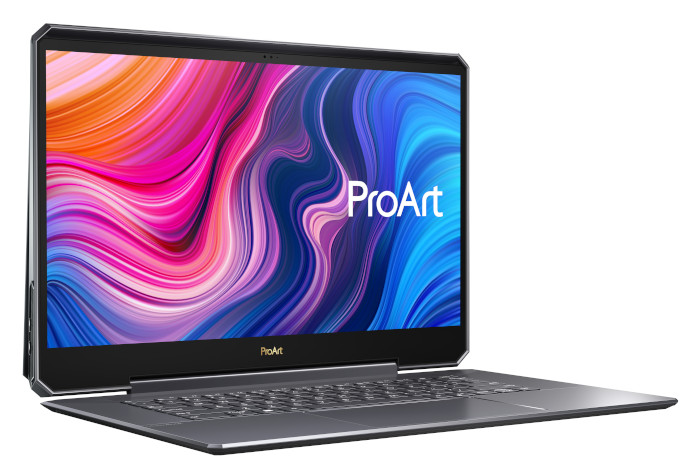 ProArt StudioBook One is the most powerful StudioBook ever. Carrying the RTX Studio badge, it is the first laptop to feature NVIDIA Quadro RTX 6000 graphics. It is powered by the 9th Gen Intel Core i9 processors. NVIDIA Quadro RTX graphics provides users with more CUDA, RT, and Tensor cores, enabling rendering of animations, 8K video editing and data calculations to be handled more smoothly.
ProArt StudioBook One has a cooling system featuring a lightweight aerospace grade titanium alloy thermal module designed to optimize inlet and exhaust flow. When the lid is opened, the hinge tilts the chassis by 4.57° to maximize the inflow of cool air into the chassis. Heat-generating components, including the CPU, GPU, and thermal systems are placed behind the display to ensure comfortable use, even when placed on the user's lap.
The 4K UHD PANTONE Validated display on ProArt StudioBook One is boasting an 120Hz refresh rate and edge to edge glass that sits flush with the bezels. It has a 84% screen-to-body ratio, while the display's wide 100% Adobe RGB gamut and Delta-E < 1 rating ensure accurate color reproduction.
ProArt StudioBook Pro X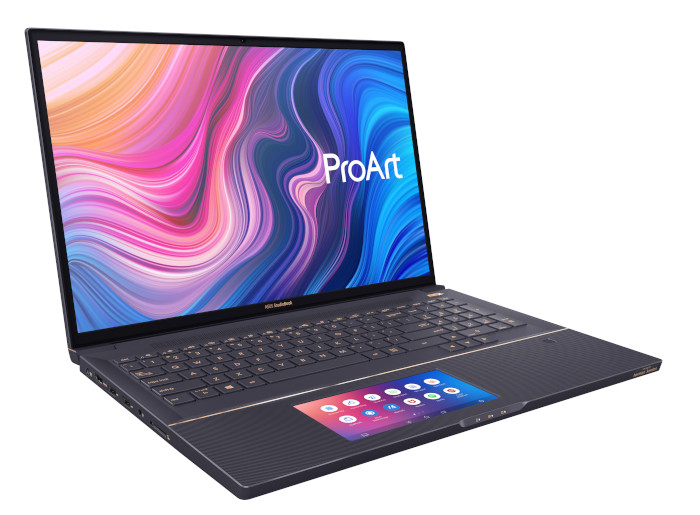 ProArt StudioBook Pro X is the first NVIDIA Quadro-powered laptop to feature ASUS ScreenPad 2.0 and the four-sided ASUS NanoEdge display. The display design provides a 92% screen-to-body ratio and 16:10 aspect ratio. ProArt StudioBook Pro X also supports a wide color gamut with 97% DCI-P3 color space coverage.
With ProArt StudioBook Pro X, users can edit and render multilayered files with professional-grade NVIDIA Quadro RTX 5000 graphics. It is powered by an Intel Xeon or 9th Generation Intel Core i7 processor with six cores. CPU-attached Raid 0 ensures the fastest possible storage performance, with speeds of up to 6 GBps. Additionally, ProArt StudioBook Pro X is designed to operate at full load without the need to throttle the speed of the CPU or GPU.
ProArt StudioBook Pro X is the first in the series to feature ScreenPad 2.0. This interactive secondary touchscreen upgrades the traditional laptop experience, providing users with a smartphone-like interface on which they can manage tasks and create their own multitasking workflow.
The compact dimensions of this 17-inch laptop is comparable to that of many 15-inch laptops.
ProArt Station D940MX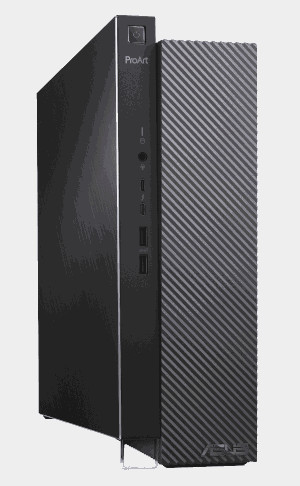 ProArt Station D940MX is a compact workstation-grade desktop designed for content creators and media professionals. Featuring an 8-liter chassis, it is one of the smallest desktops available yet delivers performance with a dual-sided logic board to house its powerful CPU, GPU and memory. It is powered by a 9th Gen Intel Core i9 processor with up to 64GB DDR4 2666MHz memory, NVIDIA Quadro RTX 4000 or NVIDIA GeForce RTX 2080 Ti graphics, dual storage with a 512GB PCIe SSD and 1TB HDD, and fast connectivity, including dual Thunderbolt 3 ports on the front panel.
In addition to its compact size, ProArt Station D940MX has an LED indicator at the bottom of the chassis to reflect the current status of the PC. Users can take a break and step away from ProArt Station D940MX when rendering graphics, simply glancing at the LEDs to check whether the process is done.
ProArt Station D940MX uses a hybrid thermal system to cope with the heat buildup within the confines of its compact chassis. The system incorporates a 2D vapor chamber and heat pipes to lower overall internal temperatures by up to 6.8°C. Quad fans situated in different zones of the chassis help dissipate heat quickly, including an auxiliary fan on the hard drive, which increases airflow by up to 9%.
Despite its powerful cooling system, ProArt Station D940MX operates silently, generating less than 19 dB of noise at idle, and up to 37 dB at full load. The ProArt Station D940MX also meets strict military-grade MIL STD 810G durability standards to ensure reliable long-term performance.
ProArt Display PA32UCG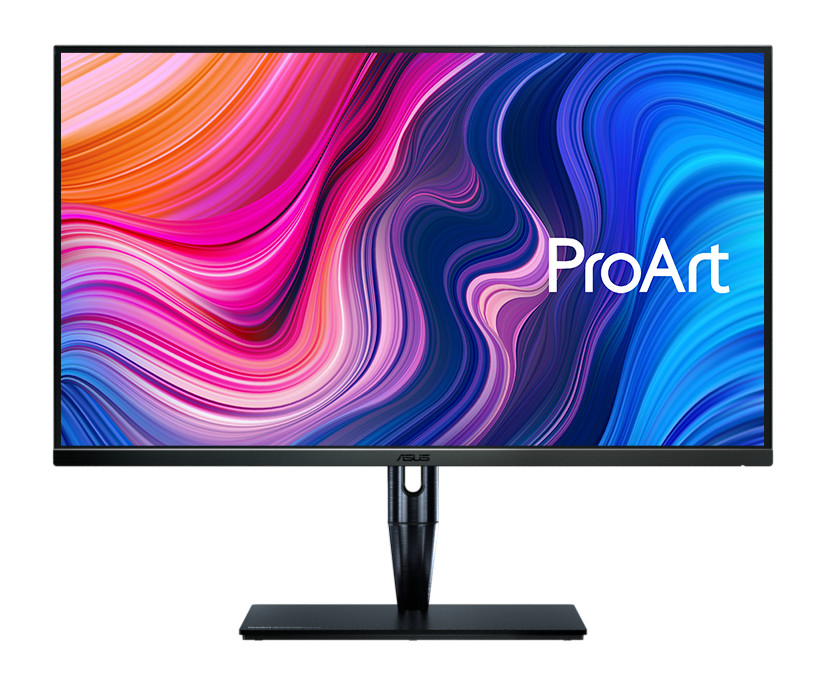 ASUS ProArt Display PA32UCG is the first HDR 1600 and 120Hz variable-refresh rate professional display. It features 4K UHD resolution and mini LED backlighting that delivers industry leading brightness and color performance. ProArt Display PA32UCG is VESA pre-certified for DisplayHDR 1400, the industry's latest and highest standard of HDR performance.
It is featuring 1,152 individual mini LED backlights with local dimming that enable 1,000 nits of full-screen sustained brightness, 1,600 nits of peak brightness and a 1,000,000:1 contrast ratio. The PA32UCG supports all major HDR standards, including Dolby Vision, Hybrid Log-Gamma (HLG) and HDR10.
ProArt Display PA32UCG also features quantum-dot technology, enabling it to display a wide color gamut with DCI-P3, Adobe RGB, sRGB, Rec. 709 and Rec. 2020 color space support. With true 10-bit color depth and a three-level factory color pre-calibration process, ProArt Display PA32UCG delivers accurate color (Delta-E < 1) out of the box, and built-in ProArt Hardware Calibration technology with color profile write-back to the display ensures continuous accuracy for dependable ongoing performance.
Adaptive-Sync enables a 48–120Hz variable refresh rate (VRR) that eliminates visual smearing, tearing and motion blur. Additionally, the display offers rich connectivity with two Thunderbolt 3, one DisplayPort and three HDMI ports as well as a built-in USB hub.
ProArt Creator Center
The ProArt Creator Center app is enabling color calibration, performance optimization and synchronization. It lets users calibrate the display of their devices at any time and sync visual settings with connected ProArt devices. ProArt Creator Center also enables monitoring and optimization of system performance during production and even frees users from having to wait at their machine during rendering by letting them monitor progress on their smartphone or other mobile device.
VivoWatch SP
ASUS VivoWatch SP is an intelligent wearable device that offers 24/7 health and fitness monitoring and insights to help wearers achieve exercise goals. Featuring medical-grade ECG and PPG sensors with ASUS HealthAI technology, VivoWatch SP can track real-time health data, including heart rate, pulse O2 level, autonomic nerve activity index (ANS age), stress level and blood pressure. ASUS HealthAI technology provides personalized daily and long-term health insights and advice based on the wearer's personal habits.
ASUS VivoWatch SP is also a smart fitness companion and coach. A built-in GPS sensor lets users track outdoor workouts and review them later in the ASUS HealthConnect mobile app, complete with activity maps and stats, such as speed, distance, duration and pace coaching. With pace coaching, users can specify a pace in the HealthConnect app, and VivoWatch SP will monitor the wearer's speed during their run, providing real-time vibration alerts if they exceed or fall behind their set pace. The HealthConnect app also provides recommended pace targets for different types of workouts. Additionally, a built-in altimeter and pulse O2 monitor not only informs wearers of their current elevation and elevation gain, but also of their oxygen saturation, useful for hikers and climbers to let them know when it's time to rest and catch their breath.
The ASUS VivoWatch SP is swim-proof to a depth of up to 50 meters (5 ATM), comes with a quick-release watch band and offers up to 14-day battery life.
ASUSPRO B9 (B9450)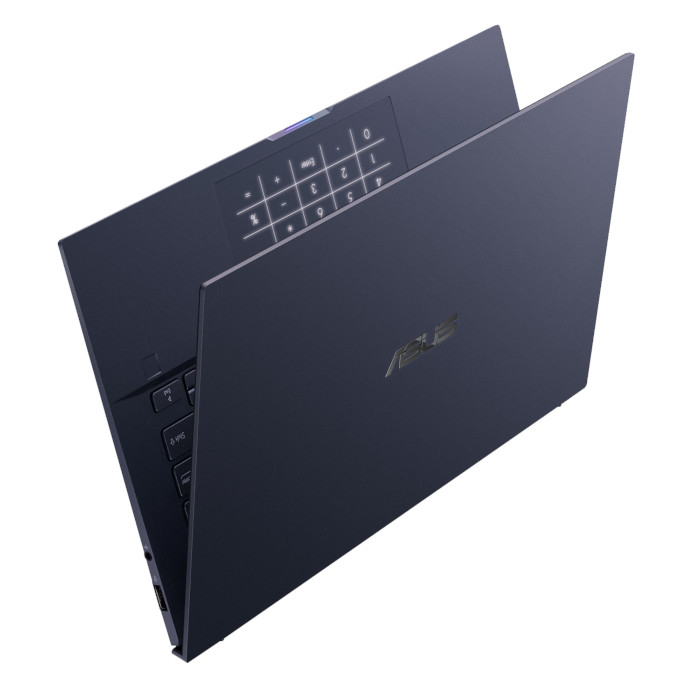 The new ASUSPRO B9 (B9450) is a lightweight business laptop at only 880 grams.
It delivers top-tier performance with up to 10th Gen Intel Core processors, up to two 1TB PCIe 3.0 x4 SSDs, supporting RAID 0 or 1 for faster data retrieval and backups, and connectivity with Intel Wi‑Fi 6 (Gig+ 802.11ax) and Thunderbolt 3.
In addition to weighing just 880 grams, ASUSPRO B9 is compact, featuring a four-sided NanoEdge display with a 94% screen-to-body ratio, allowing it to fit a 14-inch screen into a compact 13-inch profile. At 14.9mm thin, the laptop is easy for travelers to carry and offers long-lasting battery life.
For enterprise-grade durability, ASUSPRO B9 is tested to harsh US MIL-STD 810G military standards. B9 also keeps user data secure with a Trusted Platform Module 2.0 (TPM) security chip and a built-in IR camera for safe biometric login.
ZenBook Pro Duo (UX581) and ZenBook Duo (UX481)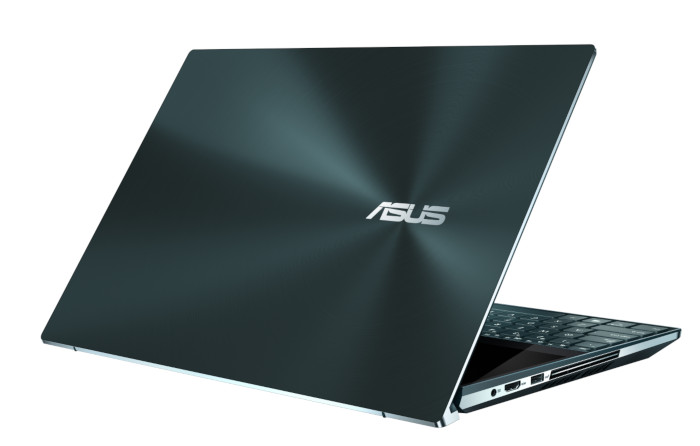 ASUS ZenBook Pro Duo (UX581) is an ultraportable laptop featuring the new ASUS ScreenPad Plus, a full-width secondary touchscreen that expands the interactive capabilities offered by the original ScreenPad. ScreenPad Plus integrates with the primary display.
ZenBook Pro Duo comes with up to 9th Gen Intel Core processors and an NVIDIA GeForce RTX 2060 GPU. It also features a 15.6-inch 4K UHD (3840 x 2160) PANTONE Validated OLED HDR touchscreen with VESA DisplayHDR TrueBlack 500 certification.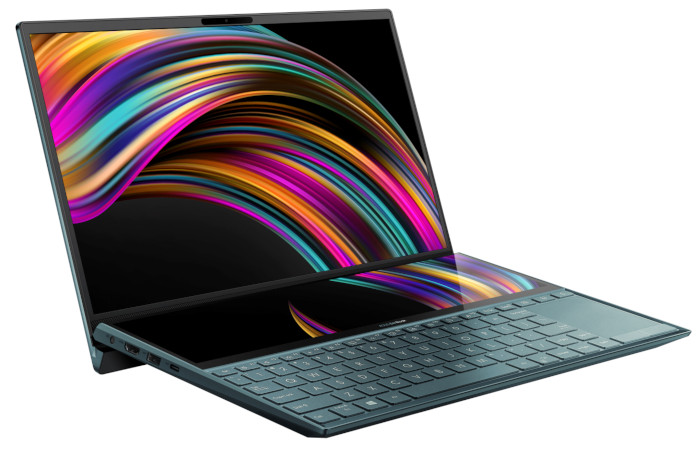 For creative professionals requiring a smaller second-screen form factor, the 14-inch ZenBook Duo supports the same ScreenPad Plus features as ZenBook Pro Duo, but in a lighter and smaller chassis. Powered by up to an all new 10th Gen Intel Core i7 processor and GeForce MX250 graphics, it has a PANTONE Validated FHD NanoEdge display and a ScreenPad Plus. Like the ZenBook Pro Duo, it integrates the dependable connectivity creatives need with Intel Wi-Fi 6 (Gig+).
ROG Phone II Ultimate Edition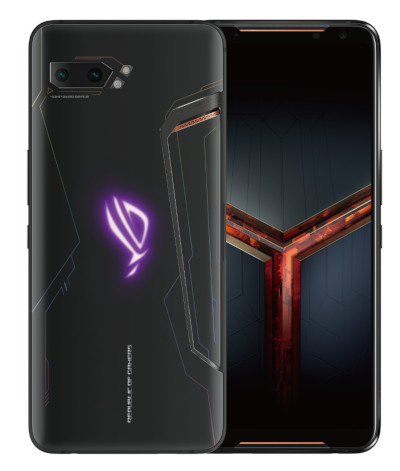 ASUS unveils a high-end version of the highly attention ROG Phone II, featuring a new color design and upgrade specifications. It features an understated Matte Black colorway with the distinctive patterning emblazoned on the back cover adding emphasis. The hardware specification is upgraded to 1TB UFS 3.0 ROM with faster Cat 20 4G LTE download speed of up to 2Gbps.
The Ultimate Edition also features the Snapdragon 855 Plus processor with 2.96GHz CPU clock. The first 120Hz/1ms AMOLED display and the Delta-E of less than 1 color accuracy delivering blur-free gaming, and the 49ms touch latency delivers instant responsiveness. Non-stop marathon gaming is provided by the monster 6000mAh battery and the side-charging design, combined with a 30W ROG HyperCharge power adapter for fast direct charging. Lastly, it is with a landscape-oriented design incorporating upgraded AirTrigger II technology, Dual Surrounding Vibration technology, and powerful front-facing stereo speakers.
ASUS Republic of Gamers also introduced laptops at IFA 2019. The Zephyrus and Strix laptops in a new Glacier Blue hue are intended to appeal to graphic artists, 3D animators, game designers and video editors – to name just a few examples – who can speed up their work thanks to pre-installed NVIDIA Creator Ready Drivers that improve performance for creative apps and programs, such as the Adobe Creative suite, CINEMA 4D and Unreal Engine.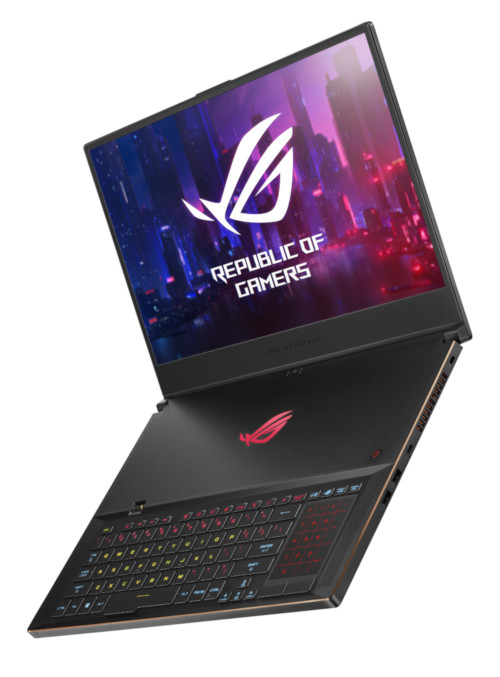 Strix G elevates core gaming essentials in an affordable yet potent package, while Zephyrus M and Zephyrus S are hybrid powerhouses that offer a mix for work and play. Each is available with up to a 9th Generation Intel Core i7-9750H processor, enabling these machines to slice through serious workloads with speed. The new six-core CPU can hit frequencies of up to 4GHz on a single core with Turbo Boost 2.0 technology, and Hyper-Threading enables up to 12 parallel threads to accelerate heavy duty work.
Add up to 32GB of DDR4-2666 memory, and each one of these machines can handle serious multitasking for gamers and content creators alike.