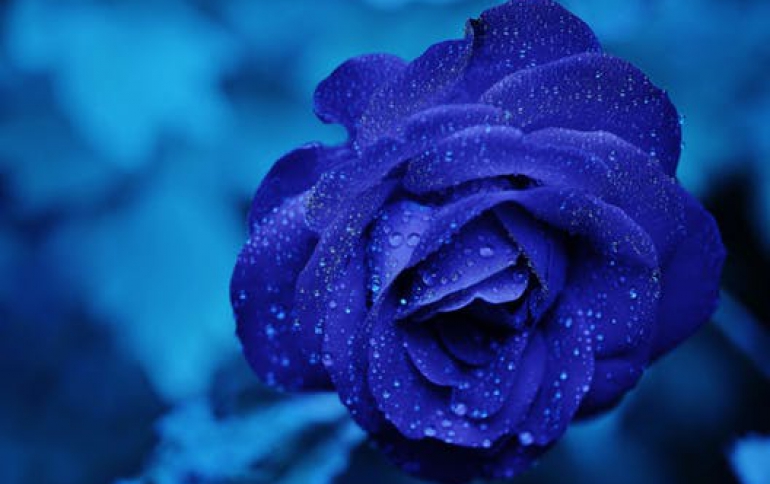 Asus Releases Stylish 6x BDXL Burner
ASUS has released the SBW-06C2X-U BDXL burner, a stylish external drive capable of burning blu-ray discs at 6x.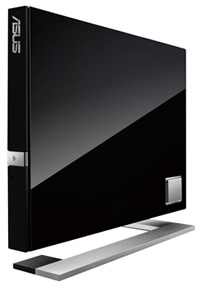 The drive writes at 6x speeds to Blu-ray discs and the 100GB BD-R(TL) or 128GB BD-R(QL) media at 4x speeds. BD-RE(TL) burning speeds are capped at 2x. It also supports play back Blu-ray 3D content, upscale DVD video to 1080p thanks to the company's Magic cinema feature, and convert 2D video to produce a 3D effect. A feature called Disc Encryption II allows users to set password controls and hidden folders protected by AES 256-bit encryption.
The stylish drive will be available in black color and sits on a metal stand that can hold the drive in either a horizontal or vertical orientation.
Specifications
Color
Black
Read Speed
BD-R : 6X
BD-RE : 6X
BD-ROM : 6X
BD-R(DL) : 6X
BD-RE(DL) : 6X
BD-ROM(DL) : 6X
BD-R(TL/QL) : 4X
BD-RE(TL) : 2X
DVD+R : 8X
DVD-R : 8X
DVD+RW : 8X
DVD-RW : 8X
DVD-ROM : 8X
DVD+R(DL) : 6X
DVD-R(DL) : 6X
DVD-ROM(DL) : 6X
DVD-RAM : 5X
CD-R : 24X
CD-RW : 24X
CD-ROM : 24X
BDMV Playback : 2X
DVD Video Playback : 4X
VCD Playback : 10X
Audio CD Playback : 10X
Write Speed
BD-R : 6X
BD-R(DL) : 6X
BD-R(TL/QL) : 4X
BD-RE : 2X
BD-RE(DL) : 2X
BD-RE(TL) : 2X
DVD+R : 8X
DVD-R : 8X
DVD+RW : 8X
DVD-RW : 6X
DVD+R(DL) : 6X
DVD-R (DL) : 6X
DVD-RAM : 5X
CD-R : 24X
CD-RW : 16X
Writing Mode
BD-RE : Random Write
BD-R : Sequential Write
DVD+R & DVD+R (DL) : Sequential Write
DVD-R & DVD-R(DL) : DAO/Incremental Recording
DVD+RW : Random Write
DVD-RW : DAO/Restricted Overwrite/Incremental Recording
DVD-RAM : Random Write
CD-R/RW : DAO/TAO/SAO/Packet Write
Access time
BD(SL/DL) : 300 ms
BD(TL/QL) : 450 ms
DVD : 190 ms
CD : 190 ms
Interface
USB 2.0
Data Buffer
2 MB
OS Support
Windows 7
Windows Vista
Windows XP
Windows Server 2003
Windows Server 2008
Mac OS X 10.6 or higher
System Requirements
CPU: Intel Pentium D 945(3.4GHz) or higher
RAM: 1GB or more is recommended
Graphics Card: NVIDIA GeForce 7600 GT or ATI X1600 series or above
Use HDCP Compatible display and VGA card to High Definition digital output
Software
Cyberlink Power2Go 7
Cyberlink PowerDVD 10 with Magic Cinema (optional)
Cyberlink PowerBackup 2.5 (optional)
Cyberlink InstantBurn 5 (optional)
TurboEngine
Disc Formats
Audio CD, Video CD, CD-I, CD-Extra, Photo CD, CD-Text, CD-ROM/XA, Multi-session CD, DVD Video, BD video
Disc Diameters
12cm/8cm
Mounting Orientation
Vertical and Horizontal (+5° ~ -5°)
Dimensions
157 x 140 x 18.5 mm (LxWxH)
Weight
290 g
410 g (With Stand)
Power
USB Power +5V ± 5%
Temperature
Operating : 5 ℃ to 40 ℃
Storage : -30 ℃ to 60 ℃
Humidity
Operating : 15 % ~ 80 % (Non-condensing)
Storage : 10 % ~ 90 % (Non-condensing)