ATI Showcases CrossFire'TM' Multi-Graphics Technology
ATI Technologies officially introduces the CrossFire(TM) technology; dual graphics card power up the "ultimate" gaming performance. ATI Technologies has begun showcasing its new Radeon Xpress 200 CrossFire edition at Computex 2005 today, with the official launch set for June 1 and mass production beginning in July. The chipset will be initially manufactured on 130nm processes at Taiwan Semiconductor Manufacturing Company (TSMC) and then moved to 110nm.
The CrossFire platform has been designed to give gamers the best performance and more flexibility and game compatibility than any other multiple graphics processor platform. It combines the power of ATI's Radeon(R) Xpress chipsets for Intel and AMD processors, a standard Radeon(R) graphics processor and a Radeon(R) CrossFire Edition graphics card to bring massive performance and image quality to gamers.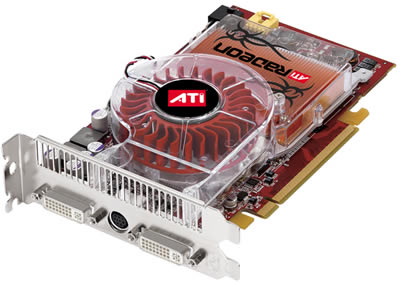 According to ATI, the combination of the CrossFire compositing engine and the Radeon Xpress powered system could double the graphics rendering potential, during a game play. With a variety of settings, they can use the rendering horsepower to get up to twice the performance of a single graphics card, or they can choose to put the horsepower to work increasing the image quality of their games.
Building a CrossFire system would require a motherboard powered by ATI's Radeon Xpress 200 CrossFire Edition chipsets. These motherboards have the two dedicated and balanced PCI Express(R) graphics ports needed to run multiple graphics cards.
Radeon Xpress 200 CrossFire ready motherboards are currently available from ASUS, DFI, ECS, GIGABYTE, MSI, PC Partner,Sapphire and TUL. Motherboards supporting the CrossFire platform are expected to cost in the US$100 range, and when ATI moves to 110nm production, its entry level Radeon Xpress 200 series motherboards should be priced in the US$50 range.
CrossFire technology is comparable to Nvidia's SLI (Scalable Link Interface) solution, in that two PCI Express (PCIe) graphics cards are supported through use of two PCIe x8 connections. However, unlike SLI, the ATI solution does not require any connector board between the two graphics cards.
A CrossFire system offers the flexibility to connect two different graphics cards of the same series. The two boards do not necessarily need to have the same amount of memory on-board as well, as the solution will still work, but with some limitations. Curently, the Radeon X850 CrossFire Edition cards, with 256MB of graphics memory can be paired with any standard Radeon X850 based graphics card. The Radeon X800 CrossFire Edition graphics cards, which come with either 128 MB or 256 MB of graphics memory, can be paired with any Radeon X800 series graphics card. The standard Radeon X800 and Radeon X850 cards can be purchased new or can be ones the customer already has.
The standard and CrossFire Edition cards will be available from ATI and ATI graphics partners including ABIT, ASUS, Connect3D, Diamond, GeCube, GIGABYTE, HIS, MSI, Pailt, Sapphire, TUL or VisionTek.
System builders such as ABS, Alienware, Cyberpower, Falcon Northwest, Hypersonic, Ibuypower, Monarch PC, PC Club, Polywell, Velocity Micro, VoodooPC, and ZT Group will also carry CrossFire systems for gamers wanting pre-built systems.
CrossFire ready motherboards and CrossFire Edition graphics cards will begin shipping in July. For more information on CrossFire please visit
www.ati.com
.