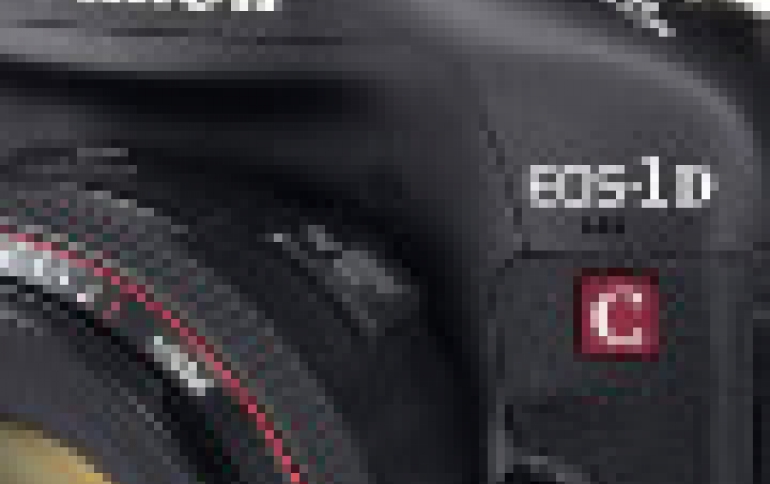 Canon EOS-1D C Digital SLR Camera Captures 4K Video
Canon's new EOS-1D C digital single-lens reflex (SLR) camera provides video recording at 4K (4096 x 2160-pixel) or Full HD (1920 x 1080-pixel) resolution to support television production and other advanced imaging applications.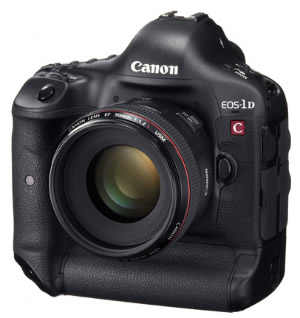 Equipped with an 18.1-megapixel full-frame 24mm x 36mm Canon CMOS sensor, the camera records 8-bit 4:2:2 Motion JPEG 4K video to the camera's CF memory card at 24 frames-per-second (fps) or Full HD 1920 x 1080 video at selectable frame rates from 24p to 60p.
The EOS-1D C's full-frame 24 x 36mm 18.1-megapixel Canon CMOS sensor makes possible a wide range of creative imaging expression, such as image-blur effects. Additional features include an expanded sensitivity range of up to ISO 25600 for exceptional motion-imaging results with reduced noise even in low-light settings. The camera's ability to record 8-bit 4:2:2 4K and 8-bit 4:2:0 Full HD video to CF cards eliminates the need for an external recorder. If desired, however, captured video (excluding 4K video) can be output from the camera's HDMI terminal to an external recorder using an uncompressed YCbCr 8-bit 4:2:2 signal.
4K video is captured by an approximately APS-H-sized portion of the full image sensor, while Full HD video can be captured in the user's choice of two different imaging formats.
The standard Full HD setting captures the full 36mm width of the CMOS sensor to achieve the largest possible angle of view for any compatible lens. An optional Super 35 crop setting enables cinematographers to match the industry-standard imaging format and angle of view achieved by traditional motion picture cameras. T
Other video-related features on the EOS-1D C DSLR include a built-in headphone jack for real-time audio monitoring, and the ability to view the camera's LCD even when the HDMI port is connected to an external monitor. The EOS-1D C camera uses the same LP-E4N battery pack as the EOS-1D X, and it can also be powered by an optional AC Adapter Kit.
The EOS-1D C camera ships with Canon software applications including EOS Utility, which enables various camera settings to be adjusted from a PC, and Picture Style Editor. These two personal computer applications enable users to view the camera's live output on an external monitor and adjust the image in real-time. The software also ensures no loss of quality for 4K/Motion JPEG and full HD/60p video displayed on the external monitor, and it enables video shot with Canon Log Gamma to be output on the monitor with video gamma applied.
The camera also provides a sensitivity range of ISO 100-51200. Incorporating Canon Dual DIGIC 5+ image processors, the EOS-1D C delivers high-precision AF and AE performance while also enabling continuous shooting of up to approximately 12 fps. In the ultra-fast continuous shooting mode, the EOS-1D C provides a continuous shooting speed of up to approximately 14 fps (mirror remains raised during shooting; JPEG images only).
The Canon EOS-1D C digital SLR camera is scheduled to be available within 2012 at a suggested retail price of $15,000.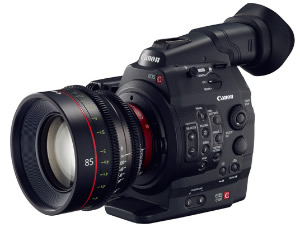 More 4K Digital Cinema Cameras
Canon is also developing two digital cinematography cameras as part of its ew Cinema EOS System of professional cinematography products. Designated as the Cinema EOS C500 for use with EF-mount lenses, and the Cinema EOS C500 PL for use with PL-mount lenses, the cameras will be capable of originating 4K (4096 x 2160-pixel) resolution digital motion imagery with uncompressed RAW output for external recording.
The Cinema EOS C500/C500 PL digital cinematography cameras also output 4K-resolution video as a 10-bit uncompressed RAW data stream with no de-Bayering. The cameras also offer the additional versatility of being able to output quad full-HD (3840 x 2160), 2K (2048 x 1080), full HD (1920 x 1080), and other imaging options. All 4K formats can be selected to operate from one to 60 frames per second. The cameras employ a 12-bit RGB 4:4:4 signal format during 2K output, which can be selected to operate from one to 60 frames-per-second (fps) as well. If switched to a 10-bit YCrCb 4:2:2 mode, the camera can operate up to 120 fps.
The Cinema EOS C500 simultaneously records in-camera a 50 Mbps HD proxy video to a CF card that is immediately available to support offline editing. Equipped with a newly developed Super 35mm-equivalent approximately 8.85-megapixel CMOS sensor, the cameras will be compatible with Canon's wide range of interchangeable EF Cinema and PL-mount lenses and EF lenses for Canon SLR cameras.
Canon will display a prototype of the Cinema EOS C500/C500 PL digital cinematography camera at the 2012 NAB Show in booth C4325 at the Las Vegas Convention Center from April 16 to 19.