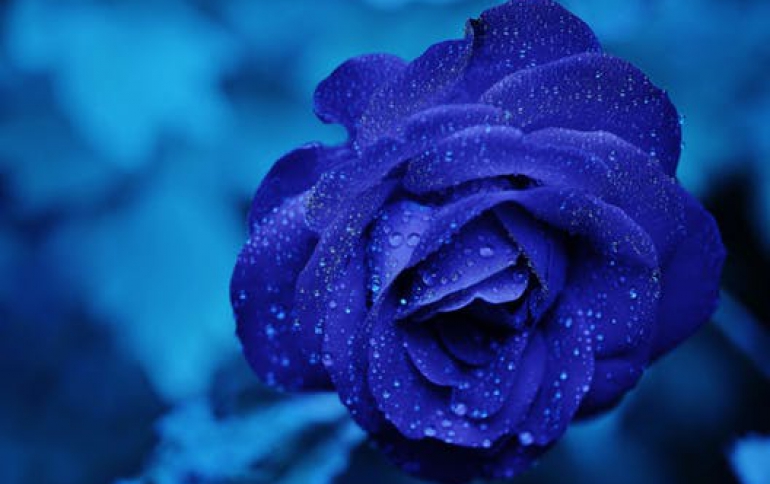 Canon Expands Line of Vixia Camcorders, PowerShot Cameras
Canon is unveiling new models of its Vixia camcorders and PowerShot cameras this week at the International CES. This includes the new Vixia HF R52, HF R50 and HF R500 camcorders.
The new VIXIA camcorders all feature a 57x Advanced Zoom, an upgrade from previous VIXIA R-Series HF camcorders, along with SuperRange Optical Image Stabilization, a Canon 3.28 Megapixel Full HD CMOS Image Sensor, and three-inch capacitive touch panel LCD. The VIXIA HF R52 and VIXIA HF R50 camcorder models feature Wi-Fi capabilities as compared to their predecessor models, enabling them to also function as remote monitoring devices at home or outside the home with mobile internet access.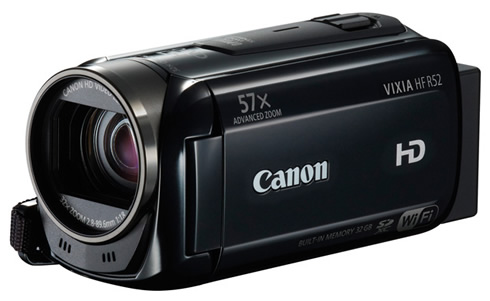 Three new Canon VIXIA HF R-Series camcorders provide shooters with the ability to capture 1920 x 1080 resolution Full HD video. The VIXIA HF R-Series also features Intelligent IS, which automatically chooses from four different modes to help provide the optimal image stabilizations based off of certain shooting conditions. A three-inch capacitive touch panel LCD allows the user to quickly switch between settings without affecting their ability to capture their desired images.
For enhanced creativity shooters can also customize their video by selecting from seven Cinema Look Filter effects. These filters can be applied during or after filming. Additionally, while in Audio Scene Select mode, users can select from eight predetermined audio modes that will optimize audio settings based off the shooting conditions, including two new ones - meeting and festival. The built-in microphone/headphone terminal provides users with the flexibility to record using an auxiliary microphone, or listen to what they're recording with headphones.
The VIXIA HF R52 features 32 GB of internal memory, and the VIXIA HF R50 provides 8GB of internal memory - while all VIXIA HF R-series camcorders allow for the user to record to an SD memory card. Shooters can capture 1080/60p imagery of moving subjects, such as at a dance recital or school play when recording in either MP4 (35 Mbps) or AVCHD Progressive (28 Mbps). When a shooter chooses to utilize Dual Recording mode, they can record movies simultaneously in both MP4 and AVCHD Progressive, while the built-in down conversion feature creates MP4 files for easy sharing on the web to popular social networking sites.
Through the free Canon CameraAccess plus app users can record, zoom in and out, and live stream video on supported Android and iOS devices. An optional Pan Table base accessory can be attached to the bottom of both the VIXIA HF R52 camcorder and VIXIA HF R50 camcorder, allowing for the camera to act as a baby monitor or security camera. While using the Canon CameraAccess plus app and Pan Table base together users can chose to have the camcorder oscillate left to right up to 200 degrees. The Pan Table can also be manually adjusted for a tilt of up to 20 degrees.
The VIXIA HF R52, VIXIA HF R50 and VIXIA HF R500 camcorders are scheduled to be available in March for an estimated retail price of $449.99, $399.99, and $299.99, respectively.
Canon is additionally introducing a Vixia mini X compact personal camcorder, which is slated to be available in March for $400. This camcorder has a Canon f/2.8 fisheye lens, 12.8 megapixel sensor and Canon's DIGIC DV 4 image processor, as well as new audio features. Users can record in Full HD in MP4 or AVCHD to a removable SD memory card. Features include electronic image stabilization, embedded time code, and support for uncompressed HDMI output.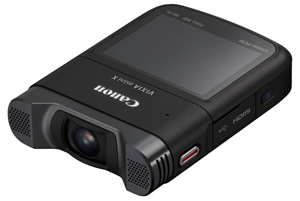 New cameras in the PowerShot line include the PowerShot SX600 HS and the PowerShot ELPH 340 HS.
The compact SX600 HS offers as 18x optical zoom and 16-megapixel CMOS sensor. It's expected to be available at the end of February in red, white or black for roughly $250.
Canon reported that the ELPH 340 HS would have a 12x optical zoom lens and 16-megapixel CMOS sensor. It's scheduled for availability in March, in purple, silver or black for $200.
Also joining the lineup is the PowerShot N100 digital camera, which is expected to be available in May for $350. It includes a new "dual capture mode," which according to Canon allows users to simultaneously lens an image using the main camera, while the story camera, a rear-facing sub-camera, will embed a picture of them onto the main image. Also, a new "story highlights" mode creates a highlight reel.