Canon Extends PowerShot Line With A550 and A460 Models
Canon today announced two new entry-level PowerShot A-Series models, the 7.1 megapixel PowerShot A550 and the 5.0 megapixel PowerShot A460 digital cameras. These new models are feature-packed and offer consumers the latest technological advancements in easy-to-use designs. They are the perfect upgrade for owners of existing entry-level cameras and they also provide a smooth transition for first-time digital camera users. Both cameras will be available in stores mid-February and will carry estimated selling prices of $199.99 and $149.99, respectively.
"The new PowerShot A550 and A460 digital cameras deliver an exceptional value to the consumer," says Yuichi Ishizuka, senior vice president and general manager of the Consumer Imaging Group at Canon U.S.A., Inc. "They provide enhanced features and high image quality, while at the same time remaining compact, affordable and easy-to-use. Users are going to love taking pictures with Canon's new PowerShot cameras and capturing moments that they can continue to enjoy for generations."
PowerShot A550 digital camera is a 7.1 megapixel model with a 4x optical zoom lens and a 2-inch LCD screen. It features Canon's renowned DIGIC II image processor for crisp, vibrant images, responsive performance, and low power consumption. Replacing last year's popular PowerShot A530 digital camera, the new model offers not only higher resolution and a bigger LCD screen, but also better battery life, compatibility with MMC, SD and SDHC memory cards, and an enhanced movie mode that can record 30 fps VGA clips. Operating this camera is even easier than before with a redesigned mode dial featuring five of Canon's most popular Special Scene modes for easier access, as well as standard fully automatic settings. The PowerShot A550 digital camera retains many hallmark A-series features, including an optical viewfinder and a comfortable handgrip, making it ergonomically friendly for comfortable handling while providing yet another option for viewing the subject and saving battery power while shooting.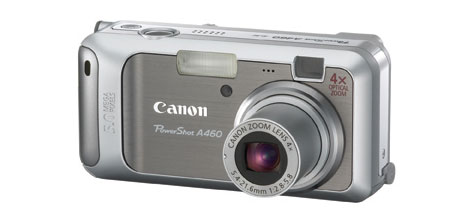 PowerShot A460 digital camera features 5.0 megapixel resolution with a 4x optical zoom lens and a 2-inch LCD screen, up from 4.0 megapixels and a 1.8-inch LCD screen on last year's PowerShot A430 model. The new camera also incorporates Canon's renowned DIGIC II image processor, which delivers superb image quality, fast performance, and excellent battery life. Additional features include an optical viewfinder and compatibility with MMC, SD and SDHC memory cards. At its value price point, the PowerShot A460 digital camera is an ideal purchase for a first time digital camera buyer.