CFexpress 2.0 Specification Introduces two New Form Factors
The CompactFlash Association (CFA) announced the CFexpress 2.0 specification which expands the spec to include two additional form factors for professional imaging and industrial markets.
The organization responsible for professional removable media specifications such as CompactFlash, CFast and XQD, and the CFexpress 1.0 specification, said that the CFexpress 2.0 increases the portfolio of PCIe based removable Flash memory cards and offers high performance with balanced power, optimized thermal dissipation and plug and play capability form factors.
With now three form factors, CFexpress 2.0 supports performance levels to match various market requirements, while maintaining the same electrical/physical interface and memory/storage protocol. All form factors leverage the PCIe Gen 3 interface for higher performance based on a computing industry storage interface and utilize NVM Expres 1.3 protocols for fixed length commands, an efficient queuing model, and very low non-cacheable PCIe accesses per command.
The three form factors – designated as Type A, with 1 lane of PCIe, Type B, with 2 lanes of PCIe, and Type C with 4 lanes of PCIe – support up to a maximum theoretical performance of up to 4000MB/s and offers host vendors design flexibility with a form factor size.
 
Type A
Type B
Type C
Dimension
20mm x 28mm x 2.8mm
38.5mm x 29.8mm x 3.8mm
54mm x 74mm x 4.8mm
PCIe Interface
Gen3, 1 lane
Gen3, 2 lanes
Gen3, 4 lanes
Stack

NVMe 1.3

Maximum Theoretical Performance
1000MB/s
2000MB/s
4000MB/s

The CFA works with its ecosystem of partners to design and implement specifications that make a difference to the industry.
The new CFexpress 2.0 is available for members only.
The CFA is also preparing two further specifications. VPG Profile 4 Specification will be released shortly to enable the promise of higher sustained video performance. In addition, the CFA plans to start specifications utilizing PCIe Gen4 in order to realize even higher speed memory cards.
Sony CFexpress Type B memory Card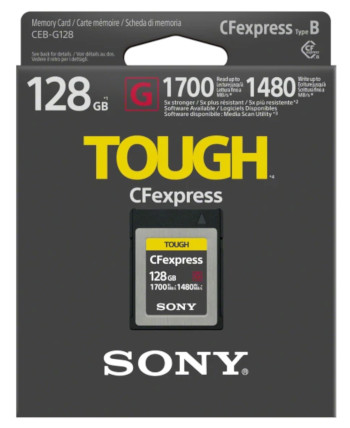 Sony has developed a CFexpress Type B memory card (CEB-G128), based on a new specification which adopts the latest interface, PCIe Gen3, standardised by the CompactFlash Association.
The Sony CFexpress Type B memory card offers a 128GB capacity, with higher capacity models of 256 GB and 512 GB planned for the future.
The Sony CFexpress Type B memory card is around 3 times faster than Sony's fastest CFast memory card (with 530MB/s read speed). it supports a write speed of up to 1480MB/s and a read speed of up to 1700MB/s.
A new CFexpress Card Reader, MRW-G1, is optimised for Sony CFexpress Type B memory card, is also compatible with Sony XQD card G series and M series.
The Sony CFexpress Type B memory card withstands 70N of force in bend, as well as falls from up to 5m high. The card is also temperature proof, X-ray proof, anti-static and has a UV guard.
Sony is also offering the Media Scan Utility, a PC software that automatically scans your Sony CFexpress memory card every time you connect it to a PC via your MRW-G1 card reader. The software keeps you informed of the condition of your card and lets you know if you're nearing or have reached the flash memory limit.
In addition, the Memory Card File Rescue software recovers accidentally deleted files including RAW or high-resolution images and videos.
The Sony CFexpress Type B memory card and the CFexpress MRW-G1 Card Reader will be on the market in early summer 2019.