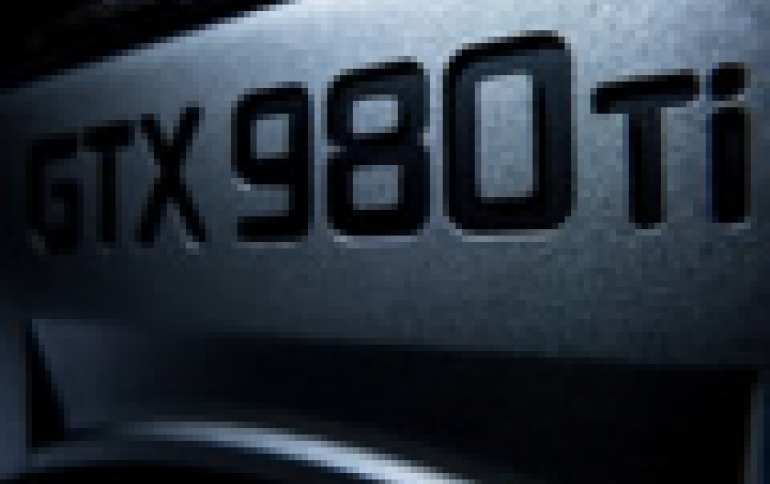 Computex: NVIDIA Announces The GeForce GTX 980 Ti, Gameworlkd VR Branding And Mobile G-sync
NVIDIA has just announced at Computex its latest GPU targeting hardcore gamers, the GeForce GTX 980 Ti. The company also unveiled the Mobile G-Sync for laptops, Windowed G-Sync support for laptops and desktops, new G-Sync desktop monitors, along with an update to the company's suite of VR technologies. New Geforce GTX 980 Ti
Unlike the original GeForce GTX 980, which is based on NVIDIA's GM204 GPU, the GTX 980 Ti is built around the powerful GM200 GPU, which is the same chip that powers the flagship GeForce GTX Titan X. But Nvidia has managed to keep the price of the new GTX 980 Ti much lower than the $1000 Titan X.
The trick was to equip the GeForce GTX 980 Ti with 6GB of memory versus the huge 12Gb of the Titan X. The memory bus width and frequency remain unchanged at 384-bits and 3505MHz (7Gbps effective), respectively. GPU gfrequencis have remain the same - a 1000MHz base clock, with a 1075MHz boost clock - both overclockable too. The GeForce GTX 980 Ti, however, has two Streaming Multiprocessors (or SMs) disabled in its GM200 GPU, which brings the number of available CUDA cores and texture units down to 2816 and 176.
| | | | | |
| --- | --- | --- | --- | --- |
|   | GTX Titan X | GTX 980 Ti | GTX 980 | GTX 780 Ti |
| CUDA Cores | 3072 | 2816 | 2048 | 2880 |
| Texture Units | 192 | 176 | 128 | 240 |
| ROPs | 96 | 96 | 64 | 48 |
| Core Clock | 1000MHz | 1000MHz | 1126MHz | 875MHz |
| Boost Clock | 1075MHz | 1075MHz | 1216MHz | 928Mhz |
| Memory Clock | 7GHz GDDR5 | 7GHz GDDR5 | 7GHz GDDR5 | 7GHz GDDR5 |
| Memory Bus Width | 384-bit | 384-bit | 256-bit | 384-bit |
| VRAM | 12GB | 6GB | 4GB | 3GB |
| FP64 | 1/32 FP32 | 1/32 FP32 | 1/32 FP32 | 1/24 FP32 |
| TDP | 250W | 250W | 165W | 250W |
| GPU | GM200 | GM200 | GM204 | GK110B |
| Architecture | Maxwell 2 | Maxwell 2 | Maxwell 2 | Kepler |
| Transistor Count | 8B | 8B | 5.2B | 7.1B |
| Manufacturing | TSMC 28nm | TSMC 28nm | TSMC 28nm | TSMC 28nm |
| Launch Date | 03/17/2015 | 06/01/2015 | 09/18/2014 | 11/07/2013 |
| Price | $999 | $649 | $549 | $699 |
The result is a slightly less powerful graphics card than the Titan X, but still the second fastest single-GPU powered graphics card on the market and motst importantly, it's more affordable. This performance addds pressure to rival AMD, at least until it deliver the first wave of HBM-equipped GPUs later in the quarter.
The reference GeForce GTX 980 Ti is launching with NVIDIA's standard metal cooler, also met in the GTX Titan X. The card employs a 6+2 phase VRM design, with 6 phases for the GPU and another 2 for the VRAM. This means that GTX 980 Ti has a bit of power delivery headroom ? NVIDIA allows the power limit to be increased by 10% to 275W - but hardcore overclockers will find that there isn't an extreme amount of additional headroom to play with.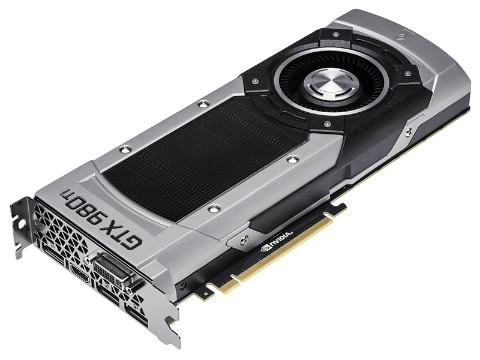 Display I/O follows the same configuration we've seen on the rest of the high-end GTX 900 series. This is 1x DL-DVI-I, 3x DisplayPort 1.2, and 1x HDMI 2.0, with a total limit of 4 displays.
Nvidia says that the GTX 980 Ti is up to 3X faster when compared to a GTX 680. It is able to drive games at 4K, and also features support for Microsoft's next-generation DirectX 12 graphics application programming interface. The company has supercharged all its GTX 900-series Maxwell GPUs with DX12 features that unlock the full promise of the new API. All Maxwell GPUs support DX12, including support for conservative raster and volume tiled resources. This means developers can do more with their games on Maxwell than on any other GPU.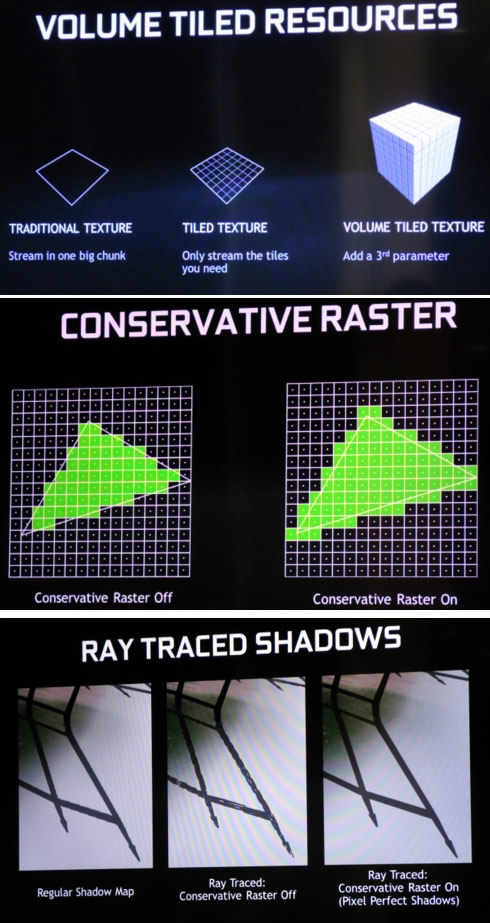 Nvidia's GTX 980 Ti launches on June 1 for $649 and the company's board partners like MSI, EVGA, PNY, and Asus are expected to eventually have their own unique variants. The card will also ship with a free copy of Batman: Arkham Knight.
with the GTX 780 launching at $649, Nvidia also will be putting pressure on the rest of NVIDIA?s product stack from both above and below. So the company is cutting the price of the GTX 980 from $549 to $499.
Nvidia's multi-resolution shading tech For VR
Nvidia's new flagship GeForce GTX 980 Ti GPU wasn't the only thing the company brought to Computex this week.The company announced a new software development kit, GameWorks VR, to help VR headset and game developers build VR experiences on GeForce GPUs.
In May, Oculus recommended that gamers run a GeForce GTX 970 or higher GPU for the optimal experience with the upcoming Rift VR headset. It's no easy feat to drive stereo gaming on a high-resolution 2160x1200 display at 90Hz, with near-zero tolerance for latency or stutter. To deliver that, GameWorks VR combines new and enhanced capabilities.
GameWorks VR includes:
NVIDIA Multi-Res Shading (MRS) - A new rendering technique for VR. With NVIDIA MRS, each part of an image is rendered at a resolution that better matches the pixel density of the final displayed VR image. This technology uses the multi-projection architecture of the GeForce GTX 980 Ti GPU to render multiple viewports in a single pass. The result: substantial performance improvements for VR games. Rather than rendering the entire image at the same resolution, MRS splits the screen into separate regions. The center of the image-where your eyes primarily focus in a VR headset, and where the image isn't distorted is rendered at full, native resolution. The edges of the screen, however, are rendered at a reduced quality to take advantage of VR?s necessary warping and distortion. The compressed image is rendered in parallel with the full-resolution center region on Nvidia's Maxwell GPU architecture and then re-warped to appear through the VR headset's lenses with no apparent loss of image fidelity.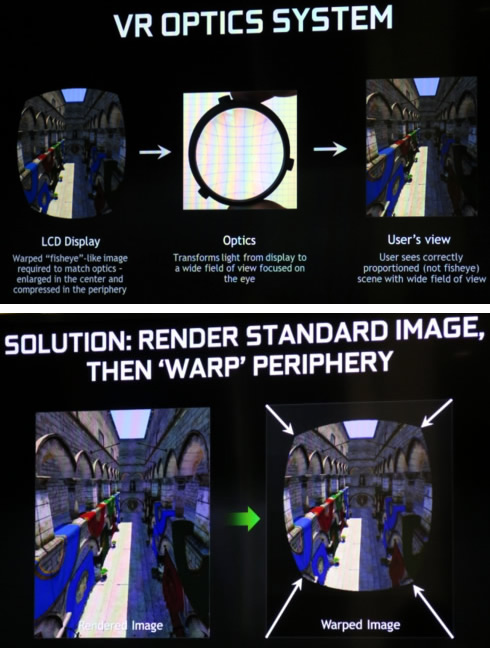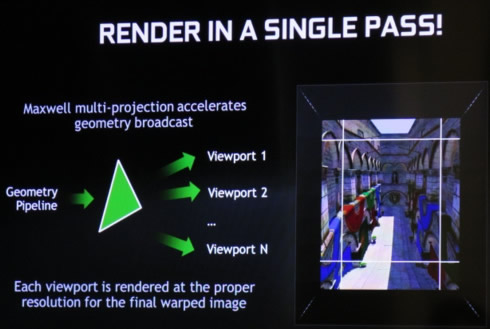 VR SLI - Provides increased performance for VR apps. Multiple GPUs can be assigned a specific eye to dramatically accelerate stereo rendering. With the GPU affinity application programming interface, VR SLI allows scaling for PCs with two or more GPUs.
Context Priority - Enables control over GPU scheduling to support advanced VR features such as asynchronous time warp. This cuts latency and quickly adjusts images as gamers move their heads, without the need to re-render a new frame.
Direct Mode - Delivers plug-and-play compatibility for VR headsets. With Direct Mode, the NVIDIA graphics driver recognizes the headset as a VR display rather than a standard desktop monitor.
Front Buffer Rendering - Lets the GPU to render directly to the front buffer to reduce latency.
An alpha version of the GameWorks VR SDK is already in the hands of the VR industry leaders such as CCP Games, Epic Games, HTC, Oculus, and Valve.
As a note, GameWorks is Nvidia-created middleware that adds features and technologies with performance optimized for GeForce graphics cards, but not for AMD Radeon cards.
G-Sync laptops and 7 G-Sync displays
Nvidia also announced at Computex on Monday that its variable refresh technology called G-Sync is coming to gaming laptops. The company showcased six laptops from four different manufacturers that use G-Sync technology. All are expected to be available this month:
The new laptops include:
Asus G751 with GeForce GTX 970m or GTX 980m and a 17.3-inch 1080p screen
MSI's GT72G with GTX 970m or GTX 980m and a 17.3-inch 1080p screen
Clevo's P7707M-G with GTX 970m or GTX 980m and?whoa, big surprise, a 17.3-inch 1080p screen
Clevo will also offer the P750ZM-G with GTX 970 or GTX 980 and a 15.6-inch 4K resolution screen.
Gigabyte's Aorus X7 Pro-SYNC plays it a little differently: The laptop has a 17.3-inch 1080p screen but runs GTX 970m cards in SLI mode.
The company will also offer the Aorus X5 with a 15.6-inch 3K screen and GeForce GTX 965m GPU.
Variable refresh monitors enhance image quality by having the monitor match the graphics card's frame rate and nearly eliminate annoying stuttering and tearing in games. Nvidia has long been the only player with G-Sync, but with monitors supporting AMD's competing FreeSync finally shipping, it's turned into another standards war.
G-Sync on laptops is a little different than a desktop monitor. Desktop monitors feature built-in scalers to handle the different inputs and communicate with the graphics card. G-Sync replaces those scalers with a G-Sync module that connects to the panel. Laptops don't use scalers because they attach directly to the graphics card though LVDS or eDP (embedded DisplayPort).
Nvidia has been also working on some new features for G-SYNC, including Windowed Mode support (for both bordered and borderless gaming) and new customization options like the ability to set the behavior above the display?s maximum refresh. It?s all available today with Nvidia's latest driver updates.
Nvidia also highlighted that SLI currently supports G-Sync, while AMD has had to delay support for FreeSync with CrossFire multi-card setups.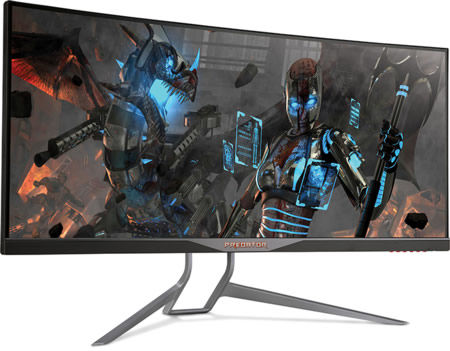 The company is touting seven new G-Sync panels on tap for this year:
Acer's XB271HK, a 27-inch 4K IPS panel with a 60Hz refresh rate.
Acer's XB281HK, a 28-inch 4K TN panel with a 60Hz refresh rate.
Acer's X34, a 34-inch curved, wide-aspect IPS panel with a 3,440x1,440 resolution and 75Hz refresh rate.
wide-aspect VA panel with a 2,560x1,080 resolution and 144Hz refresh.
Asus' PG279Q, a 27-inch 2560x1440 IPS panel with a 144Hz refresh rate.
rate.
Asus' PG34Q, a 34-inch, 3,440x1,440 IPS panel with a 60Hz refresh rate.