Corning Introduces Corning Lotus XT Glass For High-end Displays
Corning today launched Corning Lotus XT Glass, a second-generation glass substrate specially formulated for high-performance displays. Corning claims that the Lotus XT Glass features best-in-class total pitch variation, which is integral to efficient panel manufacturing. Essentially, total pitch - usually measured in microns or parts per million (ppm) - is the distance features move during panel processing.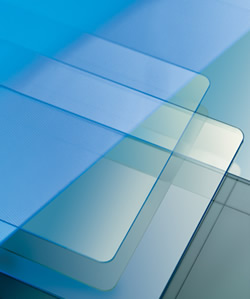 "If you can predict the amount the glass shifts, then you can account for this movement. Deviation - or variation - from this predictable movement can ultimately result in yield loss," said John P. Bayne, vice president and general manager, Corning High Performance Displays. "Lotus XT Glass is designed to have improved thermal and dimensional stability over higher temperatures, generating higher yields for our customers."
The Corning Lotus Glass platform enables organic light-emitting diode (OLED) displays and liquid crystal displays (LCD) that use either low-temperature poly-silicon (LTPS) or oxide thin-film transistor (TFT) backplanes. The result is an energy-efficient display device that features high resolution, fast response times, and bright picture quality.
In addition to Lotus XT Glass, the Corning booth will feature each of its glass technologies, including: Corning EAGLE XG Slim for a-Si displays; Corning Willow Glass, the company?s ultra-slim, flexible glass; and Corning Gorilla Glass 3 with Native Damage Resistance. Corning experts will provide daily demonstrations of Gorilla Glass 3, the damage-resistant cover glass.
The company will feature its latest glass technologies at the Society for Information Display's (SID) Display Week in Vancouver, British Columbia, May 21 - 23.