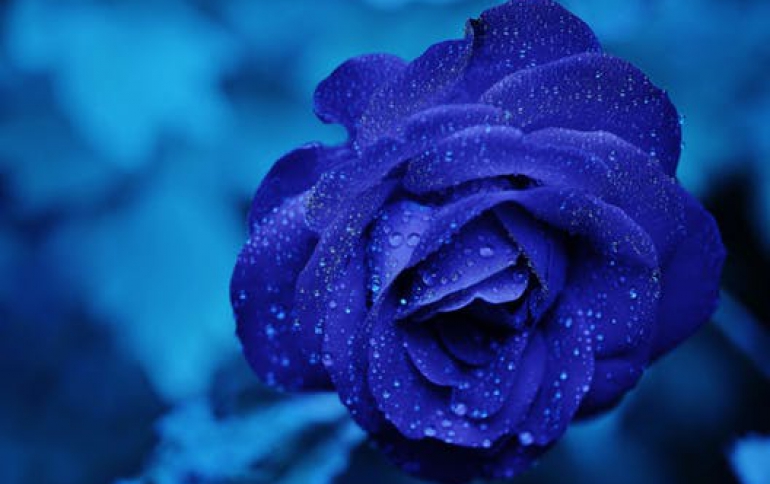 Corsair at CES 2014
Among the interesting products at Corsair's press suite at CES 2014 is the AX1500i PSU, the Graphite Series 760T and 730T full-tower PC cases, the Hydro Series H105 liquid CPU cooler, the Obsidian Series 250D Mini-ITX case and the USB On-The-Go flash drive. The AX1500i Digital ATX power supply features a digitally-controlled circuitry to deliver 1500 watts of power with efficiency (94%) that goes beyond 80 PLUS Platinum. The AX1500i's efficiency meets the current draft for ATX 115 Volt 80 PLUS Titanium for consumer PSUs.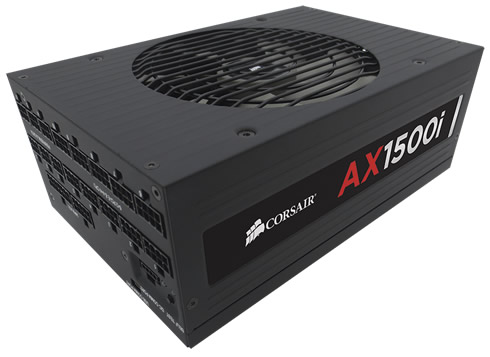 The high power reserves combined with an array of cabling options enables the AX1500i to power overclocked PC systems with up to four graphics cards in NVIDIA SLI or AMD CrossFireX configurations with headroom to spare.
The AX1500i's high efficiency results in reduced heat, allowing the PSU to operate in silent Zero RPM Fan Mode until the load reaches 450 watts. A custom-designed fluid dynamic bearing 140mm fan allows the PSU to run quietly even when running at full 1500 watt power output.
Corsair Link technology gives enthusiasts control over the features and performance characteristics of their PSU. This includes real-time monitoring of temperature, current draw, and power efficiency, as well as the ability to adjust the speed of the internal 140mm fan. These features also allow users to set overcurrent protection points on a per-rail basis in the default multi-rail +12V configuration or simply switch to single +12V rail mode.
- 94% efficiency at 50% load at 115V
- Includes 8 PCI-E cables for support for up to 4 GPUs
- Native USB onboard for Corsair Link real-time monitoring and customization
- 100% Japanese capacitors
- Custom-designed fluid dynamic bearing 140mm low-noise fan
- Silent Zero RPM Fan Mode up to 450 watts and ultra-quiet operation at full 1500 watt output (26.5 dBa)
- Dimension: 150mm x 86mm x 225mm
- 7-year warranty
The AX1500i Digital ATX Power Supply is backed by a seven-year warranty and will be available in Q2 at a suggested US retail price of $449.99 USD.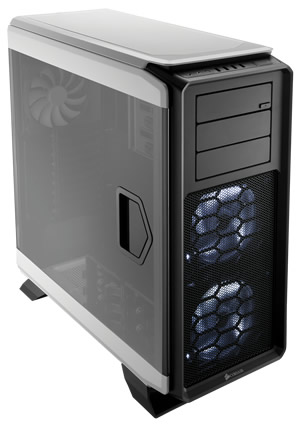 The new flagship of Corsair?s Graphite series of performance cases, the 760T combines an industrial design with ease of use. Central to these attributes are two swing-out windowed side panels, providing an unobscured view into the heart of your PC. Each panel is hinged to the rear and swings open to grant complete access inside. A full steel roof and frame complements the side panels.
As a full tower chassis, 760T is available in black or Arctic White, and is loaded with room for expansion and cooling options. Nine expansion slots allow plenty of room for multi-GPU setups, while six 3.5in/2.5in hard disk mounts can be relocated to any of four separate mounting locations or removed entirely.
In addition, there are four side-mounted 2.5in drive caddies for those who want to remove the standard drive cages entirely.
Cooling is also well catered for, with two LED-lit AF140L 140mm cooling fans to the front and an AF140L to the rear, as well as an integrated fan speed toggl. There are also extra fan mounts for those wishing to mount liquid cooling systems, including a 360mm top radiator mount and a 280mm front mount.
The sibling to the 760T, the Graphite 730T case shares the same design and structure but has steel side panels without windows. The Graphite 730T also removes the fan controller and is available in black.
Graphite Series 760T and 730T Specifications
- 9 expansion slots for larger motherboards and running multiple graphics cards or expansion boards simultaneously.
- Six 3.5"/2.5" combo bays in two modular hard drive cages, with room for two more cages for up to 12 total combo drive bays.
- Four tool-free 2.5" side-mounted drive cages for SSDs, out of the airflow path.
- Three tool-free 5.25" bays for expansion
- Four front mounted USB ports (two USB 3.0)
- Fan Hi/Low controller lets you choose between full (12V) fan speed or quiet (7V) mode. (760T only)
- Three included AF140L high-airflow 140mm fans (2 front LED, 1 rear).
Room for up to 8 fans:
- Top - 3 x 120mm or 3 x 140mm
- Front - 2 x 140mm/120mm
- Rear - 1 x 140mm/120mm
- Bottom - 120mm
Radiator compatibility:
- Top - 360mm or 280mm
- Front - 280mm or 240mm
- Bottom - 120mm
- Rear - 140mm or 120mm
- Modular hard drive cages can be located in four separate mounting locations.
- Side-mounted 2.5" cages allow you to remove the standard 3.5" drive cages entirely for better airflow or room for radiators, while maintaining capacity for up to four 2.5? drives.
- Full swing out side panels release with a single latch, and can be removed merely by lifting them up.
- Tool-free 3.5", 2.5", and 5.25" drive bays.
- Height x Width x Depth: 22.4" x 9.7" x 22.2"
In the US, The Graphite Series 760T has a suggested retail price of $179.99 (black) or $189.99 (Arctic White), while the 730T has a suggested retail price of $139.99 (black only). Both will be available in February.
The all-in-one Hydro Series H105 dual-fan 240mm liquid CPU cooler is equipped with a 38mm thick 240mm radiator, increasing radiator surface area and improving heat dissipation. It is fitted with a pair of SP120L PWM 120mm fans designed to balance static pressure and noise levels.
The H105 also benefits from Corsair's new tool-free CPU mounting block. The low-profile CPU cooling block also includes an LED backlit logo and replaceable color ring, allowing PC enthusiasts to co-ordinate their CPU cooler to match their other system components.
Connecting the cooling block and 38mm-deep 240mm radiator are a pair of sealed and kink-resistant rubber tubes, with an on-board ceramic-bearing pump providing flow and heat transfer away from the CPU. As with all Hydro Series CPU coolers, the H105 is completely self-contained, requires no maintenance or filling and is supported by a five year warranty.
The H105 supports a wide range of Intel and AMD CPU sockets and is available immediately for $119.99.
The Corsair Obsidian Series 250D performance Mini-ITX PC case supports not only many of the more popular performance Mini ITX motherboards, but also a wide range of full-size high-performance components, including many of Corsair?s Hydro Series liquid CPU coolers, allowing users to push their PC to the limit.
Obsidian Series 250D Specifications
- Two expansion slots and 290mm of internal clearance allow the use of any current stock graphics card.
- Supports all modern ATX power supplies, with 200mm of PSU clearance
- Two tool-free 3.5"/2.5" combo bays
- Two tool-free 2.5" only bays o Full-size 5.25" drive bay
- Two front mounted USB 3.0 ports for easy peripheral or external storage device connection.
- Two high-airflow fans are included (1x AF140L and one 1x AF120L) for excellent airflow and low noise levels.
- Room for up to 5 fans
- Radiator compatibility:
Front - 120mm or 140mm
Side - 120mm/240mm
- Modular toolless drive caddies can be accessed from the rear of the case.
- A pair of 3.5"/2.5" drives and two 2.5" only drives can be simultaneously mounted.
- Full-size 5.25" optical drive bay.
- Thumbscrew side panel removal and expansion slots.
- Tool-free 3.5", 2.5", and 5.25" drive bays.
- Cable routing with multiple tie-down points for improved airflow and cleaner, neater builds.
- Two USB 3.0 ports and headphone/mic jacks in the front panel for easy access.
- Height x Width x Depth: 11.4 x 10.9 x 13.81 inches
- Weight: 4.42 kg
The Obsidian Series 250D has a suggested retail price of $89.99 in the US and will be available in late January.
Last but not least, the new Corsair Flash Voyager GO USB 3.0 flash drive will be available in 64GB, 32GB, and 16GB capacities. The lightweight, thumb-sized drive has both a USB and a Micro-USB connector, providing convenient storage expansion for OTG-compatible phones and tablets.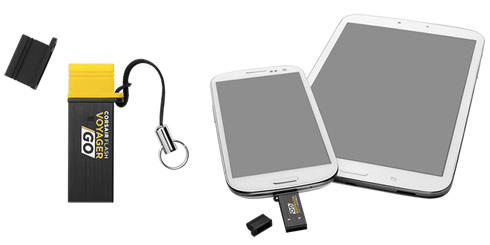 The Flash Voyager GO supports USB 3.0 and USB 2.0 for high-speed transfer speeds of up to 135 MB/s on PCs under Microsoft Windows, Mac OS X, and Linux with no additional software required. A keychain and two caps, one black and one yellow, are included.
The Flash Voyager GO flash drives will be available in January. Suggested retail pricing is as follows:
Flash Voyager GO 16GB: $19.99 USD
Flash Voyager GO 32GB: $29.99 USD
Flash Voyager GO 64GB: $49.99 USD